PeachSkinSheets are Ultra-Soft and Moisture-Wicking for a Dreamy Night's Sleep #MegaChristmas17
This post may contain affiliate links or I may have received the product free in exchange for my honest review. See full disclosure for more information.
Sometimes I believe I am obsessed with a good night's sleep. Between trying to get to bed, getting comfortable, and staying asleep it can become a problem unto itself. Knowing how important sleep is to my health, I have taken steps to do what I can to get the best night's sleep I can. I have curbed my late-night coffee intake, computer time, and have taken time to chill a little before bed. I have also made my bed a place of pure comfort by adding a set of ulta-soft PeachSkinSheets to my bed.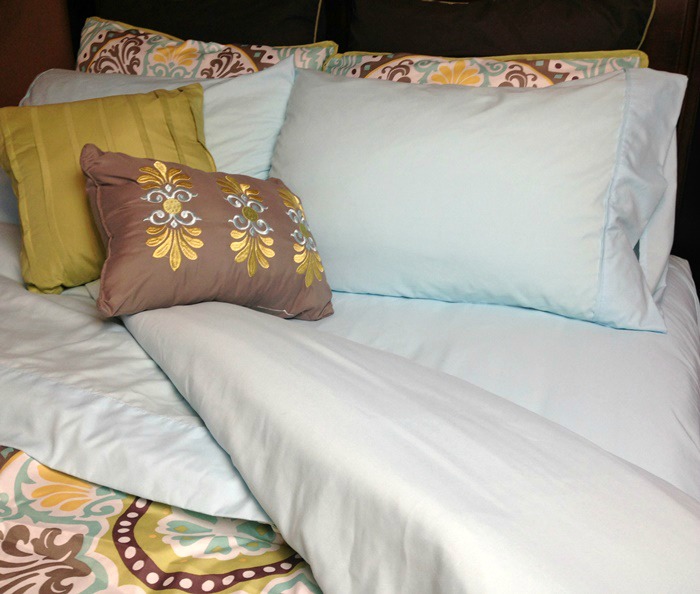 To solve my tossing, turning, and getting overheated at night, I changed to a lighter weight comforter and a set of breathable PeachSkinSheets. I chose the pretty, soothing Beach Blue color to go with my comforter. All I can say is OH MY GOODNESS at the softness, comfort, and sweet snoozing I have had! Let's take a look at why I am in love my new sheets!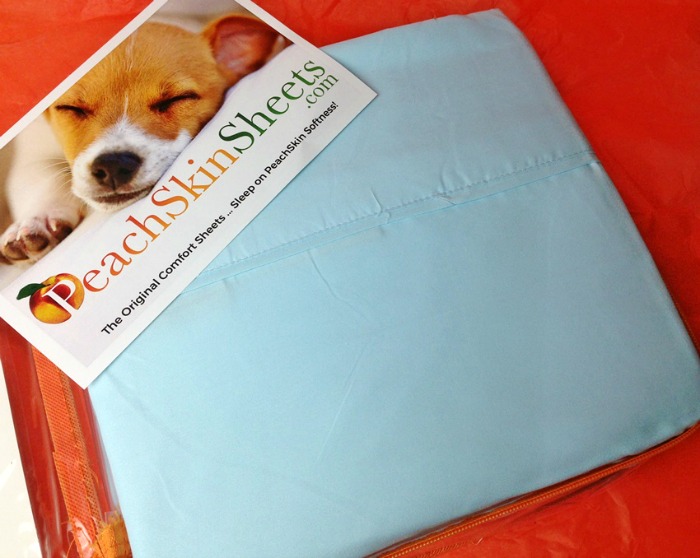 PeachSkinSheets affordable bed sheets are made from a breathable, high performance athletic grade SMART fabric that is great for hot sleepers due to its thermal control and moisture wicking properties. In addition, the ultra-soft brushed finish provides a softness level that parallels 1500 thread count cotton but without the shrinkage, wrinkles and pilling. They thrive on being a quality company with a quality product and going the extra mile for their customers.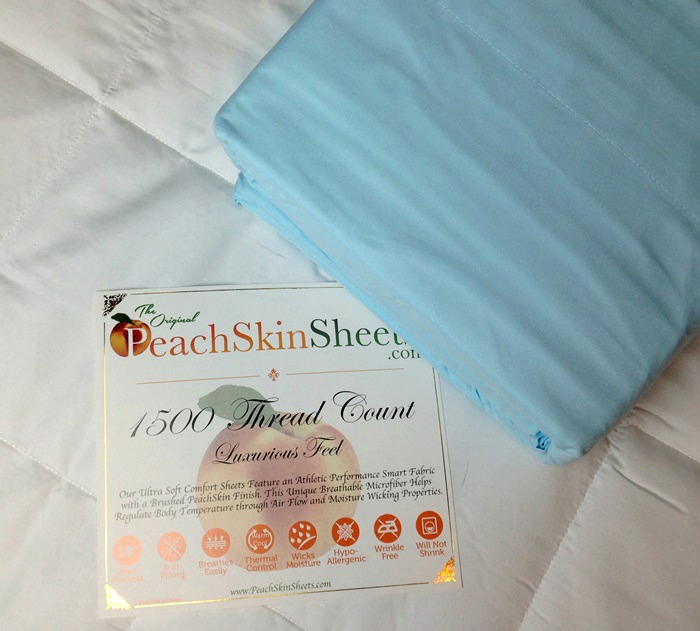 What Makes PeachSkinSheets Special?
PeachSkinSheets are ultra-soft and breathable! Both being keywords here! There is nothing like sinking into ultra-soft sheets for a dreamy sleep! And, if you are a hot sleeper like me, you will totally appreciate them being breathable! PeachSkinSheets have thermal control and moisture wicking properties to keep you comfortable while you sleep.
Hate wrinkles? Or, what about those itchy pill balls a lot of sheet get? No problem! PeachSkinSheets are wrinkle free AND anti-pilling! In addition, they stay soft, comfortable, and pill free wash after wash!
Ample 18″ Deep Fitted Sheet!
One of my favorite features of the fitted sheet is its size. The fitted sheets have an 18″ deep pocket that makes making the bed easy! You do not have to struggle, strain, or stand on your head to get it on the mattress! The top sheet is just as ample with plenty of material to tuck in for a nice comfy cocoon of comfort!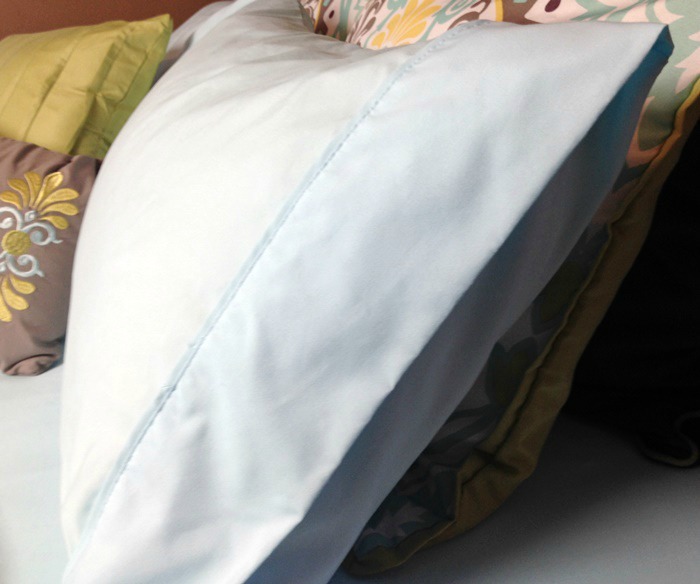 Envelope Closure on the Pillow Cases
You will love the convenient envelope closure on the pillow cases! Perhaps I am a little OCD with my bed-making, but I hate being able to see the pillow sticking out of the pillow case. The envelope closure keeps the pillow tucked in nice and neat, making the bed look fabulous!
PeachSkinSheets comes in several colors.
PeachSkinSheets come in a variety of colors such as: Classic White, Beach Blue, Chocolate, Mint Julep, Almond Ivory, Eggplant, Light Mocha, Graphite Gray, Sage Green, Harvest Gold, Deep Crimson Red, Mariner Blue, and Midnight Black.
I chose Beach Blue color and love it! It is a crisp, cool color, yet soothing at the same time. And, it matches my bedding to a tee! Speaking of matching, PeachSkinSheets offers a free swatch program to help!
Free Swatch Program!
You will fall in love with the Free Swatch Program! If you get a new comforter or trying to match your existing comforter or quilt, simply grab a few free swatches to find your perfect color match! Go ahead and order your free swatch today to experience the softness and quality!
PeachSkinSheets Color of the Month Specials!
Each month PeachSkinSheets offers a color of the month special on two color choices. This means that for whatever colors are being offered, you can can them for only $55 – ANY size!  Simply check the Colors of the Month section on the their website to see the colors being offered.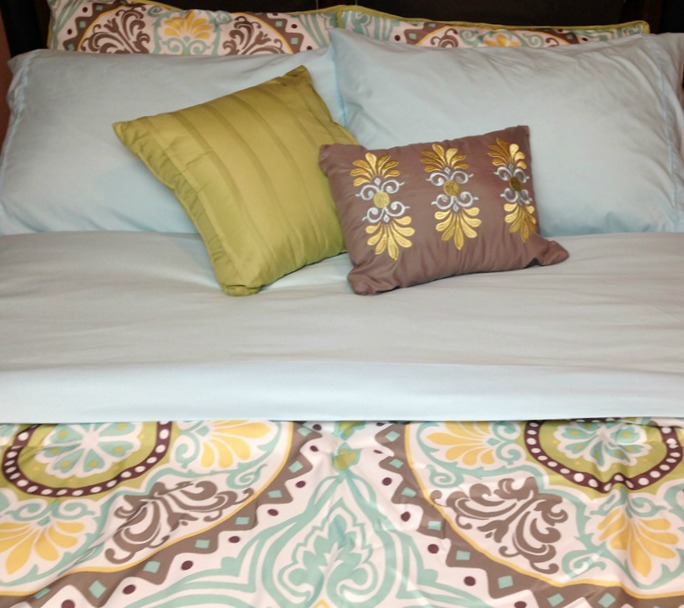 PeachSkinSheets features in a nutshell:
Wrinkle Free
Breathable
No Shrinkage
1500 Thread Count Feel
Anti-Microbial
18″ Deep Pockets
Ultra Soft
Wicks Away Moisture
Anti-Pilling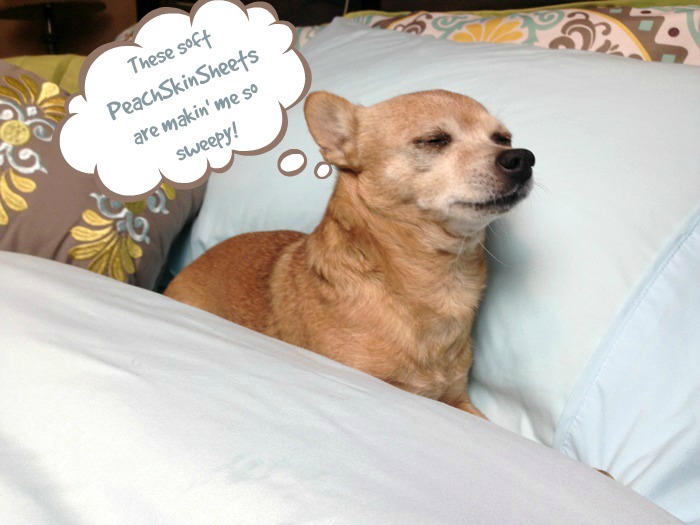 Are you ready to drift away in luxurious, breathable softness? Visit PeachSkinSheets, choose one of the gorgeous colors, and order yours today! Want to give the gift of dreamy sleep to a family member or friend? PeachSkinSheets would make a luxuriously AMAZING gift this holiday season!
Connect socially with PeachSkinSheets

PeachSkinSheets is now on our Mega Merry Christmas Gift Guide. You can view it HERE.