PeachSkinSheets Ultra Soft Moisture Wicking Sheets for a Dreamy Night's Sleep
This post may contain affiliate links or I may have received the product free in exchange for my honest review. See full disclosure for more information.
My bed is one of my favorite places. Seriously! After a long exhausting day, I can hardly wait to get a warm bath, don my comfy jammies, and crawl between the sheets. Since getting my PeachSkinSheets it has became a luxury experience! If you haven't tried these amazing sheets, you certainly don't know what you are missing!

With a thread count of 1500 threads per square inch, PeachSkinSheets are the softest sheets I have had the pleasure of sleeping on! But, that's not all! PeachSkinSheets are completely breathable and designed to wick moisture away from the body. This helps regulate the temperature of the body for a better night's sleep. Being a woman with night sweats, I am forever thankful that my sheets are helping keep me comfortable. The MOISTURE WICKINING ability of these sheets is AMAZING!
In case you haven't heard of these amazing sheets, let me introduce you to PeachSkinSheets before I tell you more.
About PeachSkinSheets
Their affordable bed sheets are made from a breathable, high performance athletic grade SMART fabric that is great for hot sleepers due to its thermal control and moisture wicking properties. In addition, the ultra soft brushed finish provides a softness level that parallels 1500 thread count cotton but without the shrinkage, wrinkles and pilling. They thrive on being a quality company with a quality product and going the extra mile for their customers.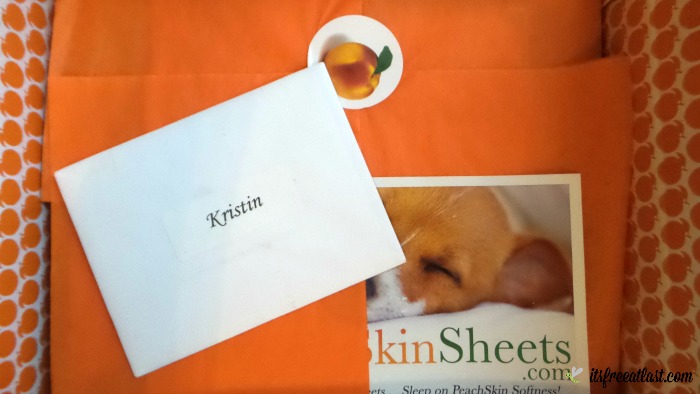 PeachSkinSheets Ultra Soft Moisture Wicking Sheets – the Perfect Sheets!
I have purchased, and owned, more sheet sets than I care to remember. However, it was before discovering PeachSkinSheets. Once you have tried these amazing sheets, you will never go back to other ordinary sheets! Why, you ask?
For starters, most other sheet sheets just can't compare or hold up to PeachSkinSheets! Have you ever bought a gorgeous set to have it shrink after washing? What about those unsightly and scratchy pill balls they get? Well, good news! PeachSkinSheet do not shrink! They fit perfect, wash after wash! And, those pesky little fabric balls (pilling) will be a thing of the past. With PeachSkinSheets, your sheets will be as beautiful, comfortable, and fit the same as the day you took them from the package!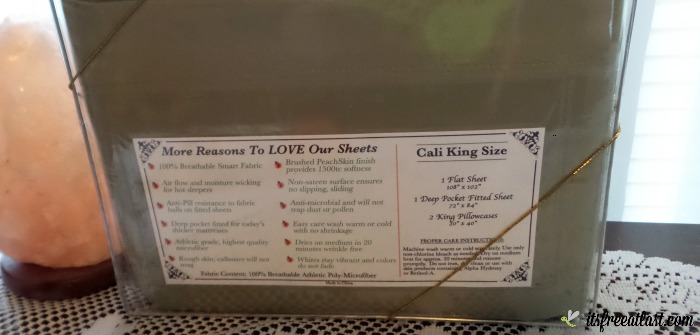 Not only are PeachSkinSheet beautiful, with their 1500 thread count, they have a luxurious ultra soft feel you will love. It is a comfort like no other! I'm not making promises on you getting up with the alarm though 🙂 You may decide to snuggle back in!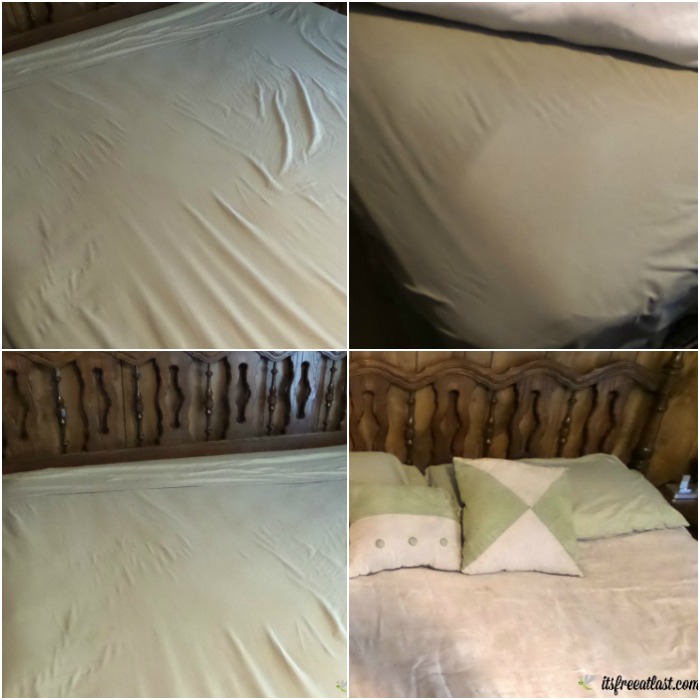 The fitted sheet has a deep pocket to fit mattresses up to 18″, including double pillow top and memory foam mattresses. When they need laundered, no worries. PeachSkinSheets do not shrink in the laundry and will fit perfectly wash after wash. No more pulling and tugging, or throwing your back out of place trying to get it onto the mattress! I have been using PeachSkinSheets for a while now and after many washes, they still look, feel, and fit like new! PeachSkinSheets also have a built-in Wrinkle Release! If you have them folded and stored, simply throw then into the dryer and wrinkles fall out! Giving you perfectly smooth sheets.
Envelope Closure on the Pillow Cases!
Another signature feature of PeachSkinSheets that I love is the envelope closure on the pillowcases! How many times have you made up the bed and had it "just so" only for the ugly edge of a pillow to stick out? With the envelope closure, it tucks the pillow in where it remains out of sight. It gives your made-up bed a smooth polished look.
PeachSkinSheets comes in several colors.
PeachSkinSheets come in several colors, such as: Classic White, Beach Blue, Cotton Candy Pink, Brushed Silver, Graphite Gray, Mint Julep, Marina Blue, Eggplant, Chocolate, Harvest Gold, Sage Green, Light Mocha, Midnight Black, Almond Ivory, and Deep Crimson Red. The colors stay true wash after wash!
Free Swatch Program
Not sure if the color you are looking at will match your bedding set or decor? No problem! PeachSkinSheets has a free swatch program! Simply order your swatches and in about a week you can see the actual color and feel the softness of the fabric. I am totally in love with this! If I get a new comforter and want to order sheets, I simply order a swatch or two of my choices to make sure they will match before I spend the money on the sheet set! Perfect!

PeachSkinSheets are Great for those that have Pets!
Do you have pets? If you do, and they are allowed on the bed, then you know their nails can sometimes prick the sheets. Then, there is the hair. It acts like it has a mind of its own and weaves its way into the fabric of most sheets. The high-performance yarn of PeachSkinSheets offers better protection against snags from pets and a smoother fabric that doesn't allow the hair to take root in the fabric!
PeachSkinSheets features in a nutshell:
Wrinkle Free
Breathable
No Shrinkage
1500 Thread Count Feel
Anti-Microbial
18″ Deep Pockets
Ultra Soft
Wicks Away Moisture
Anti-Pilling
PeachSkinSheets Colors of the Month Special!
Who doesn't love a good deal?! Well, each month PeachSkinSheets offers up two of their colors as a special! The two colors of the month are put on sale for only $55 a set – any size! To find the two colors each month, just click on the $55 Colors of the Month tab on the PeachSkinSheets website.
I could sing the praises of the PeachSkinSheets all day long! They have everything you want from a set sheets – beautiful rich color, comfortable luxurious softness, moisture wicking, perfect (no shrink) fit, no pilling, will stand up to pets, and are wrinkle free! They are a great value because they last wash after wash! You just cannot beat them!
Visit the PeachSkinSheets website for more information and to see the variety of rich colors! Treat yourself to these luxurious sheets! You can't go wrong! A set would also make a wonderful gift of comfort for family members, friends, newlyweds, etc.!
Connect socially with PeachSkinSheets