Pur Minerals Review & Giveaway! Win an iPad!
This post may contain affiliate links or I may have received the product free in exchange for my honest review. See full disclosure for more information.

I was super Stoked when I was given the chance to Try and Review PUR Minerals, I mean honestly I <3 this Makeup!
The Product:
*NEW! 4-in-1 Pressed Mineral Makeup Foundation with Skincare Ingredients in your shade ($27):
Didn't think our original 4-in-1 Pressed Mineral Makeup could get any better? Well, it has. Our newly enhanced formula has everything you love about the original 4-in-1 and more-same great coverage, same lightweight feel, same no-mess mineral makeup, but now with NEW built-in skincare ingredients, clinical results and sophisticated packaging. The 4-in-1 Pressed Foundation is best applied using a full-coverage brush. Apply in circular motions to achieve an even and flawless finish.
NEW! 4-in-1 Mineral Tinted Moisturizer ($34 value):
Your moisturizer, primer, foundation and SPF 20 all in one! This innovative 4-in-1 formula infuses the skin with powerful hydrators and proven correctives, including sodium hyaluronate and Pür's exclusive Ceretin Complex-a one-of-a-kind ingredient engineered to radically renew the skin without irritation. Use it alone for a one-step, ultra-natural complexion or as a hydrating, broad-spectrum base for mineral makeup application. To apply, smooth a small amount onto clean skin and blend for desired coverage.
NEW! Disappearing Act 4-in-1 Concealer ($22 value):
Create a flawless complexion for today and tomorrow with Pür Minerals' 4-in-1 concealer with built-in skincare ingredients. Put an end to unsightly eye lines, dark circles and blemishes for good with salicylic acid, brightening Waltheria Extract and Pür's problem-solving Ceretin Complex, featuring purified, nonirritating retinol and moisture-maximizing ceramides. Easily blendable and buildable, Disappearing Act brightens, balances and lifts the skin's appearance with minimal effort. To apply, dab a small amount over desired area and blend using clean fingers or a brush. Apply generously to problem areas and visible imperfections.
NEW! Pressed Mineral Blush in Polynesian Pink ($16 value):
Add a fresh pop of color to your spring look with our newest Pressed Mineral Blush in Polynesian Pink. This island-inspired shade gives cheeks a light, natural glow that lasts all day. As with all of our mineral makeup products, it is free of petroleum-based oil, alcohol, talc, fillers, fragrance, preservatives and chemical dyes.After applying 4-in-1 Pressed Mineral Makeup, sweep Pressed Mineral Blush over the apples of your cheeks, blending up to your hairline.
What did I think about it???
First, I have to say I LOVE that Pur Minerals does NOT test on animals.
I struggle to find makeup that gives me good coverage, but doesn't make me look like I have caked it on.  I have spotty uneven skin, moderate breakouts (which is NOT FAIR to still have at the age of 39), and the beginning of Roscea.   So I look for a makeup that has a good coverage, but isn't going to make my skin worse by wearing it.
In the past I hadn't found one that really satisfied my last condition, so I would wait til the last minute to put it on, and try to remember to get it all off when I was home.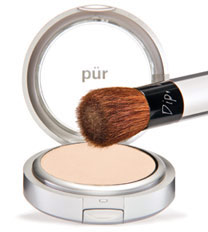 These Products go on so flawless, what can I say…I am hooked!  So Would you Love some of these Products for yourself?? 20 readers will win a Spring Kick-Off Kit including PUR's  new 4-in-1 pressed mineral foundation and tons of new spring arrivals. One Grand Prize winner will also receive a FREE iPad!
Disclosure: It's Free at Last! Was given these Products free of  charge in exchange for my honest review, all opinions are my own.