Read About How The Peanuts Gang & Nikki DeLoach Rock The Vote #PeanutsRockTheVote
This post may contain affiliate links or I may have received the product free in exchange for my honest review. See full disclosure for more information.
As a Peanuts Ambassador, I have the inside source on all things Peanuts this year. One of my favorite campaigns is sharing how Nikki DeLoach (Awkward!) and the Peanuts Gang Rock The Vote in 2016!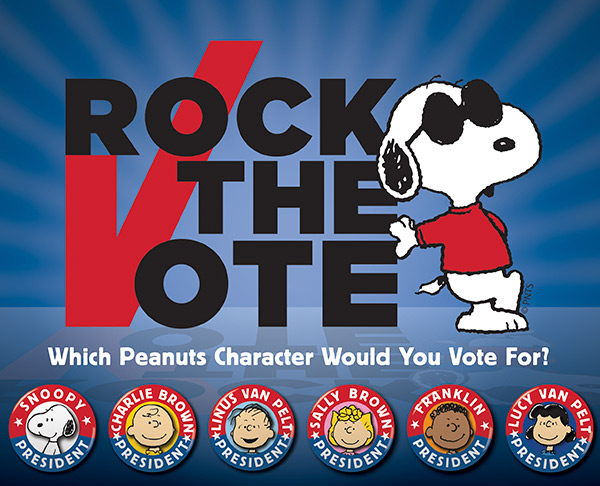 From an early age, Nikki DeLoach has been on TV and in movies. Nikki was a child member of The Mickey Mouse Club, along with Ryan Gosling, Justin Timberlake, and Keri Russell! Today she is sharing how the Peanuts Rock the Vote!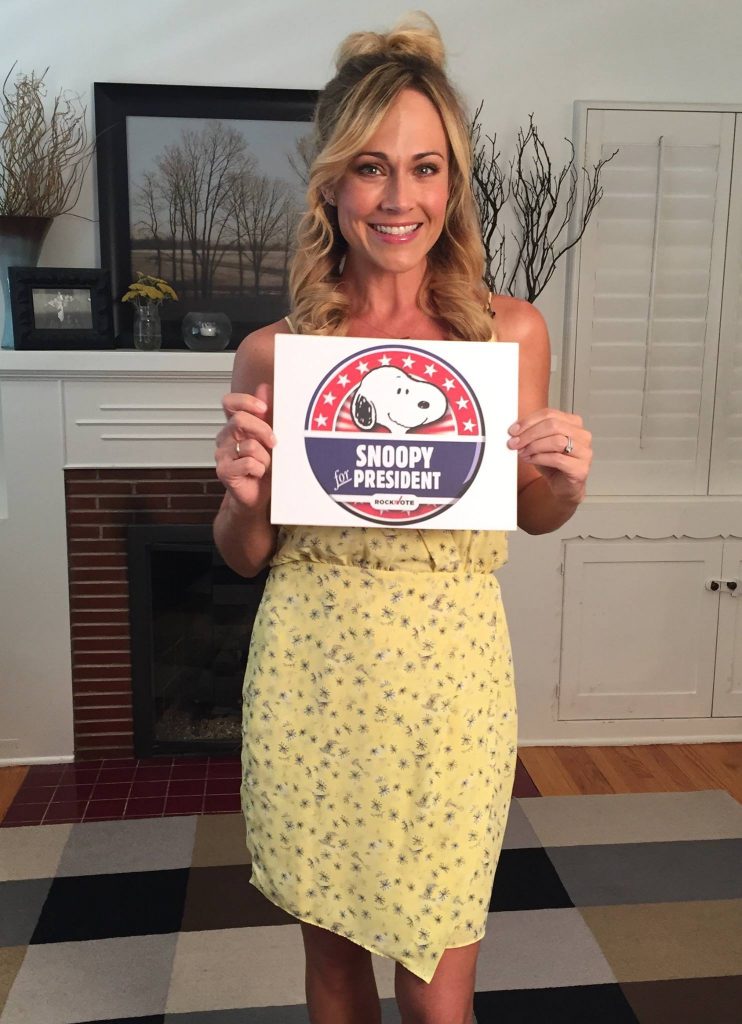 We recently had the chance to talk with Nikki in an exclusive telephone interview to discuss her part in the Peanuts Rocks The Vote Campaign.
Tell us about the Peanuts Rocks the Vote campaign.
This is a partnership between Peanuts and Rock the Vote, which is a nonprofit, nonpartisan organization that's been encouraging and helping young people to register to vote since 1990.

When you go to Peanuts Rocks the Vote, you'll find a mock presidential election going on among the Peanuts characters: Snoopy, Charlie Brown, Linus, Lucy, Sally, and Franklin. You can read their bios and their platforms, and then you can vote for your favorite.

Then, right there on the website, there's a button that says "Register," and when you click on that, Rock the Vote will help you register to vote in your location.
And why is Peanuts doing this?
Politics has been a recurring theme in the Peanuts comic strip for decades—Charles Schulz often had the characters running for president during actual presidential election years. He even had Lucy talking about wanting to be the first female president!

So Schulz believed in our democratic system, and Peanuts wanted to play their part by helping people register to vote. But of course, they do it with a unique Peanuts flair!
Are you a Peanuts fan?
Of course! Who isn't?!
Who did or who would you vote for in the Peanuts Rocks the Vote campaign?
Snoopy!
I know a lot of celebrities, including yourself, have taped fun PSAs promoting the Peanuts election and the Peanuts Rocks the Vote campaign. What made you want to do one?
I just feel that it's such a privilege to be a citizen of this country, and part of the deal is that we participate in the election process. I know sometimes people, especially young people, feel that their vote doesn't count or doesn't matter, but of course that's absolutely not true! It's so important that everyone use their voice and their vote. And this was such a fun way to get that message out!
Who are some of the other celebrities who have taped PSAs?
There are so many great ones, from both the 2008 and 2016 elections, including:

My Awkward co-star, Jillian Rose Reed

John Oliver

Whoopi Goldberg and Candace Cameron Bure from The View

George Lopez

Eden Sher from The Middle

Vanessa Marano from Switched at Birth

Deborah Norville from Inside Edition

You can see all of them when you go to Peanuts Rocks the Vote and click on "Celeb Endorsements."
In addition, there are educational materials for teachers and activities for kids grades K through 8. Can you describe in more detail?
Yes, there are materials that provide a fun way to get children involved with the issues of elections, campaign promises, polling, and candidate platforms.

The curriculum specialists at Young Minds Inspired created three lesson-planning guides for grades Kindergarten through 2nd grade; three through five, and six through eight. Copies are going out to thousands of schools nationwide. There's also a DVD of the Peanuts television special, You're Not Elected, Charlie Brown that parents and teachers can use as a fun teaching tool about elections.
And finally, I know the Schulz Museum has two special election-themed exhibits on display right now. Can you talk about those?
Yes, and they sound so great!

One is called Snoopy Presents: Lucky Dogs and Presidential Pets, and it features photos and fun facts about presidential pets. The exhibit goes all the way back to George Washington's hunting hounds and Thomas Jefferson's riding horses, and it also includes presidential pets you probably never heard about, like President John Quincy Adams' pet alligator, who lived in the White House in an unfinished East Room bathtub!

There's a great display on John F. Kennedy's dog, Pushinka, who was a gift from Soviet Premier Nikita Khruschev. The dog's mother, Strelka, flew aboard Sputnik 5 and landed safely back on Earth.

The other exhibition is called Mr. Schulz Goes to Washington, which focuses on the intersection of politics with Charles Schulz and Peanuts. You can see some of Schulz's correspondence with several American presidents, including a 1980 letter from Ronald Reagan, who was then in the middle of his own presidential campaign. Reagan jokingly wrote, "Anything you can do to talk Snoopy out of running will be appreciated. How would he feel about a cabinet post?"
We sure had a great time talking with Nikki and cannot wait to share more excitement this year with you about Peanuts.
Be sure to stay connected socially for allow of the latest Peanuts News! Also, be sure to enter here for your chance to win a Peanuts Rocks The Vote Prize Package to show support of your favorite Peanuts character!
Facebook | Twitter | Instagram