Rigoni di Asiago Organic Spreads and Jams will Have Your Taste Buds Singing!
This post may contain affiliate links or I may have received the product free in exchange for my honest review. See full disclosure for more information.
Mornings in my home are chaotic when I am trying to get myself together and make it out the door for work. However, I always take time to eat a little something before I leave the house. One of my favorite quick breakfast foods is toast with delicious spreads or jam. It not only satisfies my growling stomach but gives me the benefit of a little energy boost and tides me over until lunchtime. I also love trying and discovering new foods and flavors. In my love of spreads and jams for my toast and trying new foods, I recently discovered the sinful deliciousness of Rigoni di Asiago Organic Spreads and Jams!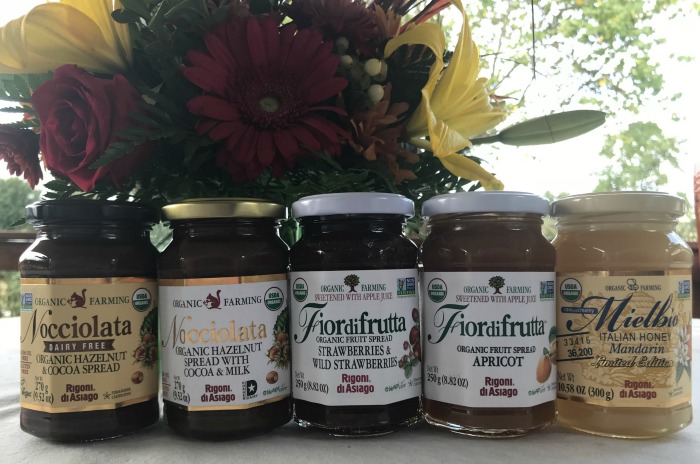 If you are a lover of Hazelnut and Cocoa, Strawberries, Apricots, and other spreads, Rigoni di Asiago Organic Spreads and Jams will make your taste buds sing!
Rigoni di Asiago is a 90 year old Italian company with headquarter offices and factory in Asiago, Italy. They are the producers of organic products, which include Fiordifrutta organic jams, organic Honey and NOCCIOLATA organic hazelnuts spread.
My Top 5 Favorite
Rigoni di Asiago Organic Spreads and Jams
If you are a hazelnut fan, you will love the Nocciolata! The Nocciolata (pronounced no-cho-lata) Dairy Free is a certified-vegan alternative choice of chocolate-hazelnut spread! If you are non-dairy, lactose intolerant, or simply follow a vegan diet, this is the yumminess you have been looking for!
The Nocciolata Dairy Free has a deep chocolate flavor. It combines hazelnuts with cocoa and cocoa butter, natural vanilla extract, and raw cane sugar for a chocolate-hazelnut spread with mouth-watering flavor. Best of all, it is completely free of GMO's, preservatives, colors, additives, and artificial sweeteners. It is also Kosher certified, gluten-free, and vegan certified!
The Nocciolata Organic Hazelnut Spread with Cocoa and Milk has a soft, fragrant, and full flavor of Italian hazelnuts. Oh, my! Need I say more? Is deliciously sinful!
This spreadable cream of cocoa and hazelnuts includes all organic ingredients. It is made from organically farmed hazelnut paste and sweetened with organic cane sugar. It also includes sunflower oil, skim milk powder, and cocoa butter. The is a deliciously sinful chocolate spread!
Nocciolata Organic Hazelnut Spread with Cocoa & Milk is organic, non-GMO, Kosher certified, and gluten-free.
Strawberries are a healthy food and are delicious in spreads and jams! You will love the Strawberry Fiordifrutta Organic Fruit Spread as a spread for your morning toast! You can also use in pies, cakes, etc. and it is amazing served with fresh cheese.
It was originally called "Strawberry fragrans" by the Romans in tribute to its intense aroma. It is native to the Alps, where it grew in the wild.
The delicious Fiordifrutta Organic Fruit Spread is organic, non-GMO, Kosher certified, and gluten-free!
Apricot lovers will fall in love with the mouth-watering flavor of Apricot Fiordifrutta Organic Fruit Spread! It has all the delicious flavor of freshly picked apricots. While it is delicious as a spread, it is amazing for making pies and cakes. It is also equally great with yogurt, smoothies, fresh cheese, ricotta, and mascarpone.
Known and cultivated in China since 3000 BC, apricot was later widespread in the now current Europe region by the Romans at the beginning of the Christian era. Its cultivation was introduced to the Arabs around the tenth century.
Fiordifrutta Organic Fruit Spread is organic, non-GMO, Kosher certified, and gluten-free.
You won't want to miss the opportunity of trying the MielBio Italian Mandarin Honey with its delicate sweet flavor! Rigoni di Asiago has just unveiled its finest MielBio® Italian Mandarin Honey Limited Edition! It is available exclusively at Whole Foods Market®.
It is made in Calabria, an area of Italy that is well-suited for the production of Clementines. Clementines are also known as Mandarin oranges. These fruits are grown on plantations devoted exclusively to organic farming methods. 26 bee colonies from over 2,000 production hives create the honey from nectar produced in the Clementine blossoms. Mandarin Honey is produced each year between the beginning of April and mid-May in a micro-climate that's ideal for the production of this unique honey.
Visit Rigoni di Asiago to learn more and discover even more delicious flavors of spreads and jams! Try a few today and tantalize your taste buds!
Connect socially with Rigoni di Asiago