Say Goodbye to Holiday Entertaining Stress with these Essentials
This post may contain affiliate links or I may have received the product free in exchange for my honest review. See full disclosure for more information.
While the season can usher in warm moments with family and friends, hosting those joyous gatherings can also bring extra stress. This year, it doesn't have to!
From a 4-in-1 sous chef to pre-paired gourmet cheeses for the charcuterie board, ready-to-drink cocktails, and fresh-fresh-from-the-fridge truffles, here are a few things to help alleviate stress this holiday season: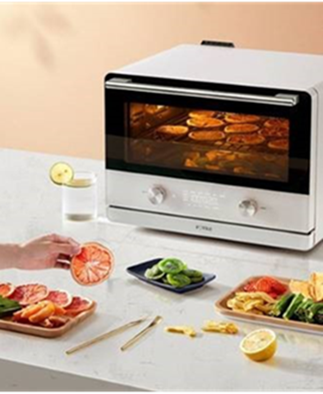 FOTILE ChefCubii Steam-Combi Oven
Ideal for either pro or novice chefs! Featuring four functions in one appliance – Steam, Bake, Air Fry and Dehydrate – and 40 built-in smart recipes, this multifunctional appliance makes cooking convenient, quick and fun. Additional features include a large 1 cu. ft. capacity space to cook many types of foods and a built-in self-clean steam function that makes it easy to maintain and keep sparkling clean no matter how often you use it. Available for $449.00 on US.FotileGlobal.com or Amazon.com.

The pre-portioned, ready-to-serve trays offer a convenient combination of the very best flavors and textures, perfect for snacking or entertaining. Cello Simple Pleasures can be served as an appetizer, or as part of the popular grazing table trend, featuring a tasty mix of award-winning cheeses, meats, and more! Available for $9.99-$19.99 at Kroger, Wakefern, Tops, Woodman's, and Lipari.
Vevan SnaxVevan is the perfect plant-based option for ALL cheese lovers, whether you're flexitarian, vegetarian, lactose intolerant or just-don't-wanna-do-dairy. With a taste just like the real thing, Vevan Snax turns this delectable alternative into a convenient on-the-go choice, featuring two varieties of bite-sized cubes of Vevan cheese paired with dried fruits and nuts. MSRP: $1.50-$2.50 per pack // Available at Sprouts
Save the hostess time by nixing the cocktail recipes and bringing single-serve canned cocktails to the party for an easy, delicious option. With a wide range of flavors, these premium spirit cocktails tout 9% ABV and 2 shots in every can. Available for $2.50 – 2.99 per can, $9.99 per 4-pack on Drizly.com and liquor, convenience, and grocery stores nationwide.
Crafted with award-winning Italian-style triple-cream, Mascarpone cheese meets 100% pure chocolate in this refrigerated confection. The decadent duo is made even richer and refreshing with the infusion of caramel, espresso, and fruit accents across four unique varietals including Sea Salted Caramel Crème, Raspberry, Lemon, Chocolate Ganache, and Tiramisu. Available for ($7.99 per 8-count box @ Instacart, Kroger, Sprout's, Publix Wakefern and more; $15.99 per 36-count pack @ Costco).