Show that world that #Love>Hate ~ GiveForward and make a difference, Big or Small
This post may contain affiliate links or I may have received the product free in exchange for my honest review. See full disclosure for more information.
Amidst the trend of this summer's ALS Ice Bucket Challenge, a 14-year old boy from Bay Village, OH wanted to be apart of something greater.  This isn't your average 14-year old, he has autism.  This loving kid was coaxed by other kids his age, classmates he thought he trusted, to take part in the challenge.  What he thought was going to be a special moment for him, turned into a devastating tragedy no one should have to endure.  As he stripped down to nothing more than his jockey shorts, what he thought was going to be a bucket of ice poured atop him turned out to be a cruel, disgusting mess of spit, urine and feces. You can view the video here (warning it is disturbing, but feel the need to share what really happened with all of you!)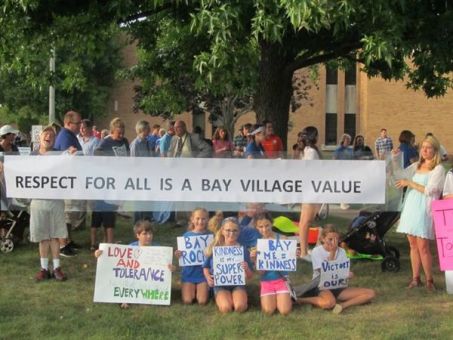 I have a HUGE believer and supporter that bullying of ANY KIND should not be tolerated.  This story drew national attention and even prompted the likes of support and reward offerings from major celebrities including Drew Carey, Donnie Wahlberg & Jenny McCarthy. Each celebrity offered $10,000 of their own personal funds to help find and charge the culprits who pulled this prank on the unknowing kid.  An autistic child, who felt included and wanted nothing more than to take part in a wonderful, charitable challenge that was sweeping the nation.  What he thought was going to be a positive, helpful moment, turned to a severe case of bullying and embarrassment no one should ever have to endure.
With a wonderful affiliation like GiveForward, a fundraiser has started to help the family deal with the emotional detriment he has endured.  While money cannot completely change what has happened, the more important element is to let this young man know he is loved, supported and that bullying of any kind is not tolerated.
GiveForward is a site that people can set up a charitable fund page to help raise funds for any type of charitable campaign with over 99.5% of the donations going directly to the person(s) you are campaigning for.  Donors can even cover the handling fee to allow the full benefit of their contribution to reach the campaign recipient.
Please consider visiting this young mans page and give in any way you can, even if it is a supportive comment that he can see to show that people do really care and are standing behind him.  Let's show him that #Love>Hate! Great or small, we all can not settle for being bystanders, we can become gamechangers with a few words, or a monetary life-changing donation.