Show Your Honey You Love Them with Delicious Manuka Honey Products! #ManukaHealth #ShopPRI
This post may contain affiliate links or I may have received the product free in exchange for my honest review. See full disclosure for more information.
While Valentine's Day may have come and gone, did you know the whole month of February is considered a romantic month? Well, it is! And, what better way to show your honey than with delicious Manuka Honey products?! Manuka Honey is delicious on your morning toast, in a warm drink, or straight out of the jar! And, did I mention their delicious Manuka honey sticks, salted honey caramels, and chocolate mints? They are the perfect way to get the benefits of Manuka Honey! Show your honey you love them with PRI's Manuka Honey products!
As a Pacific Resources International (PRI) ambassador, I'm excited to tell you that I have a great discount that you can use to try out a few of the amazing PRI products yourself! Right now, you can get 15% off and FREE shipping! To shop, go to shoppri.com and use discount code: LUV15 at checkout. But first, I can't wait to tell you about all the wonderful items I got to try out this month!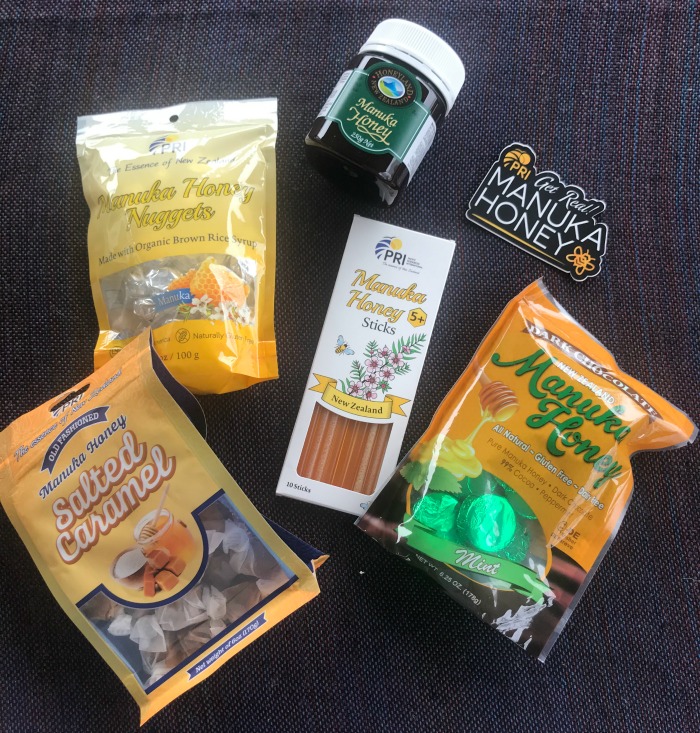 What Makes PRI Manuka Honey Products Special?
Pacific Resources International is an exclusive importer of various New Zealand Manuka Honey, health and beauty care products. Their award winning products include Manuka Honey, Pacific Sea Salt, Propolis Lozenges, Proper Crisps Chips, Manuka Caramels, and Manuka Honey Health and Beauty Products!

Pacific Resources International (PRI) was the first company to introduce Manuka Honey to the U.S. and owner David Noll has dedicated his career to bringing native and natural New Zealand wellness products to U.S. soil. David works closely with a variety of New Zealand companies to ensure that products are made with pure, natural, and quality ingredient.
Tell Your Honey You Love Them with PRI Manuka Honey Products!
Honeyland Manuka Honey 5+
Manuka Honey Chocolates – Mint
Manuka Honey Nuggets
Salted Manuka Honey Caramels
Manuka Honey Sticks
Manuka Bites.
Are you ready to check out these amazing products?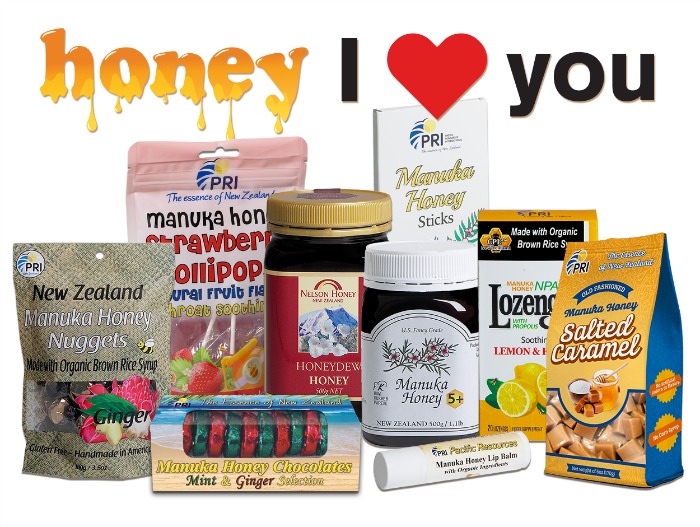 Honeyland New Zealand Honey
Honeyland honey is sourced from the Manuka tree native to New Zealand. It is praised for its potent anti-bacterial agent when used as a digestive aid, immune defense, and can be used topically for minor wounds and burns. Their Manuka Honey 5+ is guaranteed to have a MG rating over 60+ mg/kg. Independently tested and cool processed to extract any bee particles or honeycomb bits. Enjoy the delicious Honeyland Honey with your morning tea, coffee, or toast. You can also take 2-3 tbsp per day. All their honey is certified kosher. 100% Raw Honey.
Manuka Honey Chocolates – Mint
Chocolate and mint just go together and when you make that Manuka Honey Mint Chocolates and you have a sure-fire winner! They are made by wrapping rich dark chocolate around the finest New Zealand Manuka Honey tested 5+ and adding a touch of mint or ginger. PRI's Manuka Honey Dark Chocolates contain only 3 Ingredients: Pure Manuka Honey, Dark Chocolate (99% Cocoa), and Mint/Ginger. These delicious chocolate mints are all natural, gluten-free, dairy-free and kosher. They have NO artificial colors, flavors, or preservatives. Best of all they are produced right here in the USA. It is that simple and they are that good for you!
Salted Manuka Honey Caramels
Your Honey will love the Salted Manuka Honey Caramels! They are a soft chewy caramel with New Zealand sea salt that brings out the delicious Manuka flavor! They are perfect for an after dinner treat or an anytime snack. Best of all they are produced right here in the USA! Ingredients include Organic Brown Rice Syrup, Sweetened Condensed Whole Milk (Milk, Sugar), Organic Evaporated Cane Juice, Butter, Sea Salt, Manuka Honey, Molasses, Natural Flavor, and Sunflower Lecithin.
Manuka Honey Nuggets
Manuka Honey Nuggets are a delicious treat made with Manuka Honey 5+. They come in three fantastic flavors; Manuka Honey, Lemon & Honey and Ginger. They are perfect for an everyday treat, sweet tooth cravings, sporting events, energy, dry and tired throats or even to sweeten your favorite hot beverage! These yummy nuggets are organic, gluten-free, have no high fructose corn syrup, artificial colors, flavors or preservatives.
Manuka Honey Sticks
Kids and adults alike love PRI's Manuka Honey Sticks. These delicious honey sticks give your immune system that extra boost during the day. They are great for on the go and perfect as a lunchbox treat! You can also enjoy them in tea or coffee, or even on your morning yogurt, granola or oatmeal!
ShopPRI on Amazon.com.
Ready to try these amazing products for yourself?
Head on over to shoppri.com to shop and remember to use discount code: LUV15 at checkout to receive 15% off your order and FREE shipping!
Connect socially with Pacific Resources International