Show Your Love This Valentine's Day with Stunning Pieces from the "Loves Me, Loves Me Not" Collection by Chamilia
This post may contain affiliate links or I may have received the product free in exchange for my honest review. See full disclosure for more information.
With February here, thinking about getting your special Valentine a gift is one the forefront of every lover's mind. Consider gifting a beautiful piece of jewelry from the "Loves me, Loves Me Not" collection by Chamilia Jewelry.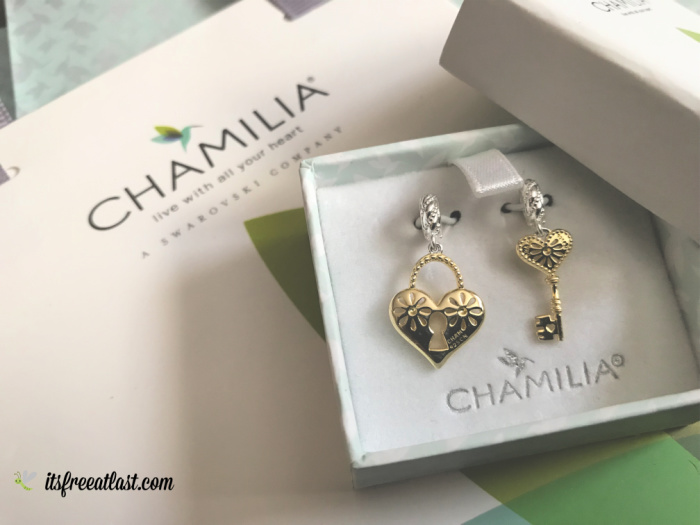 First on my wish list is this stunning Heart Lock and Key Charm Set in stunning gold and silver overtones. It is the perfect duo to add to a new or existing charm bracelet from Chamilia.
About Chamilia Jewelry
Based in Cranston, RI, Chamilia is an American company that was established in 2002. Since its purchase in 2013, it has been owned in full by Swarovski, a world leader in quality and innovation. Each of the more than 400 exclusive charms and wide selection of fine jewelry available from the brand are made from .925 sterling silver or 14 karat gold and feature genuine Swarovski Crystals or Zirconia, or Italian Murano Glass. The brand follows strict Swarovski guidelines for quality and aesthetic excellence.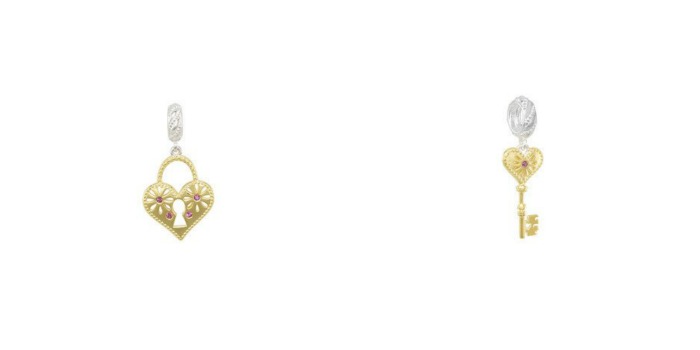 This season, Chamilia, a Swarovski company, is introducing "Loves Me, Loves Me Not," a collection of five new charms, two earrings, and one bracelet that celebrates winter's transition into spring.
The entire Chamilia line is made from sterling silver, 14 karat gold, or Chamilia Blush and features genuine Swarovski Crystals and Swarovski Zirconia. The brand follows strict Swarovski guidelines for quality and aesthetic standards. Items in Chamilia's new "Loves Me, Loves Me Not" collection include:
Daisy Heart Charm—This heart-shaped sterling silver bead charm features transparent pink enamel daisy detailing (MSRP $35 U.S.).
Starry Hearts Charm—This round sterling silver bead charm with 14 karat yellow gold electroplating is set with multicolored Swarovski Pure Brilliance Zirconia accents in a daisy pattern (MSRP $50 U.S.).
Stained Glass Crystal Accent Charm—This bold accent charm features marquis-shaped fuchsia Swarovski crystals and round metallic sunshine Swarovski crystals (MSRP $55 U.S.).
Daisy Silhouette Charm—This daisy-shaped sterling silver charm features 14 karat yellow gold accents and amethyst Swarovski crystals at its center (MSRP $45 U.S.).
Heart Lock and Key Charm Set—This vintage-inspired charm set features a sterling silver hanging key charm and heart charm that can be worn together or separately; both are electroplated in 14 karat yellow gold and feature daisy-shaped cutouts with amethyst Swarovski crystals at their centers (MSRP $60 U.S.).

Chamilia

 Oval Snap Bracelet with Yellow Gold Clasp—This bracelet features a sterling silver snake chain with a 14 karat yellow gold oval snap closure (MSRP $80 U.S.).
Daisy Post Earrings—These crystal stud earrings with removable sterling silver "daisy" jacket are available in either amethyst Swarovski crystal with 14 karat yellow gold detailing along the bezel (MSRP $45 U.S.) or golden shadow Swarovski crystal (MSRP $40 U.S.).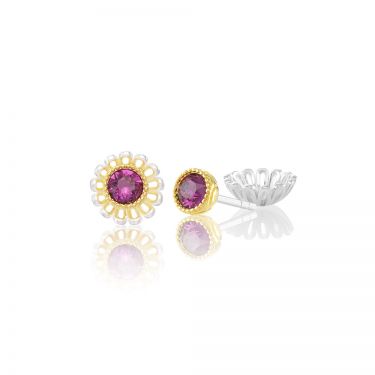 The Chamilia "Loves Me, Loves Me Not" collection will be available starting January 14, 2019, and will be sold at the brand's more than 1,000 retail partners worldwide and on theChamilia website.
I cannot say enough about this special time of year and the unique pieces that Chamilia carries allow you to find the perfect piece to show your Valentine how much you love them. I am keeping my heart under lock and key for my love in the form of the Heart Lock and Key Charm Set. 
Stay connected with Chamilia socially and watch for all of the latest holiday pieces they have to offer: