SJ Works Classic Bicycle First Aid Kit is an Essential Necessity!
This post may contain affiliate links or I may have received the product free in exchange for my honest review. See full disclosure for more information.
Summer is here and in full swing with Fall hot on its heels. It is the perfect weather to be out and about, especially for riding our bikes! Cycling is a great exercise and a fun past time. And, for some, it is their preferred method of traveling from place to place. Not only is cycling good for your health, you can avoid traffic! Whether you love riding through the city and visiting the many attractions, or prefer to check out the mountain trails, we all need to be prepared for bicycle accidents. After all, even the best cyclist crash and burn every now and again. That is when it is essential to have a first aid kit such as the SJ Works Classic Bicycle First Aid Kit to patch up the cuts, scrapes, banged up knees and elbows!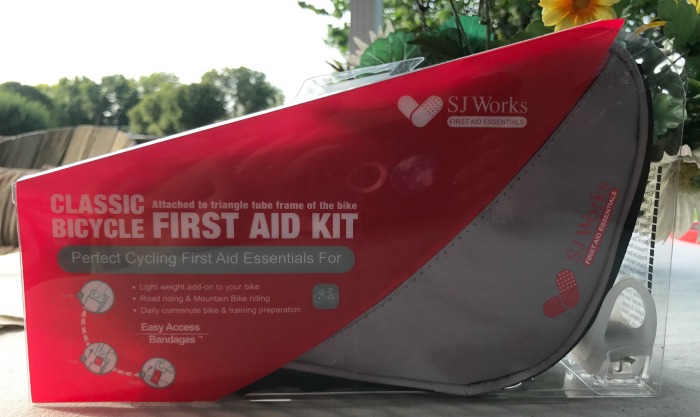 The SJ Works Classic Bicycle First Aid Kit is certainly a must-have for cyclist! It is simple, easy, and unobtrusive to store on the bike! Read on to see the necessities it holds, how it fits your bicycle, and why you will not want to be without it!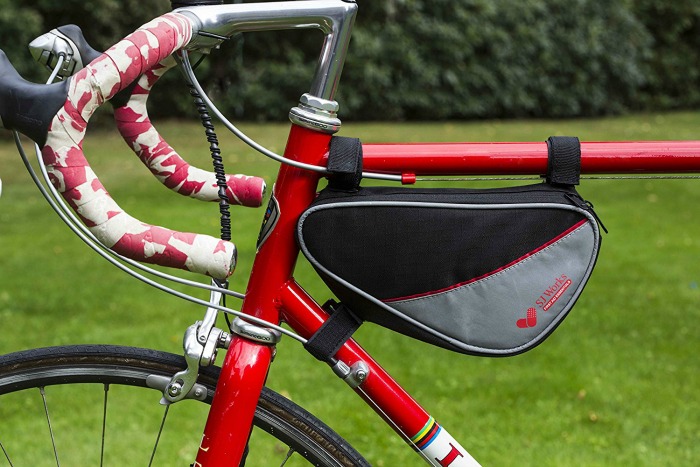 Conveniently Attaches to Bicycle!
The Classic Bicycle First Aid Kit attaches to the triangle tube frame of your bike. It is conveniently out of the way, but there in case you need it. You have the peace of mind of knowing you have first aid in case you need it. It is great for cleaning and protection of small and medium cuts and scratches and stopping bleeding.
You will also love that it is CE & FDA approved!  The Classic Bicycle First Aid Kit meets ISO13485 International Standards and all medical components are EO sterilization.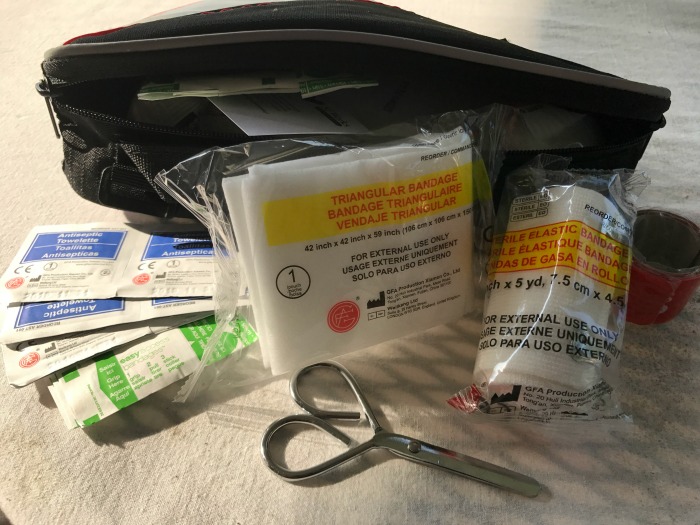 The SJ WORKS Bicycle First Aid Kit includes:
1 pc Empty Bag for triangle tube frame of the bike.
1 pc American Red Cross First Aid Guide
10 pc Antiseptic Towelettes
5 pc Easy Access Bandage 3*1″
5 pc Easy Access Bandage 3/4*3″
10 pc Junior Easy Access Bandage 3/8×1.5″
5 pc Butterfly Wound Closures
2 pc Sterile Non-Adherent Pads 2″x3″
2 pc Sterile Non-woven sponges2″x2″2pcs/pk 4ply
2 pc Sterile Gauze Pad 2″x2″8ply
1 pc Pressure Bandages 2″x2″
1 pc Pressure Bandages 3″x3″
1 pc Elastic bandage3″
1 pc Sterile Eye Pad
1 pc Triangular Bandage 42″x42″x59″
3 pc Safety Pins 28mm
1 pc Medical Grade Vinyl Gloves-Large
1 pc First Aid Tape Roll 1/2″x10yds.
1 pc Safely Scissors
1 pc SJ Works Reflect strip
1 pc Security Seal
1 pc cover box outside
I simply cannot think of a reason you would not want a SJ Works Classic Bicycle First Aid Kit! Seriously! It is the handiest thing you can have on board. You never know when an accident may happen. It is always better to be prepared! And, with the Bicycle First Aid Kit, it is so easy to be ahead of the game!
You can find the SJ Works Classic Bicycle First Aid Kit on Amazon. Get yours today! There is no excuse for not being prepared! These much-needed kits make great gifts for friends and family members that love to cycle too!
Connect socially with SJ Works