Slime Flat Tire Repair Kit for Emergency Tire Repair in Minutes! #MegaChristmas17
This post may contain affiliate links or I may have received the product free in exchange for my honest review. See full disclosure for more information.
A flat tire is not something most of us think about until we are faced with the problem. We are busily going about our day, maybe taking our kids to school or coming home from a ballgame, and "it" happens. Now what? Being stuck on the side of the road with cars whizzing past is not my idea of fun or safety! Even if you have roadside assistance, you are still stuck until they arrive. You have the alternative of changing the tire yourself, but what if your spare is flat? Believe me, this happens! Well, there is a very simple solution that will get you off the side of a dangerous road in only minutes and you can easily do it yourself. It's the Slime Next Generation Tire Repair Kit.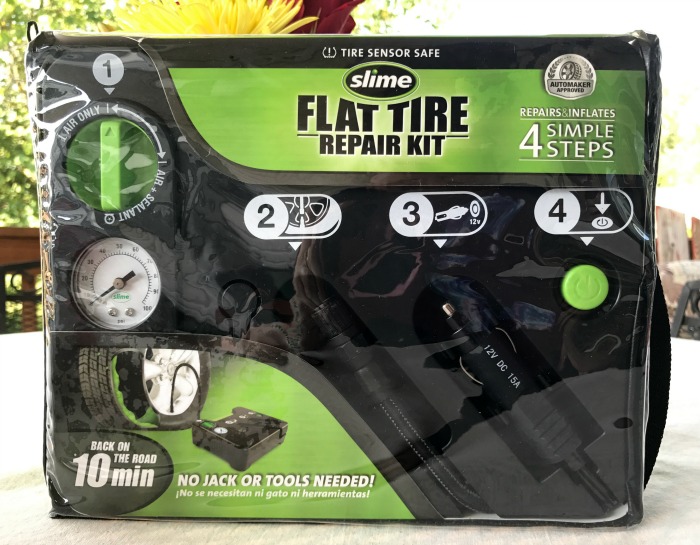 With the Slime Next Generation Tire Repair Kit, you simply plug it in to a power port, attach it to your tire's valve stem, push a button, and voila! You're off and running again. It's the safest, simplest solution to a flat tire. You also don't have to worry about your precious cargo being stuck on the side of a busy highway.
Let me introduce you to Slime and then I will show you more about how it works!
Slime was founded in 1989, in a garage in central California, close to numerous mountain biking trails that created a high demand for "the green slimy stuff" to repair tires. Since then, Slime has grown into a company that exports its products to 36 countries and is the leader in tire sealant and tire repair technology. Since their founding, they have been committed to manufacturing a product that is safe for their customers and the environment.
Check out this short clip on "How to Use the Slime Flat Tire Repair Kit"
Simple 4-step process with step by step repair guide
Available in Standard or Digital versions
Refill cartridge available
Trusted technology
Sealant approved by leading OEMs
No need for jacks or tools
Tire sensor safe
Repair and fully inflate a flat tire in minutes
Standard series retails for $39.99
Digital Series retails for $49.99
Refill Cartridge retails for $12.99
Don't get caught on the side of the road! By yourself is bad enough, but when we have precious cargo like our children with us, the side of the road is not a safe place!
Visit Slime for more information on the Slime Next Gen Flat Tire Repair Kits. You can also visit their handy store locator tool to find a retailer near you. This handy tire repair kit would make an amazing gift for family and friends, especially someone on the road a lot!
Connect socially with Slime
Slime is now on our Mega Merry Christmas Gift Guide. You can view it HERE.