SodaStream Review and Giveaway!
This post may contain affiliate links or I may have received the product free in exchange for my honest review. See full disclosure for more information.

Do you love Soda? or Pop? or Coke? Do you want to make it yourself?
Well whatever you call it where you're from (we call it "Soda" in Nebraska), fans of all types of sweet carbonated beverages can now make them at home in a fun and enjoyable way. SodaStream Home Soda Maker. With it, you can make soda, of all different types without using any batteries, power, or wasting thousands upon thousands of plastic bottles.
The average American drinks 55 gallons of soda each year. If you don't recycle the plastic bottles (and most don't) you're committing that bottle to a 700-year life in a landfill. 700 years! You think someone might want that landfill space at some point? Using the sodastream, the plastic bottles are reusable and manage to keep your soda carbonated well for up to a week.
How does this magical amazing product work? It's very simple. The main device is essentially a CO2 container that forces the gas into the ready to use liter bottle. Simply press the top button until you hear 3 or 4 buzzes (meaning the pressure in the bottle is at the appropriate level). Then unscrew it and add one of many soda and flavored water concentrates. The best part about the Soda Stream is that the flavors taste very good. I tried diet ginger ale, cola, orange, energy (red bull type), and root beer. They all tasted great and the best part is that you can tailor the amount of sweetness that you want in your drink. Then just throw it in the fridge and use it like any other liter bottle. After you're done, wash it out with soap and water and reuse.
The CO2 containers are legal, registered containers that you can exchange with SodaStream when you're done. So there again, the by-products of this process are reused.
The actual machine itself has a list price of $79.95. You can buy a start up kit tailored to your tastes at their website, but assuming your main drink is pop and you buy all items (gas and concentrate) in bulk, your variable cost per liter is roughly $0.67. The cost of a 2-liter at the store is roughly $1.58 for a premium brand. It's important to note that no matter how much you drink using the sodastream you'll never recoup your initial investment.
But, that's not what this is really about. Sodastream is about high quality, innovation, and the fun times had making your own pop. The initial side benefit of saving numerous plastic bottles is a wonderful added benefit. This product is not for everyone but is great for people who like to make their own stuff or impress friends.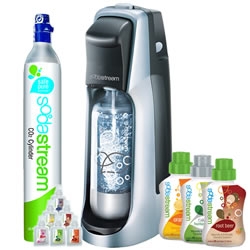 Now to the Good Stuff, Would you like to win one of these Awesome Machines?  Well get this you can enter to win:
Fountain Jet – winner's choice of color (black/silver, red/silver or white)
–          1 carbonating bottle, reusable for up to 3 years
–          Reusable carbonator to fizz up to 60L of soda
–          Variety 6-pack of popular sample-size flavors
–          3 full-sized flavors of the winner's choice
All you have to do is fill out the Form Below and Voila' Your entered!