Spice Up Your Appetizer Game with Hall's Beer Cheese
This post may contain affiliate links or I may have received the product free in exchange for my honest review. See full disclosure for more information.
Who doesn't love beer and cheese? This great combination will spice up your appetizers or your main dishes for your next get together with family or friends, or just a normal night at home. Our family loves nights when we have appetizers for dinner, and with Hall's Beer Cheese it surely will be a huge hit!
Beer and Cheese – undeniably two of our most important achievements and Hall's Snappy Beer Cheese combines them both. This Kentucky staple was developed over a half a century ago. Hall's is a favorite of the famous and infamous and is enjoyed by royalty to real folks and everyone in between. Hall's Snappy Beer Cheese is savored as a simple appetizer or as an ingredient in numerous yummy recipes.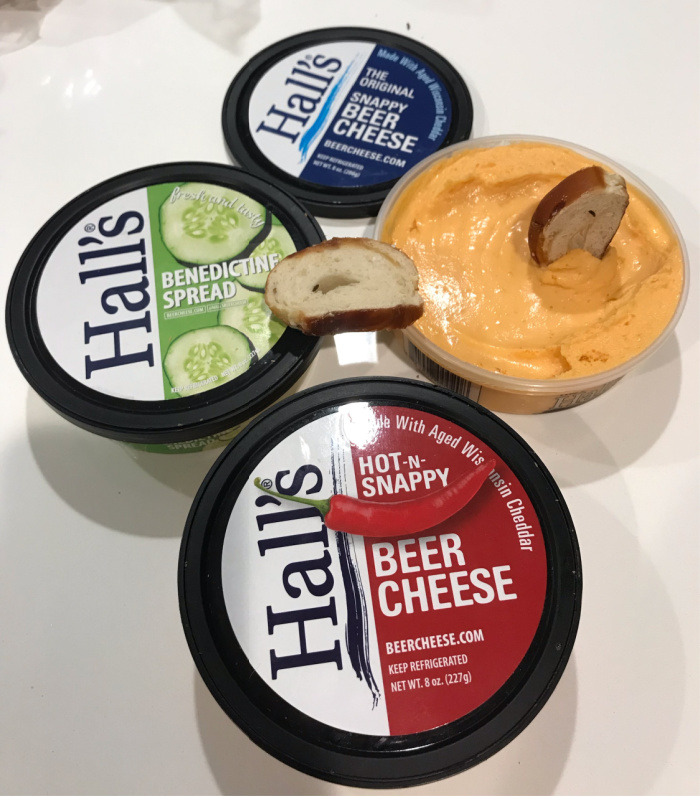 About Hall's Beer Cheese:
As the name implies, Hall's Beer Cheese is the combination of two of man's most important achievements: beer and cheese. Add in savory spices and a little heat and you have The Original Hall's Snappy Beer Cheese recipe developed in Central Kentucky more than half a century ago.

Kentucky has a unique culinary heritage of innovation that has produced some of the world's most beloved flavors: Kentucky Fried Chicken, bourbon, and beer cheese. Legend has it that this unique snack was developed by Joe Allman for his cousin Johnny Allman to introduce in his various restaurants on the Kentucky River. Johnny allegedly lost one restaurant, along with his recipes, to Carl Johnson in a card game in the early 1960s. After Mr. Johnson passed away, George and Gertrude Hall acquired the restaurant and its recipes in 1965. Since that time, Hall's On the River has been a mainstay in the Central Kentucky dining scene. Hall's Original Snappy Beer Cheese was an integral part of that success, extending the love of the brand nationally and internationally.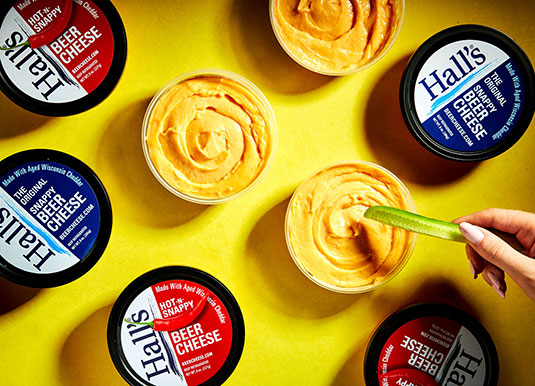 While America stays safe at home, the amateur chefs in all of us are looking for new ideas to keep it interesting in the kitchen. During these challenging times, good old comfort foods are always a good idea. Hall's Beer Cheese Mac-n-Cheese spices up this traditional recipe and adds a boost of flavor and just the right amount of heat! Hint…the kids will love it!
Hall's Beer Cheese Mac-n-Cheese:
INGREDIENTS:
8-Ounce container of Hall's Beer Cheese (The Hot variety for more heat, The Original for a more subdued version)
2 Cups Half & Half or Whole Milk (Substitute reduced fat milk for a lighter version)
½ Cup of diced Country Ham or any sort of Thick Cut Ham
3 Slices of Thick Cut Bacon chopped
1 Pound Bag of Elbow Noodles (Or pasta of your choice)
Salt & Pepper to taste
PREPARATION:
Prepare pasta according to instructions and set aside
In a separate 4 qt. pot sauté the bacon and ham over medium heat until tender and golden
Reduce heat and stir in Half & Half and Beer Cheese
Lightly whisk over low heat until creamy texture is formed and slightly bubbling
Turn off heat and stir Pasta slowing into the cheese sauce until coated
*for an even zestier version add in half cup of chopped red peppers when sautéing ham and bacon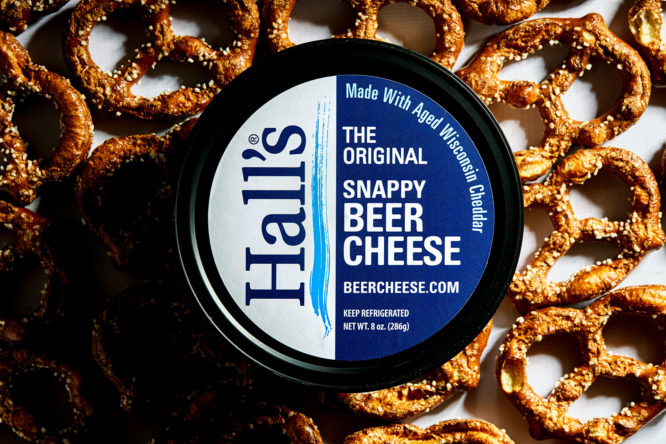 You can purchase Hall's Beer Cheese at your favorite local stores, including Kroger and Sams Club, also available on their Website.
Stay socially connected with Hall's Beer Cheese for all their latest products: