SPONGEBOB SQUAREPANTS: THE COMPLETE ELEVENTH SEASON Available on DVD 03/31
This post may contain affiliate links or I may have received the product free in exchange for my honest review. See full disclosure for more information.
SpongeBob SquarePants and the unforgettable inhabitants of Bikini Bottom are back for more hilarious hijinks in SpongeBob SquarePants: The Complete Eleventh Season, arriving on DVD March 31, 2020 from Paramount Home Entertainment and Nickelodeon Home Entertainment.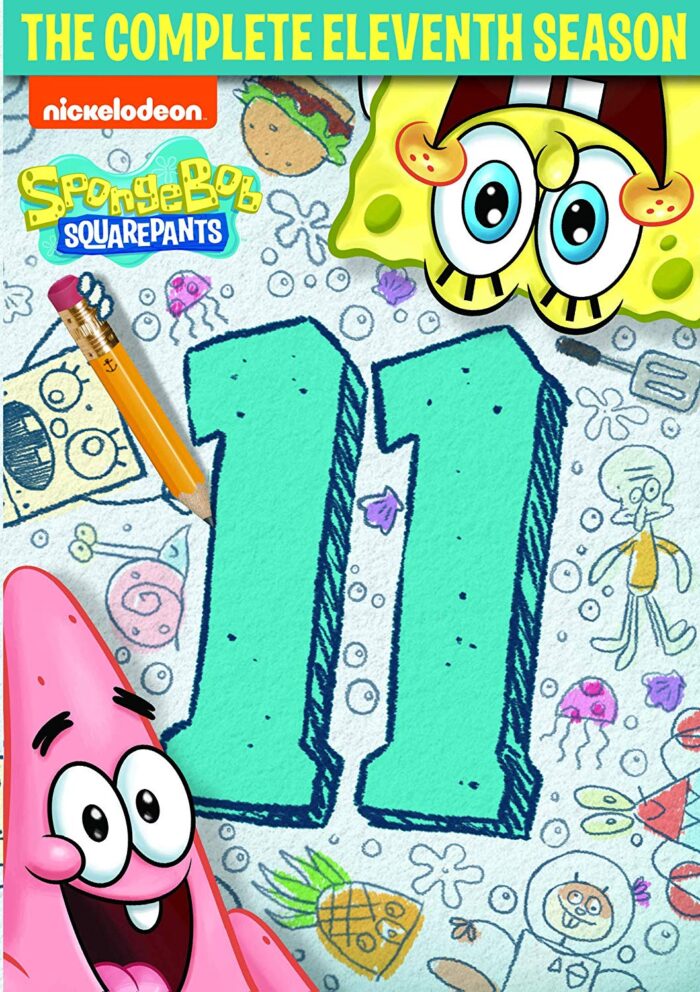 Enter DoodleBob's alternate dimension and take a trip to Bubble Buddy's hometown. Help SpongeBob keep Fred's leg out of harm's way, move Bubble Bass out of his mom's basement, and stop SpongeGar from wreaking havoc all over town! Make new friends, including an imaginary hamster, a sea bunny, the Krusty Krab's peculiar night crew and Sandy's nutty nieces. Plus, take a trip to the moon, solve the curious case of the missing clarinet and hear Gary speak for the very first time ever!
Featuring every hilarious episode from Season 11, plus Plankton's Color Nullifier, SpongeBob SquarePants: The Complete Eleventh Season 3-DVD set will be available for on March 31st!
Episodes Include:
• 216a Cave Dwelling Sponge
• 216b The Clam Whisperer
• 217a Spot Returns
• 217b The Check-Up
• 218a Spin the Bottle
• 218b There's a Sponge in My Soup
• 219a Man Ray Returns
• 219b Larry the Floor Manager
• 220ab The Legend of Boo-kini Bottom
• 221a No Pictures Please
• 221b Stuck on the Roof
• 222a Krabby Patty Creature Feature
• 222b Teacher's Pests
• 223a Sanitation Insanity
• 223b Bunny Hunt
• 224a Squid Noir
• 224b Scavenger Pants
• 225a Cuddle E. Hugs
• 225b Pat the Horse
• 226a Chatterbox Gary
• 226b Don't Feed the Clowns
• 227a Drive Happy
• 227b Old Man Patrick
• 228a Fun-Sized Friends
• 228b Grandmum's the Word
• 229a Doodle Dimension
• 229b Moving Bubble Bass
• 230a High Sea Diving
• 230b Bottle Burglars
• 231a My Leg!
• 231b Ink Lemonade
• 232a Mustard O'Mine
• 232b Shopping List
• 233a Whale Watching
• 233b Krusty Kleaners
• 234a Patnocchio
• 234b ChefBob
• 235a Plankton Paranoia
• 235b Library Cards
• 236a Call the Cops!
• 236b Surf N' Turf
• 237ab Goons on the Moon
• 238a Appointment TV
• 238b Karen's Virus
• 239a The Grill is Gone
• 239b The Night Patty
• 230a Bubbletown
• 240b Girls' Night Out
• 241a Squirrel Jelly
• 241b The String
Here some fun, free printables and a delicious recipe to try at home for Sponge Kabobs!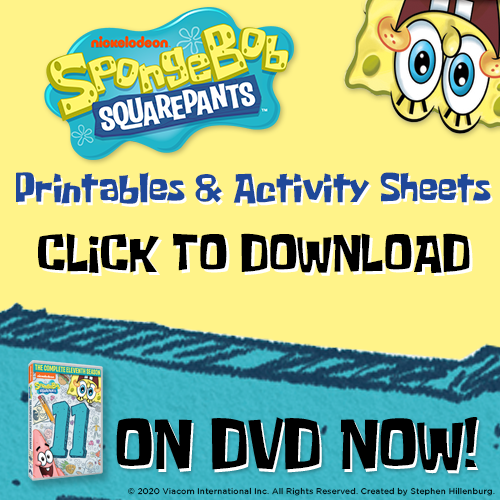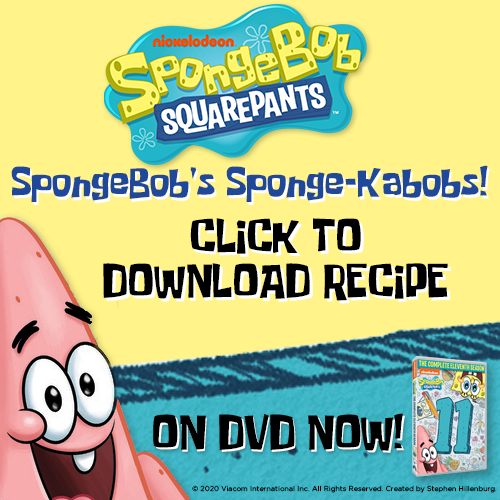 About Nickelodeon
Nickelodeon, now in its 40th year, is the number-one entertainment brand for kids. It has built a diverse, global business by putting kids first in everything it does. The brand includes television programming and production in the United States and around the world, plus consumer products, digital, location-based experiences, publishing and feature films. For more information or artwork, visit http://www.nickpress.com. Nickelodeon and all related titles, characters and logos are trademarks of ViacomCBS Inc. (Nasdaq: VIACA, VIAC).
About Paramount Home Entertainment
Paramount Home Entertainment (PHE) is part of Paramount Pictures Corporation (PPC), a global producer and distributor of filmed entertainment. PPC is a unit of ViacomCBS (NASDAQ: VIAC; VIACA), a leading content company with prominent and respected film, television and digital entertainment brands. The PHE division oversees PPC's home entertainment and transactional digital distribution activities worldwide. The division is responsible for the sales, marketing and distribution of home entertainment content on behalf of Paramount Pictures, Paramount Animation, Paramount Television, Paramount Players, MTV, Nickelodeon, Comedy Central and CBS and applicable licensing and servicing of certain DreamWorks Animation titles. PHE additionally manages global licensing of studio content and transactional distribution across worldwide digital distribution platforms including online, mobile and portable devices and emerging technologies.