Stay Healthy During the Holidays with a Cornucopia of Health Vitamin Pack from #SuperiorSource
This post may contain affiliate links or I may have received the product free in exchange for my honest review. See full disclosure for more information.
The holiday season is one of our most anticipated and magical times of the year. However, it is also one of the busiest! It can have us running from here to there and literally draining ourselves and our immunity! From shopping to parties, there is always something going on! Being out and about and around so many people can leave us exposed to various colds and flu bugs! The best way to fight the onslaught germs is to be the healthiest we can be. This fabulous Cornucopia of Health Vitamin Pack from Super Source can help!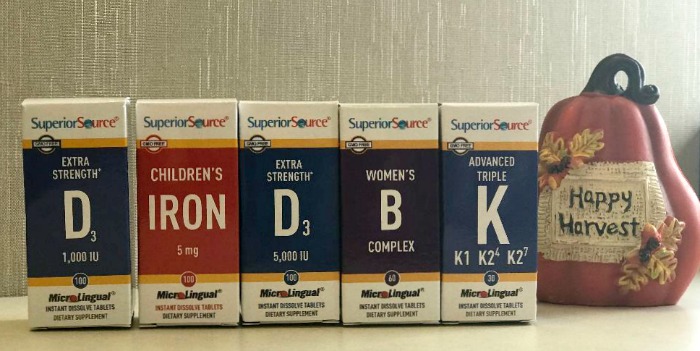 Super Source Vitamins are a must-have for your kids healthy! Superior Source Vitamins are much easier for kids to take, as there is NO pills for little throats to swallow. Read on to learn more and check out the FREE offers from Superior Source!
Superior Source Vitamins are MicroLingual® – "Under the Tongue Technology". They work fast and are quickly absorbed into the body, dissolving in seconds – NO pills to swallow! Supplements that are swallowed lose as much as 50% of the potency in the high acid environment of the stomach.
No pills to swallow
GMO FREE and Sugar FREE
90% smaller than regular vitamins
No chemical binders or fillers
Don't let illness slow you down during the holidays!
Stay healthy with this fabulous Cornucopia of Health Vitamin Pack!
Women's B
Women's B-Complex with Extra B-12 and Folic Acid is formulated to provide the nutrients that support a woman's optimal health. Folic Acid promotes the production and maintenance of new cells and supports nervous system health, energy metabolism, and healthy heart function.
Vitamin K
Vitamin K is needed for normal blood clotting, as it is necessary for the formation of prothrombin. Superior Source "Instant Dissolve Micro Tabs" works well with Calcium and Vitamin D.
Children's Iron
Our Children's Iron is a low 5 mg dosage suitable for children under 4 years of age. In the fumarate form, which is gentler on the stomach than other forms of iron. As a dietary supplement, for children less than 4 years of age dissolve one MicroLingual® tablet in meal or use as directed by your child's primary healthcare provider. For adults and children, 4 or more years of age dissolve one MicroLingual® tablet under the tongue daily.
Vitamin D3
Vitamin D works in conjunction with calcium to promote the development and maintenance of strong bones and teeth. Our Vitamin D products are D3, the finest source of Vitamin D available.
Daily Multi-Vitamin
Our One Daily Value Multi-Vitamin contains 100% of 11 vitamins and nutrients your body needs for optimal health, including B vitamins for energy metabolism as well as Vitamin C and A for antioxidant protection and immune support.
Vitamin B12
No Shot B-12 Instant Dissolve MicroLingual® Tablets go to work fast, under the tongue. This concept is critical for B-12 supplementation. With regular B-12 supplements, as much as 50% of the B-12 potency is lost in the high acid environment of the stomach. Our B-12 formula with B6 and folic acid is specifically formulated and manufactured to provide the maximum essential nutrients for the support of the heart. Selenium helps to protect the body from cell damage due to free radicals.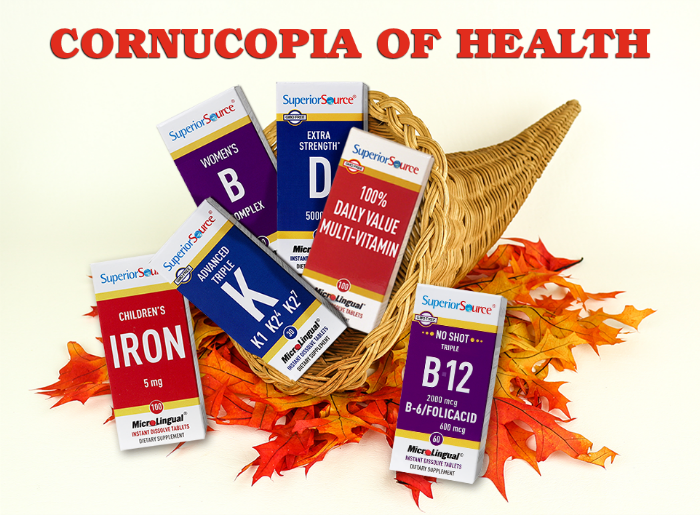 Where can you find Superior Source Vitamins & Supplements
No one wants to be sick through the holidays, right? Keep yourself and your family healthy this holiday season with Superior Source MicroLingual® supplements! You can find these MicroLingual® vitamins and all Superior Source Vitamins at major retailers. Use their handy store locator tool to find a store near you. Or, you can purchase from online retailers!
Superior Source Vitamins.
Want a chance to try Superior Source Vitamins for FREE?
If you love "try before you buy", now is your chance! Take advantage of Superior Source's fabulous promotional offers! Simply like the Superior Source Facebook page and you can try these amazing vitamins free!
Connect socially with Superior Source