Stockpiling for Storms!! Word from the Couponing Experts & Meteorologist
This post may contain affiliate links or I may have received the product free in exchange for my honest review. See full disclosure for more information.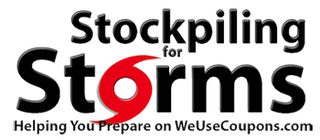 It is with great honor and privledge that Nathan fromWe Use Coupons talked with The Coupon Centsations husband, Dale Bader (Meteorologist) about how your family can prepare for the storms! After having been through the April 27th, 2011 tornado outbreak this topic is very near and dear to our hearts…..
With a large hurricane currently in the Atlantic, I thought I would share some basic suggestions for storm preparedness from a couponing perspective. We all want to prepare for natural disasters but often times preparing costs MONEY. So for those on the Gulf and Eastern Seaboard, this article is designed to help soften the financial cost of preparedness.
Some basic recommendations:

Have 3-5 days of nonperishable food. Remember to focus on foods that don't require cooking or water to prepare. Often times you will be without electricity for extended periods of time. Some good stockpiling options: tuna and canned chicken. Both have long expiration's and often have good coupons. I myself have asmall stockpile of tuna. (Click here to see a little picture!)It's not my favorite food, but in a crunch, I'm going to learn to love it.
Stockpile high energy foods. Couponers will often see energy bar coupons. I personally don't like energy bars, but if they are extremely discounted, I buy them primarily because I know they have a very long shelf life AND because they are great in an emergency. One bar can keep me going for a long while. More good, cheap stockpile options are peanut butter and cereal/granola bars. They are high calorie and little space is required to store them.

Don't forget your vitamins. Walgreens and other major drugstores often do BOGO sales on vitamins and with coupons often the cost to get them is very, very low. Stock up on these and make sure your supply is healthy during hurricane season.

Special food needs. I'm a 29 year old male. I personally have no special food needs. If push came to shove, the 30 boxes of cat food might look really nice, BUT I have an 18 month old in my household. Cat food isn't going to fly with her LOL. She is eating normal food, but she still loves her bottle of milk. If we were faced with a disaster and she needed her milk, I would have no options. For that reason, I have three cans of powder based formula in the basement. I got them for free with coupons and formula checks. Remember not to forget your family members, including infants or the elderly, with special diets.

Water. In my household, we have four large jugs from Walmart that I believe are 10 gallons each. They aren't that expensive, but we feel it's necessary to help deal with any disaster. When we see a bottled water deal (often times in conjunction with Kool-aid or Crystal Light) we stock up! Water is something worth paying for!

Let there be light. If your home is left without electricity, you will need a way to see at night. Couponers are very aware that there are GREAT deals on batteries and candles. Glade often will put out great candle coupons that make them free every so often and they smell good! Battery deals are everywhere; you just have to pick the right time and store to buy! Stock up.

Gotta have gas. My wife and I just got an extra propane tank. We had a great rebate for it and decided it would be wise to always have access to some type of cooking surface if we lost power. Gas or fuel is an important resource in an emergency, but it's difficult to stockpile. Have the containers ready and try to fill up your car before the storm!
We believe it is best to have at least two weeks of food on hand. As we have seen from major disasters here in the United States, sometimes FEMA is slow to react. It is probably unlikely that a disaster would cut the food supply for that long, but having that stockpile would be a great relief. Canned foods are a great option for getting to the two weeks of food on hand if you aren't a serious couponer. Del Monte, and many other major brands, routinely have coupons that reduce the cost of canned items tremendously. I often get canned items for under $.05 each. Another option is to can items yourself! We have many WUCkies who do just that.
Dale Bader, a Broadcast Meteorologist with WAAY-TV in Huntsville Alabama, was kind enough to answer some of our questions about storm preparedness and what couponers (and non couponers) can do in the event something does happen!
Please note: Dale Bader and family were affected by the Alabama Tornado Outbreak this past April, 2011. His responses come his educational background, personal experience, and most importantly, from the heart!

Dale, I know you and your wife are couponer's, what do you personally do to prepare for a storm and soften the financial cost of that preparedness?
We always have non perishable items on hand. Soups and canned good items are important and can be cooked over an open fire if necessary. Cereal is another good item we stockpile that can be eaten dry if necessary and of course snacks for the kids. We also make sure to stock up on batteries as many as we can get our hands on. During the Tornado Outbreak, it was so hard to find batteries! Just when you think that you have enough, its NEVER enough! Please keep in mind that lots of flashlights and radios require C and D Batteries, which most people don't keep on hand. During a disaster batteries and candles are at a premium!
What is your number one tip for people in disaster zones?
My number one tip is to have enough survival supplies to get you through 3-5 days without ANY electricity what so ever. Also remember, if you know a storm is coming, to fill your vehicles with gas. Can you believe that after the tornado, we waited 3 hours to fill up with gas? In addition, always have at least a gallon per person per day of water on hand. That means if you are a family of 4 and you are planning for 5 days, you will need 20 gallons of water. Make sure to have batteries on hand for your flashlights. Also, check into a nifty hand crank radio that has a USB port that can charge your cell phone.
Midland ER102 Emergency Radio
What should people do after a storm?
The number one thing is to stay calm. Try not to move too much among the damage. If your area isn't impacted directly, it's best to watch/listen to the news if you can. If you leave your home, you don't know how far you will be able to get. Help is coming, it's best to wait for the emergency personnel. If you are not directly affected, always remember that you can still lose power. Keep your freezer and refrigerators closed so that food stays cold. We would recommend turning them down to the coldest they can go before the storm hits if you know it's coming.
You have seen disasters, in your personal experience, what is one thing people need the most after a storm? 
The one thing people need most is information. The hand crank radio I mentioned earlier is so important to get information. We lost power, even though our home wasn't impacted, for 5 days. No internet, no phone, no information except for one radio station. Communication is vital.
Hurricanes are scary but at least we know they are coming. Big storms are probably both exciting and scary for a meteorologist, what is one thing people would be surprised to learn about hurricane predictions?
I guess a lot of people still think that the forecast will be perfect. But when we make a forecast, we are giving an 'average' forecast of a larger scenario. That means that some people will not prepare because they are not in the forecast cone (when forecasting hurricanes). They think they won't be affected. So pay attention because forecasts are not perfect. They are an inexact science and often change rapidly.
Can you describe your personal experience with the tornadoes in NE Alabama and how that has changed your outlook on storm preparedness?
Being a meteorologist on staff during the event, we knew during that day it could end up the way it did, but we never envisioned it would. As the afternoon came, we broadcasted with a heavy heart knowing the outcome because of what we were seeing in SW Alabama. I was fearful being at work, because my family was in the path of the storm and the hardest part was that I was disconnected from them because the power was out. I still remember driving home in pitch black darkness, no power. One of the dangers when a disaster happens is you are not able to see the intersections while driving at night. I couldn't see the stoplights. Accidents can happen easily because people can't see the intersections and run right through them. On a more personal note, we are now saving for a permanent generator and we have recently purchased a portable generator so that you have some basic comforts. Also make sure you have enough of the right size batteries; we had batteries during the tornadoes but they weren't the right size! We also now always make sure to have our emergency stockpile ready to go and always replenish it.
One of the last things I would suggest, is to stay aware of severe weather. A few options are a weather radio, or a new service which many meteorologist are now recommending. One is called Saf-T-Net and another called WeatherCall. They call either your land line or cell phone if severe weather is approaching even at night. Our power went out in Alabama and emergency sirens did not sound after the power failed. The only way to get warnings after the weather radio station lost power were the phone services, so many meteorologist now recommend these services. Many of these services are now even smarter and track your location via GPS to give you live warnings.
To learn more about these services visit Baron Services here.
We want to thank Dale for his time and if you would like to learn more about Dale check out his blog here! He also has a facebook page here. His wife Jennifer runs a deal/coupon blog called theCoupon Centsation (stop over and say hi)
The national hurricane center has some excellent recommendations and we advise anyone in affected hurricane zones to check it out: Be Prepared