Superior Immune Support from Superior Source Vitamins #NoPills2Swallow #SSV
This post may contain affiliate links or I may have received the product free in exchange for my honest review. See full disclosure for more information.
Well 2020 sure has been an interesting year and start to a new decade. We are certainly living in unprecedented times. With so much uncertainty, it is crucial that we maintain our immune health, now more than ever. Some kids are going back to school and daycare, while others are still staying home as parents continue to work remotely. Whichever the case, we must keep our selves mentally and physically healthy and supplements from Superior Source Vitamins can help!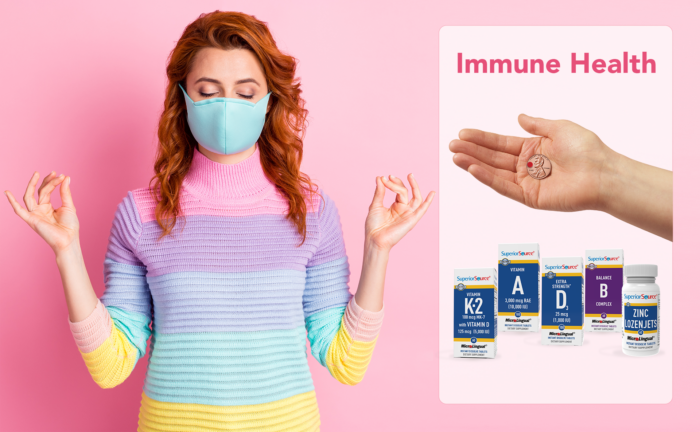 Super Source Vitamins are a must-have for your family healthy! Superior Source Vitamins are much easier for kids to take, as there is NO pills for little throats to swallow. Read on to learn more and check out the FREE offers from Superior Source!
Superior Source Vitamins are MicroLingual® – "Under the Tongue Technology". They work fast and are quickly absorbed into the body, dissolving in seconds – NO pills to swallow! Supplements that are swallowed lose as much as 50% of the potency in the high acid environment of the stomach.
No pills to swallow – dissolves in seconds
GMO FREE and Sugar FREE
90% smaller than regular vitamins
No binders, fillers, dyes or preservatives
Only 3 clean ingredients
Over 180 vitamins to choose

Start Back to School Immune Health Support from Superior Source Vitamins!
Let's look at the FABULOUS Immune Health lineup of vitamins!
Zinc Lozenjets + Vitamin C
Zinc is an essential mineral required by more than 300 enzymes for the support of multiple systems and functions in the human body. In addition, studies have indicated that zinc promotes recovery from the common cold and related symptoms. Our Zinc Lozenjets are formulated with vitamin C and elderberry extract as added protection for your health. Current research indicates that elderberry extract stimulates antibody production during acute illness.
Vitamin D – 1,000 IU
Vitamin D works in conjunction with calcium to promote the development and maintenance of strong bones and teeth. Our Vitamin D products are D3, the finest source of Vitamin D available.
Balance B Complex
Balance B-Complex with Extra Folic Acid & Biotin is a combination of nutrients that helps to protect the body from symptoms of stress, promotes healthy emotional balance, supports the optimal functioning of the heart and cardiovascular system, maintains healthy skin and muscle tone, enhances nervous system function and supports the immune system. Biotin helps to maintain healthy blood sugar levels and enhances the strength of nails and hair.
K2
This formula combines vitamins K-2 (MK-7) and D3. The benefits of Vitamin D (maintaining strong bones, immune system support, healthy muscle function, etc.), are well known but many don't realize that Vitamin D requires vitamin K-2 to maximize its benefits. If you're supplementing with vitamin D, it is a good idea to take vitamin K-2 as well. Vitamin D3 helps your body absorb calcium, and Vitamin K-2 (as MK-7, a form with high bioavailability) directs the calcium to your bones instead of your joints and arteries, where too much calcium could be problematic. Just one MicroLingual® Tablet per day provides 100 mcg of K-2 (as MK-7) and 5,000 IU of D3 which helps support strong bones, a healthy cardiovascular and immune system.
Vitamin A – 3,000 mcg
Vitamin A is a group of compounds that support eye health and the maintenance of healthy skin, teeth, and the surface linings for the respiratory, urinary and intestinal tracts. Vitamin A also plays a vital role in the promotion of immune system health.
Where can you find Superior Source Vitamins & Supplements
Color your kids healthy for back to school with Superior Source MicroLingual® supplements! You can find these MicroLingual® vitamins and all Superior Source Vitamins at major retailers including iHerb and Vitacost. Also be sure to use their handy store locator tool to find a retailer near you. Or, you can purchase from online retailers!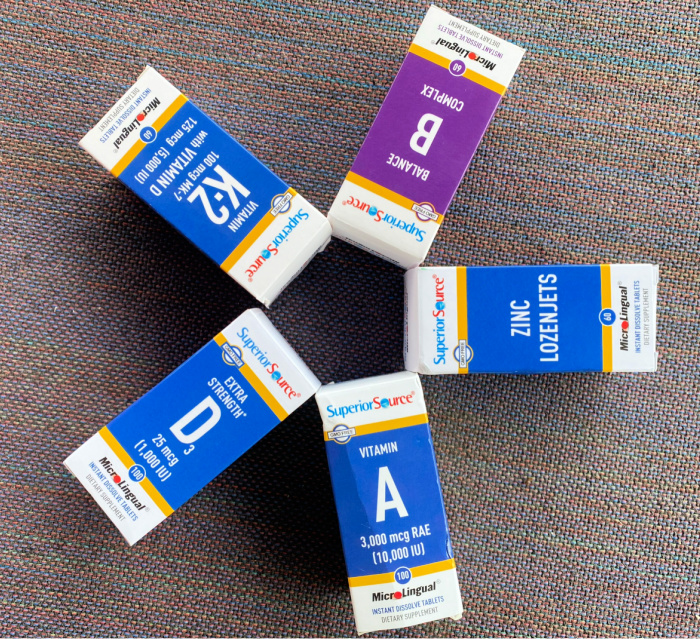 Superior Source Vitamins.
Special Promos to Stock Up On!
As we approach the fall and winter seasons, now is a time to capitalize on some amazing offers for the entire family. Check out these exclusive offers available on CVC4Health.com:
Lip Healer Lip Balm – Buy One 3-Pack Get One 3-Pack FREE
FREE Vitamin D3 – Buy Calming Formula and Get Vitamin D3 FREE
I cannot say enough about Superior Source Vitamins. I have been taking them for several years now and have noted a consistent, noticeable difference in my health. I swear by their vitamins for myself and my family. Be sure to check out these vitamins and other great products available.
Connect socially with Superior Source