Superior Source Vitamins – The Evolution of Vitamins 2021 #SSV #SuperiorSource #NoPills2Swallow
This post may contain affiliate links or I may have received the product free in exchange for my honest review. See full disclosure for more information.
January is the beginning of a new year of resolutions to maintain the health of your family. What better way to start 2021 than keeping your family healthy with the right supplements.
Superior Source Vitamins are the originators of The Evolution of Vitamins – inventors of the micro-tablet that dissolves instantly under the tongue for quicker and better absorption – with NO pills to swallow. They're clean and pure – the way nature intended!
Thanks to Superior Source Vitamins, it's now FUN to take vitamins with NO PILLS to SWALLOW! With over 180 vitamins, there are vitamins for everyone, young old and every need.
Superior Source MicroLingual® vitamins are easy to take and a must-have for keeping your entire family healthy!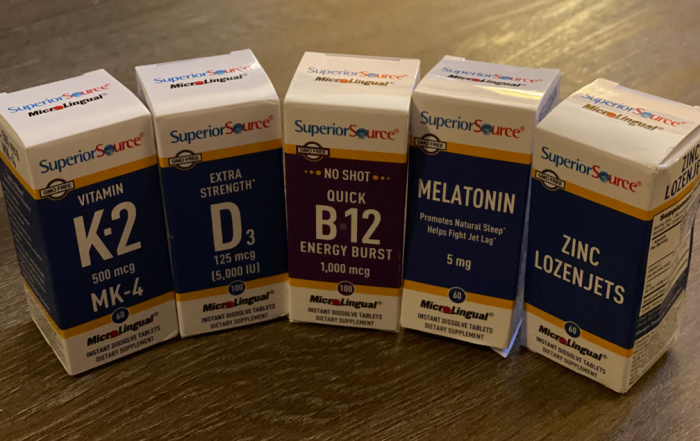 Your entire family will love Superior Source Vitamins! They are much easier for kids to take, as there are NO pills for little throats to swallow. Keep reading to learn more and check out the FREE offers from Superior Source!
Superior Source Vitamins are MicroLingual® – "Under the Tongue Technology". They work fast and are quickly absorbed into the body, dissolving in seconds – NO pills to swallow! Supplements that are swallowed lose as much as 50% of the potency in the high acid environment of the stomach.
No pills to swallow
GMO FREE and Sugar FREE
90% smaller than regular vitamins
No chemical binders or fillers
Join us in promoting a Healthy New Year for everyone!
Keep your entire family's immune system healthy with this amazing evolution of vitamins from Superior Source! Here is what we are excited to share with you this month:
Vitamin D3
Vitamin D works in conjunction with calcium to promote the development and maintenance of strong bones and teeth. D3 sublingual supports a healthy immune system, brain, and nervous system. Superior Source micro tablets only contain the extra strength vitamin D3 and necessary natural ingredients. Vitamin D melts that dissolve instantly with no pills to swallow. Superior Source pioneered the world's best delivery system of sublingual vitamins that melt fast under the tongue and give max absorption for the body.*
Vitamin B-12 Energy Burst
Get the natural energy you need to keep thriving! Quick B-12 Energy Burst, a Superior Source MicroLingual® product, is specially formulated with Vitamin B-12, herbs and energy boosters to support your active lifestyle and overall vitality.*
Melatonin
Melatonin acts as a natural aid for healthy sleep regulation and the promotion of normal sleep cycles during travel. Chamomile is an herb that works together with melatonin to promote calmness and restfulness.*
Vitamin K2
Vitamin K supports normal blood clotting and the formation of prothrombin.*
Zinc Lozenjets
Zinc is an essential mineral required by more than 300 enzymes for the support of multiple systems and functions in the human body. In addition, studies have indicated that zinc promotes recovery from the common cold and related symptoms. Our Zinc Lozenjets are formulated with vitamin C as added protection for your health. Try this special formulation in our Zinc Lozenjets.*
*Disclaimer: These statements made have not been evaluated by the FDA. This product is not intended to diagnose, treat, cure or prevent any disease.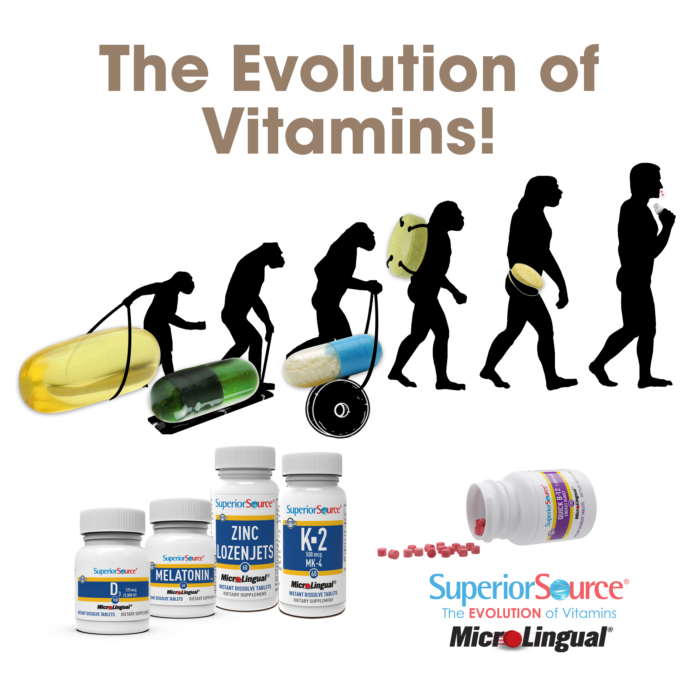 Where can you find Superior Source Vitamins & Supplements
Your entire family will love taking Superior Source MicroLingual® supplements and you will love knowing it is helping keep everyone healthy, especially as the colder months approach! You can find these MicroLingual® vitamins and all Superior Source Vitamins at major retailers including iHerb, Vitacost and Lucky Vitamins. Also be sure to use their handy store locator tool to find a retailer near you.
Superior Source Vitamins.
Be sure to check out these special deals on Superior Source Vitamins this month, exclusively on Amazon and use Code

FLIPHEALTH10

for exclusive savings:
CALMING FORMULA: Calming Formula combines L-Theanine, 5-HTP and Melatonin in an all-natural formula designed to support calmness and healthy sleep. L-Theanine is an amino acid that is found in tea leaves; it promotes relaxation and facilitates sleep by contributing to a number of changes in the brain. L-Theanine elevates levels of GABA, as well as serotonin and dopamine. 5-HTP supports the production of serotonin, an important substance for healthy nerve and brain function and the normal regulation of mood and normal sleep patterns. These chemicals are known as neurotransmitters, and they work in the brain to regulate emotions, mood, and sleep; increasing levels of these calming brain chemicals promotes relaxation and can help with sleep. Melatonin acts as a natural aid for healthy sleep regulation and the promotion of normal sleep cycles.*
L-THEANINE: L-Theanine is an amino acid that is found in tea leaves. It was identified in tea by Japanese scientists in 1949. While tea is the most common dietary source for L-Theanine, this compound is also found in some types of mushrooms. L-Theanine promotes relaxation and facilitates sleep by contributing to a number of changes in the brain. L-Theanine elevates levels of GABA, as well as serotonin and dopamine. These chemicals are known as neurotransmitters, and they work in the brain to regulate emotions, mood, concentration, alertness, and sleep, as well as appetite, energy, and other cognitive skills. Increasing levels of these calming brain chemicals promote relaxation and can help with sleep.*
COLLAGEN PEPTIDES: Collagen is the most abundant substance in the body and helps give structure to our hair, skin, nails, bones, ligaments, and tendons. When we get older, the production of collagen begins to slow down. Supplementing with collagen peptides (or hydrolyzed collagen) may help with the body's need for these building blocks. So why not jumpstart your day with a delicious Collagen shake for that nutritional and beautifying boost!*
Connect socially with Superior Source