Talking More with Creaters on New Disney Junior Show MICKEY AND THE ROADSTER RACERS #MickeyRacersEvent
This post may contain affiliate links or I may have received the product free in exchange for my honest review. See full disclosure for more information.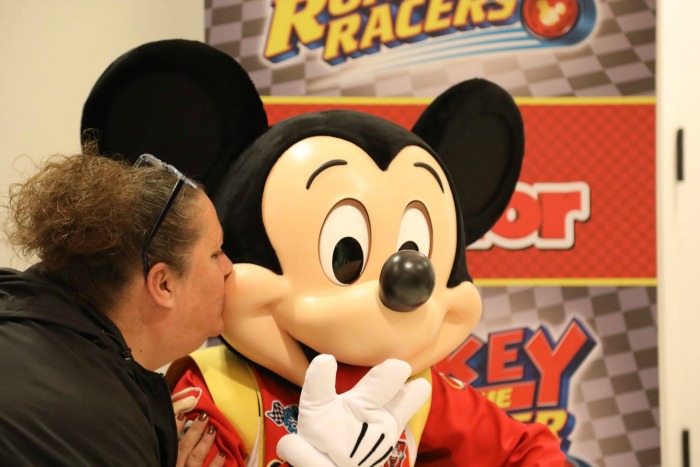 I had the pleasure of screening a BRAND NEW show coming to Disney Junior this winter – "Mickey and the Roadster Racers".  My fun event included an exclusive interview with producers Mark Seidenberg and Rob LaDuca.
This is a madcap car-racing adventure for preschoolers featuring Disney's #1 Star, Mickey Mouse, and his friends Minnie, Pluto, Goofy, Daisy and Donald Duck.
The show is colorful, engaging and fun. Kids of all ages will love it. Most every child has grown up with some magical, special influence from Disney, myself and my family included. For Mark Seidenberg and Rob DeLuca, they also loved Disney from a very early age.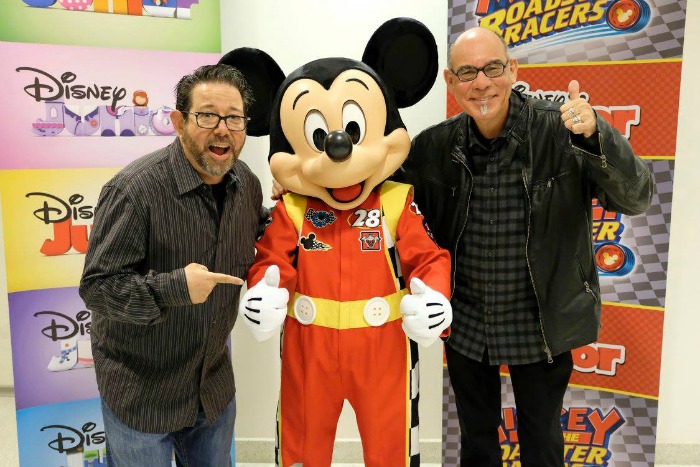 We asked them what it was like working with Disney for so many years and how they got their start in animation.
Rob commented: I was just one of those kids my parents didn't know what to do with, (be)cause I was always doodling and drawing.  We owned a restaurant, so my father would bring home butcher paper, put it in on the wall, and I would just go crazy, you know, drawing constantly.  And it developed into this!  

Mark added: I always was drawing when I was a little kid, and, of course Mickey was one of the first characters that I drew, (be)cause he's all circles, and he was really easy to draw.  Later on, when it was college time, I was really interested in being a cartoonist.  I went to art school, and I went to film school, and I was totally bit by the animation bug.  It was really great.  Years later, Rob and I are working at Disney, which was the place that I always wanted to work at. So for us, this is a real honor to be here on Walt's birthday, to show what we've been working on for the past two years.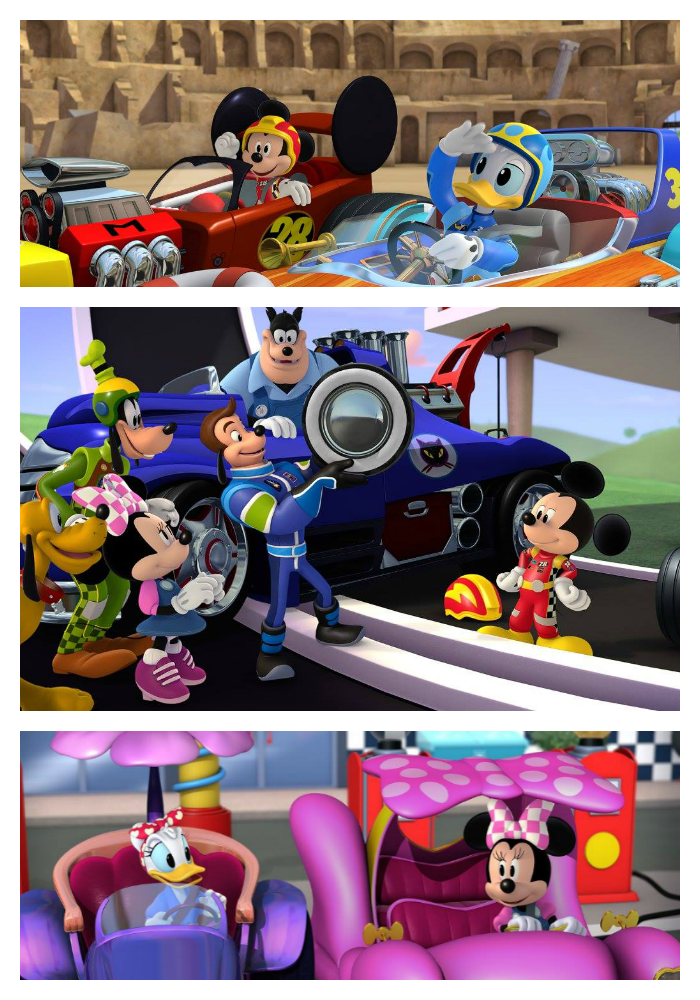 We then wanted to know more about their time at Disney, including how they started and continue to work at they place they have loved since they were kids.
Mark commented: Word came out through a friend of mine that Disney was starting a TV Animation group.  And I thought, I want in.  So… We started developing, Gummi Bears and Fluppy Dogs. The Walt Disney Studios was opening to, so many different, new avenues.

Well at the time, I was working on actually Muppet Babies. Then I got the opportunity to work on Gummi Bears.  That's where I met Rob. I was the head writer of that show.  And, we got to know each other then. 

So in the past 10 years, Rob and I have had quite a run with, Mickey Mouse Clubhouse, then Jake and the Never Land pirates, and now Mickey and the Roadster Racers. 
We talked more about we loved the new animated series and wanted to know how they developed the idea.
When Disney Junior asked us to develop a new show, we asked what was the most popular Mickey Mouse Clubhouse?  What were the most popular DVDs or shows? "Clubhouse Road Rally" was the most popular.

That involved every character who had their own little car that kind of fit their personality.  So we expanded on that, and we gave Mickey a classic hotrod. It's his normal car from Clubhouse, and then it turns into this classic American Roadster.

Goofy's personality, being so goofy, if his car could transform, what would it transform into?  A bathtub.  Minnie being elegant, and into fashion, we went with kind of a bow car, but basically the design comes from a French car called a Delahaye that had very smooth curves, and looked kinda like a bow.

Daisy loves flowers, so we wanted to turn her car into a smoking dragster. Donald, well, he's a sailor, so we created the cabin cruiser. His is the only roadster at this point that can go on land, and in the water.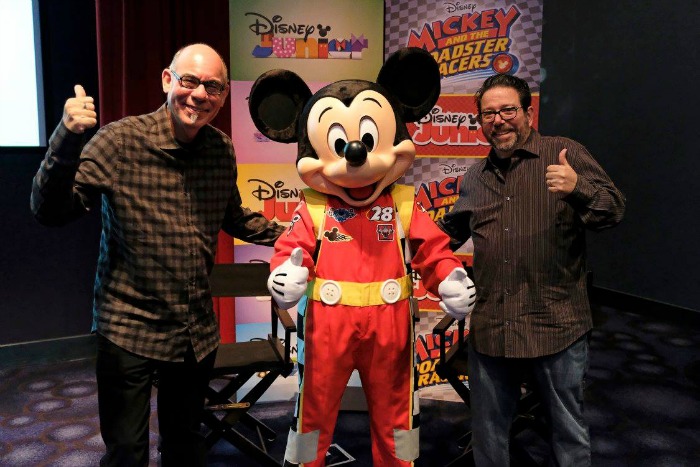 You could really tell how much Mark and Rob love working with Disney, and creating a new show with the character that was so near and ear to Walt himself – Mickey Mouse.
So it's been a real thrill this whole journey, for this show. (It) has been an absolute thrill.  Especially now on Walt's birthday.  This was a character that he held so close to his heart. This was his beginnings.  So it's a real honor to expand Mickey into the future. Walt was a total innovator.

Whenever there was a chance to use a new technology, Walt was always the first to experiment with sound and color, and all kinds of things. I like to think of this as an extension. If Walt was alive today, he would have been the first one to use computer animation.  

There was a lot of studio people who didn't want to experiment with computer animation way back when, but I know Walt would've charged right into it. He brought us animatronics, and all the parks.  He was such a thinker. I love that we can expand on his vision.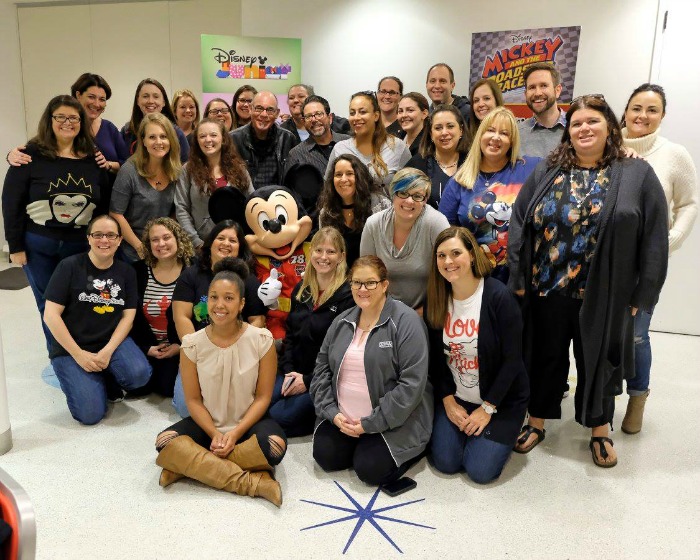 We has such an amazing time sitting and talking with Mark Seidenberg and Rob DeLuca. I cannot wait to see the show again as it premieres this Sunday!
Mickey and the Roadster Racers will make its television debut in a simulcast SUNDAY, JANUARY 15 at 9AM EST on Disney Channel and Disney Junior. Episodes will also be available on the Disney Junior app and Disney Junior VOD beginning Sunday, January 15, and on iTunes beginning Monday, January 16.
Kids can also unlock daily content, such as short videos and mini-games, via a Hot Dog Hills interactive map.
Be sure to stay fully connected with Disney for all of the latest news and information on this and other amazing animated shows.