Teach Kids Why Kindness Matters with The Gnome In Your Home
This post may contain affiliate links or I may have received the product free in exchange for my honest review. See full disclosure for more information.
Teaching little ones the act and value of kindness at a early age is vital and so important to cultivate. The Gnome in Your Home is an illustrated, rhyming children's book about a group of gnomes who, due to their small size and lack of magical skills, question if they can make a difference.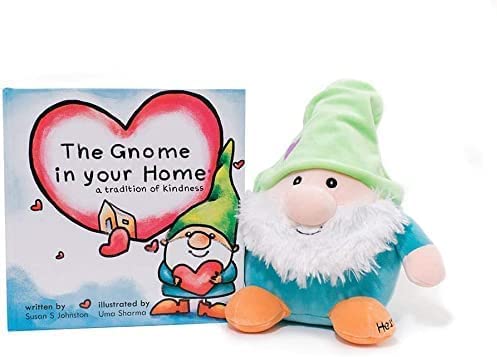 The hardcover book tells the story of a group of gnomes who learn that they have a special gift of kindness to share. They find that even though they may be small, their kindness can make a BIG difference. The book is accompanied by an adorable plush toy, named Heartley, which will inspire families to establish a tradition of daily acts of kindness.
Heartley is a cuddly 12" gnome who will become a part of your family. Families can sit down together each day and tell him about all the kind acts they did each day. Heartley wants to know all about the kindness you are spreading at home, at school, and in your community!
Included are 30 removable Kindness Cards to help you get started. These are examples of kind deeds for the whole family. Use the blank cards to come up with some of your own kind acts. At the end of the story, you will find a "Note To Parents" page, which explains how to make Heartley a part of your family.
The Gnome In Your Home encourages families to start their own traditions and make the act of being kind a daily routine and goal. Available now for purchase on Amazon.