Teenage Mutant Ninja Turtles Super Shredder on DVD March 21
This post may contain affiliate links or I may have received the product free in exchange for my honest review. See full disclosure for more information.
he Turtles are pushed to their limits in the new 
Tales of the Teenage Mutant Ninja Turtles Super Shredder
 DVD collection, featuring episodes from season four and five, available March 21. Using all of their skills, the Turtles' training is put to the test as they face their biggest enemy yet – the Super Shredder. With 11 thrilling episodes on two-discs, the Turtles prepare to battle Shredder, meet mysterious new enemies with superhuman speed, face an old enemy Don Vizioso and protect the world from Kavaxas in this new DVD collection. Join Leonardo, Raphael, Donatello, and Michelangelo, along with April and Master Splinter, as they embark on epic adventures and more to protect their planet.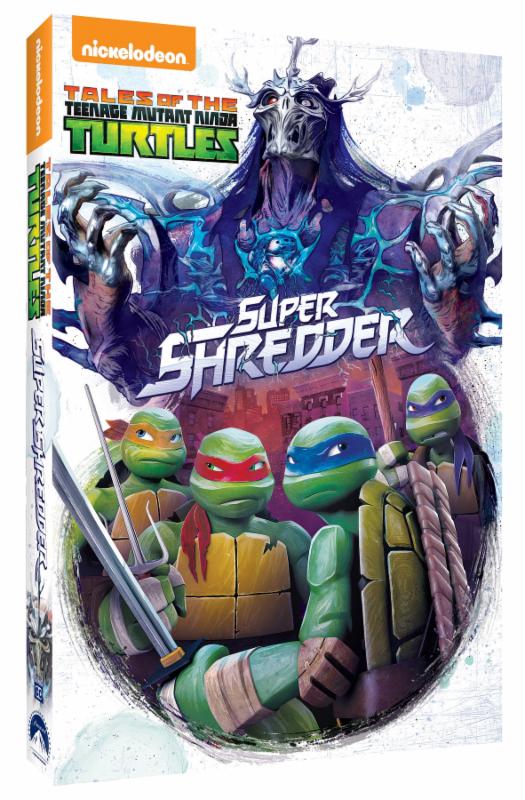 Produced by Nickelodeon Home Entertainment and distributed by Paramount Home Media Distribution, Tales of the Teenage Mutant Ninja Turtles Super Shredder will be available on DVD March 21, for the suggested retail price of $16.99.
Tales of the Teenage Mutant Ninja Turtles Super Shredder contains the following episodes: 
The Super Shredder – For the first time, the Turtles encounter something they cannot defeat – the Super Shredder!
Darkest Plight – The Turtle team hunts for their Sensei, but soon realize they are being hunted as well.
The Power Inside Her – A concerned Donnie tests April to discover her psychic abilities are rapidly growing in power.
Tokka vs. the World – Raph's bonding with little Chompy is interrupted by the invasion of Tokka, who has come to Earth searching for him.
Tale of the Tiger Claw – A mysterious new enemy with superhuman speed is on the hunt for Tiger Claw, and will take out whoever stands in her way.
Requiem – Splinter must lead the Turtles and the Mighty Mutanimals on the hunt to defeat his old enemy.
Owari – The Turtles realize they must stop Shredder… and end this conflict once and for all.
Scroll of the Demodragon – The Turtles believe they have defeated their old enemies, but they soon discover a new evil is rising.
The Forgotten Swordsman – Karai searches for the Kuro Kabuto, claiming to be the rightful heir to the Foot Clan, when she encounters an old rival.
Heart of Evil – Donnie's grudge against Don Vizioso threatens the Turtles' mission.
End Times – The Turtles must defeat Kavaxas and prevent him from destroying the world.
Once we received our DVD, I couldn't keep the kids, older and younger, away from the TV. This is definitely a DVD that will keep them engaging and interested. I love that the TMNT are characters that can appeal and entertain generations of all ages.
Be sure to stay socially connected for the latest TMNT information: