Just because you're trying your best to stick to a budget, it most definitely doesn't mean life has to be boring! Quite the opposite in fact, as you'll find plenty of freebies and one-off deals that can actually spice things up and make life a bit more exciting.
From baby wipes to free meals, there are plenty of ways to try out new products AND save money at the same time.
via GIPHY
Make the most of freebie offers
If you're willing to spend some time trawling through a website, there are some great freebies to be had on the internet. Most brands are keen to showcase their latest offering and these websites are a great place for them to trial their wares. You may be able to get anything from a month's supply of shampoo to diapers for your baby and, in exchange, you may have to leave a review or complete a short survey.
Head online instead of going out
If you're keen to inject a bit of excitement into a rainy day, why not try out a new online game? Staying in is a fantastic way to save some dollars, but you can still have fun. The web of 2017 certainly offers many opportunities to have fun, including popular casino games such as slots, poker and online bingo, which means that you're bound to find something to float your boat. There are many good deals on such websites too, often in the form of deposit bonuses and sign-up offers. The more generous providers will actually offer something for nothing in order to have you sample their services. For instance, there are free bingo no deposit games to try out at UK-based casino mFortune. These are the ones you should be the most interested in, as they don't require you to make a deposit at all. Be on the lookout for good value freebies – e.g. $20 no deposit and keep the winnings – and you won't have spent a dime.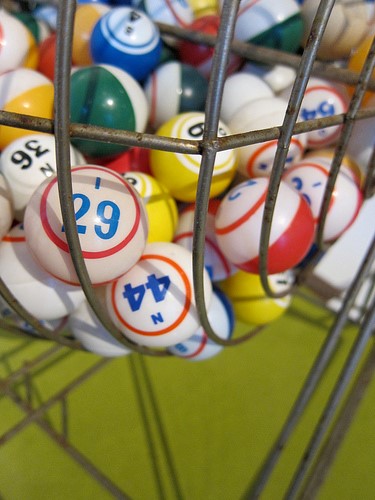 "Bingo!" (CC BY-SA 2.0) by elizaIO
Use your powers of persuasion
Think how many times you've been into a store and the assistant has tried to upsell you. Of course, that's part of their job, but it can work the other way too. There are plenty of top haggling tips available online to help you out. For example, calling the salesman's bluff and refusing point-blank to negotiate. They'll have targets to meet and if you've walked away because it wasn't what you wanted, you can be fairly sure they'll ring you if they need your sale to get their commission for the month. The closer to the end of the month you go in to look for a new games console/car/settee, the more likely you'll get what you want.
Grab a bargain from someone else's cast-offs
Just remember the old adage, one man's trash is another man's treasure and take a look at websites such as Craigslist or Freecycle. Someone might be renovating their home and need to get rid of things quickly, so they might be free if you're willing to go to collect them.  Just because things are second hand, doesn't mean they won't be in a decent condition, so you could pick up a great item for free.
Become a mystery shopper/diner
This is a fantastic way to ensure you've still got a social life, even when you're living on a budget. Head online and search to find an array of different mystery shopping and dining websites that are looking for people just like you to try their products. The only potential disadvantage to this is that you'll often have to pay for things first before reporting your findings and receiving a refund for the goods or meal you've purchased. However, this could be a great way of enjoying some fun nights out with your partner or even a great free day out with the kids.
There are plenty of bargains and freebies to be had, if you do a little bit of digging. Just remember to always read all the terms and conditions before you sign up for something – there's nothing worse than being stung with an annual subscription when you thought you just had a free trial.