VeggieTales In the House now available for NetFlix Members!
This post may contain affiliate links or I may have received the product free in exchange for my honest review. See full disclosure for more information.
Lettuce join Bob, Larry and the veggie crew's off-the-countertop adventures in five all-new, 22-minute episodes of the Netflix original series VeggieTales In the House!  The brand-new episodes are available for Netflix members now.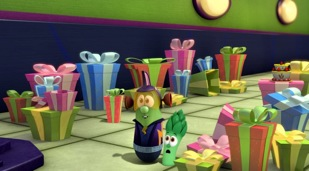 The newest episodes of the Emmy® Award-nominated series include "The Birthday Thief," in which LarryBoy (that's Larry the Cucumber's super-hero alter ego) has to defeat the nefarious Motato; "Cool as a Cucumber," which finds Larry donning a pair of sunglasses to fit in; and "Junior Gets a Pet" – the world's first-ever television appearance by a Buffalorange!
"LarryBoy to the Rescue"
"Cool Cucumber"
Every episode also includes brand-new songs and, of course, the famous closing phrase that has been at the heart of VeggieTales from the beginning: "God made you special, and He loves you very much."