Vio Life Dental UV Spa For a Fresh Mouth
This post may contain affiliate links or I may have received the product free in exchange for my honest review. See full disclosure for more information.
If you wear dentures or have partials, you know how it is just as important to clean them as brushing is. Sure you could brush them with a toothbrush, but that can lead to scratches, which can lead to build ups of bacteria that will be in your mouth all day long… gross!
Another option for keeping them clean is to soak with a denture tablet then use a special soft bristle brush for cleaning, but how clean is this method really getting your teeth?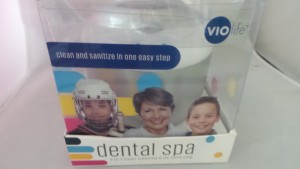 Vio Life has an innovative solution for anyone with partials or dentures that provides them with a UV sanitized feeling of clean. Let me tell you a little more about the Dental UV Spa by Vio Life.
"The days of brushing and soaking your mouth gear by hand are over! Our sleek, dual action UV Dental Spa does the work for you, sonically cleaning and sanitizing mouth guards, retainers, night guards and dentures!"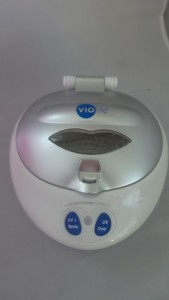 How innovative is this? You can toss your tablets and brushes out and still have the cleanest mouth around! There is no worry of scratching with the wrong tooth brush and causing the bacterial build up I mentioned earlier. This makes a great option for anyone with special dental needs, from night guards to partials, dentures and even mouth guards for your athletes!
The unit is sleek and modern in appearance. It is small for space saving, yet very effective. It is an investment in good oral health habits for people with special needs in the dental department!
To learn more about the Dental UV Spa you can check out the website where you can see the unit in action via a video. Get social to check out all of their innovative products.
Facebook | Twitter | Pinterest