Vitality CBD Offers Best CBD Products To Sleep A Little Easier
This post may contain affiliate links or I may have received the product free in exchange for my honest review. See full disclosure for more information.
Ever since the onset of the pandemic in 2020, I have found that one thing that has helped me out in times of stress, anxiety or restlessness is CBD. It comes in many forms, but my favorite are edible gummies and tinctures. Tinctures are great because they are the fastest way to get into your system. A new line of CBD products that I'm excited to try is Vitality CBD.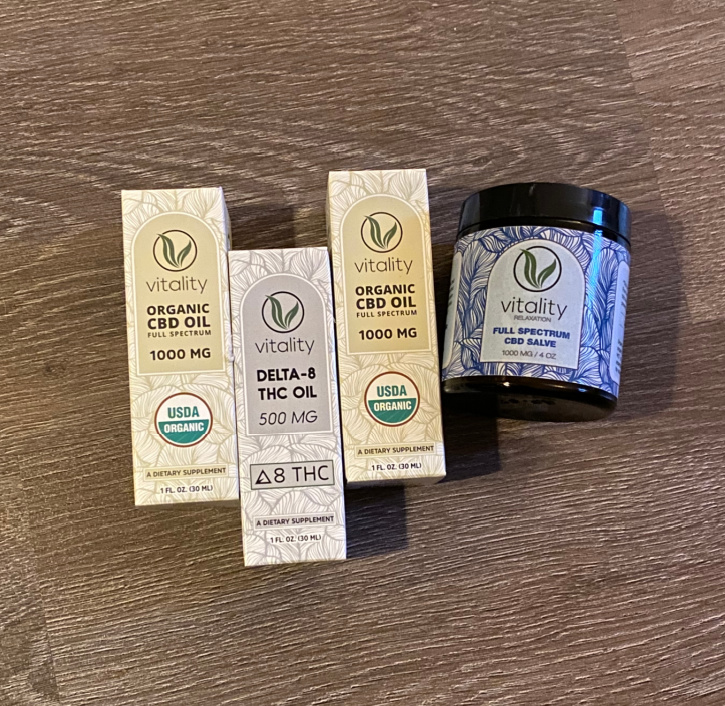 Vitality CBD is a Buffalo startup providing a healthy, natural alternative to the pharmaceutical industry.Vitality's oils, salves and cartridges seek to improve the lives of users, especially when it comes to sleep:
Early studies show that CBD can improve the sleep-wake cycle and help combat chronic pain and anxiety.
Moreover, achieving healthy sleeping patterns contributes positively to longer-term wellness and beauty.
Edible CBD oils and infused supplements can take hours to start working. Full-spectrum CBD salves begin working almost as immediately as they absorb through your skin. This salve contains a blend of six different all-natural ingredients. Those ingredients include organic grapeseed oil, organic beeswax, organic CBD oil, organic MCT oil, organic lavender essential oil, and organic peppermint essential oil.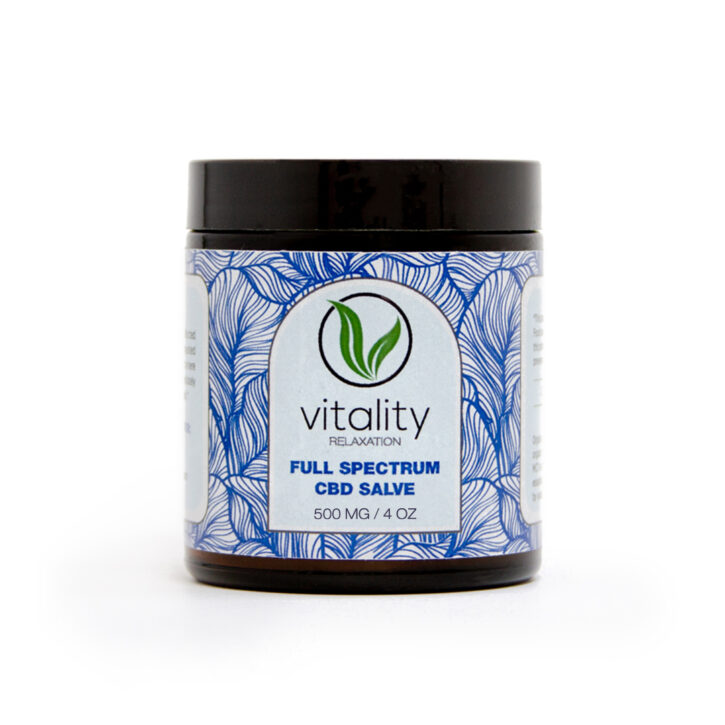 Vitality CBD Valves are a Unique Blend of Six Organic Ingredients:
100% Organic CBD
Non-Psychoactive (THC Under 0.1% by Volume)
Infused with Lavender & Peppermint
Full-Spectrum Topical Salve
Grown & Made in the USA
Packed & Distributed in Buffalo NY
Both the 500 mg and 1000 mg CBD Salves have been infused with Full-spectrum CBD Oil. Because of our Super Critical CO₂ extraction process our salves contain a wide array of cannabinoids. Instead of just CBD alone, Vitality CBD Salves use the whole properties of each hemp plant. It is believed the inclusion of multiple cannabinoids creates a compounding effect. This increases the overall potency of our products.
It is available in 500 or 1,000MG strength, comes in three types including Relaxation, Chronic Pain and Tension. They are available through online purchase or in select distributors throughout Western NY.
---
Organic CBD Oil
Vitality Organic CBD oils contain 100% organic ingredients and are entirely free of gluten, sugar, and soy. Vitality prides itself on bringing you CBD oil products entirely free of all artificial ingredients, sweeteners, and preservatives. The result is a Full Spectrum CBD product that is USDA certified organic and by Eco-Cert and certified vegan by Vegan Action.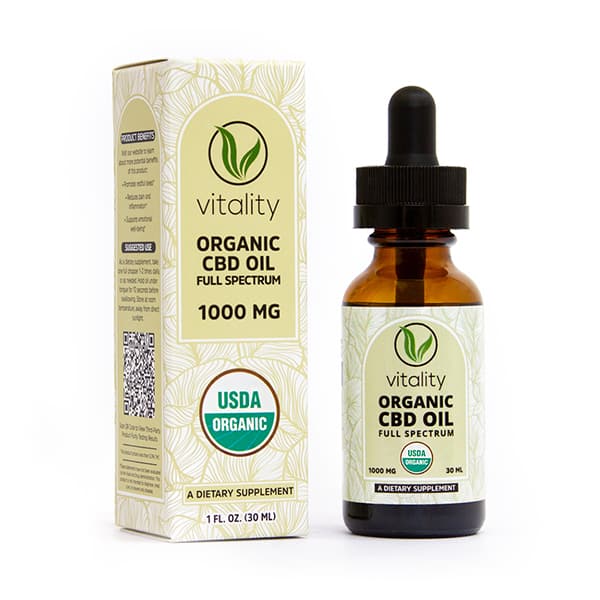 All our CBD oils undergo rigorous third-party testing leading testing agencies; ProVerde and EVIO. Each lab report verifies our CBD products are void of harmful particulates and measure the potency levels of every full-spectrum cannabinoid. All our products are certified Non-GMO, Gluten-Free, Vegan, and Organic. And our extraction and bottling facilities earned the GMP seal for cleanliness and purity.
It is available in four strengths including 250, 500, 1,000 and 1,400MG. They are available through online purchase or in select distributors throughout Western NY. They also have Water soluble and CBD oil for pets.
---
Delta-8 THC Oil
Delta 8 THC is an isomer of CBD and another cannabinoid found in hemp and hemp extracts. While Delta 8 THC and Delta 9 THC have similar names, they are distinctly different compounds with distinctly different characteristics, and there are clear-cut reasons why delta 8 THC was made fully federally legal by H.R. 2: The Agricultural Improvement Act of 2018 and delta 9 THC was limited to a maximum content of 0.3%
While Delta-9 THC is the main chemical responsible for delivering the psychotropic effects cannabis is known for, Delta-8 THC is an interesting variant. Despite only being slightly chemically different, Delta-8 THC is a much milder form of THC that can suit various purposes.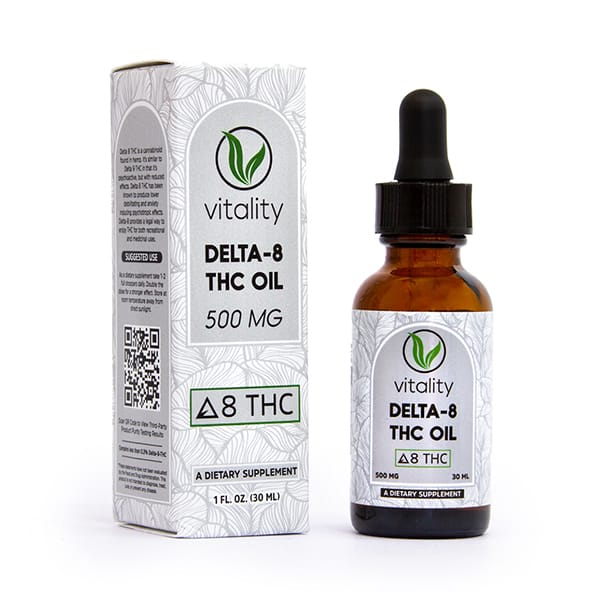 Vitality CBD offers a range of safe and natural Delta-8 THC products to suit all your needs. These products are much safer and milder than Delta-9 THC products, making them a valuable alternative. They can also be used alongside CBD products if you want to consume cannabinoids for your general wellness. We only provide high-quality, lab-tested Delta-8 THC products. Not only are many of our products sourced from organic farming operations, but they use only 100% federally legal industrial hemp, making them legal to use in the United States. You can find numerous types of Delta-8 THC products to suit your preferences, whether you prefer convenient Delta-8 THC Oils or flavorful Delta-8 THC Vape Cartridges. Also available is flower and shatter.
Since starting Vitality CBD products over the last 2 weeks, I have not touched any other CBD products, as these are far superior and more effective. If you suffer from restlessness, anxiety or are interested in other benefits of CBD, Vitality CBD is my top recommendation.
Connect socially to see what other products are available