What to expect in a personal training session?
This post may contain affiliate links or I may have received the product free in exchange for my honest review. See full disclosure for more information.
Congratulations! You've signed up to work out with a personal trainer! If you're nervous about your first session, you're probably asking yourself questions like:
Will she ask about my eating (and drinking) habits?
Will he make me do as many push-ups as possible so he can assess my fitness level?
Don't stress. There's nothing to sweat over. Here are several things—some that may surprise you—that will probably happen during your session.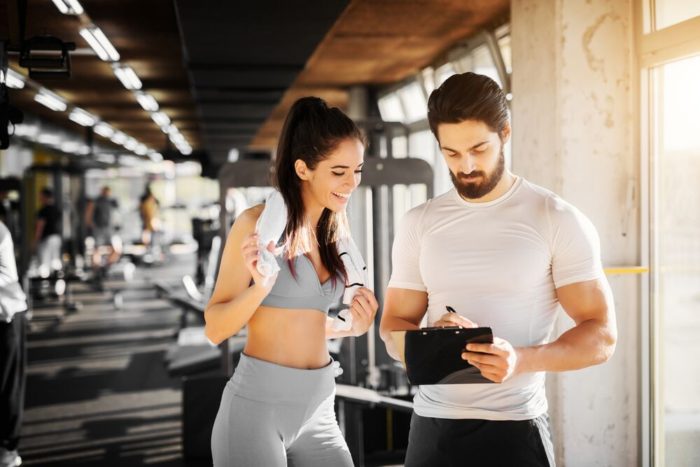 Getting to Know You
Every who decides to hire a personal trainer has their reasons for doing so. It's a great idea to have your fitness goals in mind when you arrive up for your initial session:
Do you want to lose weight?
Do you want to get stronger?
Are you aiming to get better in a particular sport?
Your personal trainer will need to know your goals in order to develop a training programme that is right for you.
Your personal trainer will also ask about your past:
Have you exercised previously?
What have you tried in terms of exercises? What worked or didn't work in this programme?
Have you suffered from any injuries which may hamper your ability to exercise?
She'll also want to know about what's happening with you now:
Do you have any injuries and/or illnesses that you suffer from at the moment?
What are your diet, sleep and stress level like?
Do you take any nutritional supplements?
How much time do you have to allocate to fitness?
Every personal trainer is different. They will ask different questions. However, these are some good examples of what you can expect to be asked at your first session.
Forms to Fill In
Depending on the gym as well as the personal trainer that you choose, there may be some forms to complete. The forms could include one or more of the following documents:
Waiver of liability
Although merely a form of precaution, this form protects the personal trainer and the gym in the case of injury or accident. It's the same type of form that you'd fill out if you attend a yoga or fitness session at a studio.
Informed consent
This form details what you can expect in your fitness assessment. It asks that you agree to the terms.
PAR-Q
In addition to the questions your personal trainer asks, he may also as you to fill out a Physical Activity Readiness Questionnaire (PAR-Q). This is a fast way for him to determine any factors why you may not be physically able to start a new exercise routine. If it unearths something preventing you from exercising, your personal trainer will speak with you about next steps that you need to take.
Medical history
You may be requested to complete a more detailed questionnaire about your health history . This form can help your personal trainer make sure that he has all the information that he needs in order to plan workouts for you that are safe and appropriate for your physical fitness.
Client agreement/contract
Many personal trainers offer you the first session for free. When the session has ended, she may discuss possibilities for working together regularly. If you decide to buy a package, you may have to sign some sort of agreement or contract.
These are just a few of the occurrences that you can expect in your first personal training session. If you feel that this is something that you interests you, why not head down to your nearest gym and sign up for a session!