#Win The Magic Christmas Ornament Collection
This post may contain affiliate links or I may have received the product free in exchange for my honest review. See full disclosure for more information.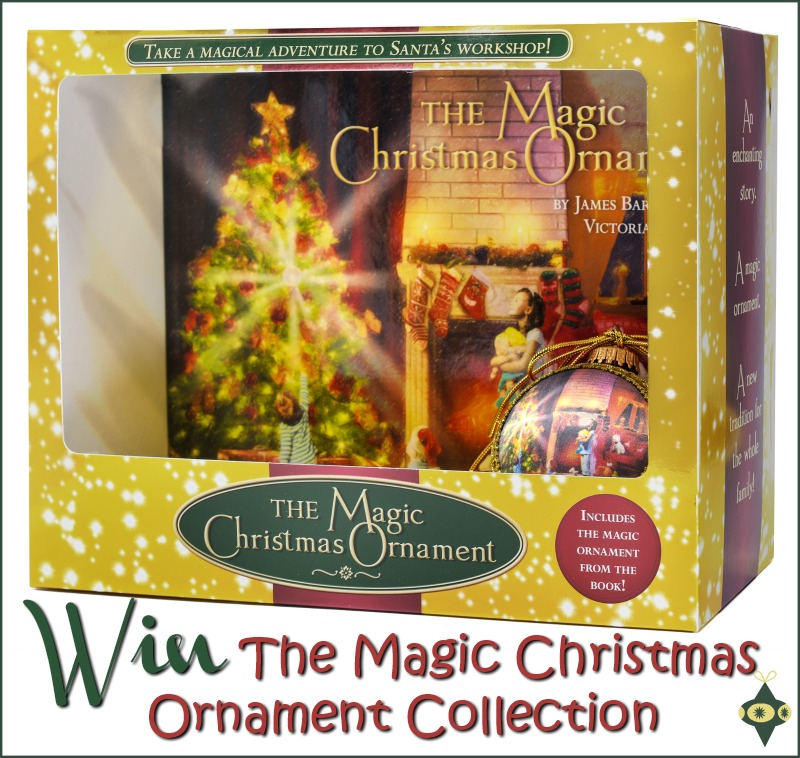 Celebrate the Magic of Christmas with this fun giveaway!!
Invite the magic of Christmas into your home this winter with The Magic Christmas Ornament Collection. This spellbinding Christmas storybook and dazzling tree ornament set will inspire new traditions and pull readers, both young and old, into a world of holiday splendor. The Magic Christmas Ornament Collection includes an heirloom quality case bound hardback book, an ornament just like the one in the story, and a beautiful decorative package, perfect for making the gift of Christmas a lasting memory.
On Christmas Eve, Victoria's father gathers her and her brothers, Joseph and John, around the fireplace to tell the story of a very special ornament that has hung on their tree for as long as they can remember. Their father found the ornament in a mysterious tree one snowy evening when he was seven years old, and brought it home. After hearing the story and going to bed, Victoria, Joseph, and John sneak back downstairs, and discover the ornament has magical powers! It whisks them away to the happiest place on Earth: Santa's workshop! The children can't believe their eyes as Santa himself appears before them. They also see mountains of toys, reindeer prepping for flight, the largest Christmas tree ever, and hundreds of elves – one of whom seems very familiar. This elf, named JJ, gives them a tour around the workshop, tosses Victoria one of Santa's ornaments, and leads them outside, straight to a mysterious tree in the woods. Victoria somehow knows to place Santa's ornament into the tree's knothole, and the magic of the ornament whisks them right back home. When they return, the children know they'll never forget the magic of Christmas that they witnessed that night.
Watch the Trailer!
Full-spread illustrations, featuring dazzling and colorful scenes, will inspire the festive spirit in readers of all ages. This beautiful hardcover comes in a shiny gift box with an ornament just like the one in the story—perfect for holiday gift-giving, reading aloud, and cherishing year after year. In true Christmas spirit, a portion of all proceeds will be given to the Marine Corps' "Toys for Tots" program. The book alone is available for $19.95. The price of the full collection is $44.95.  Get it on Amazon!
The authors' father and grandfather, Sylvester (Ziggy) Barbato, was one of nine children from an Italian immigrant family. Ziggy often told James, his son, that their family was too poor to afford toys, but he always vowed that his children would experience the spirit of Christmas nonetheless. The Magic Christmas Ornament is an original story created by James and Victoria Barbato, allowing their family to share the magic of Christmas—and all of its excitement—with yours.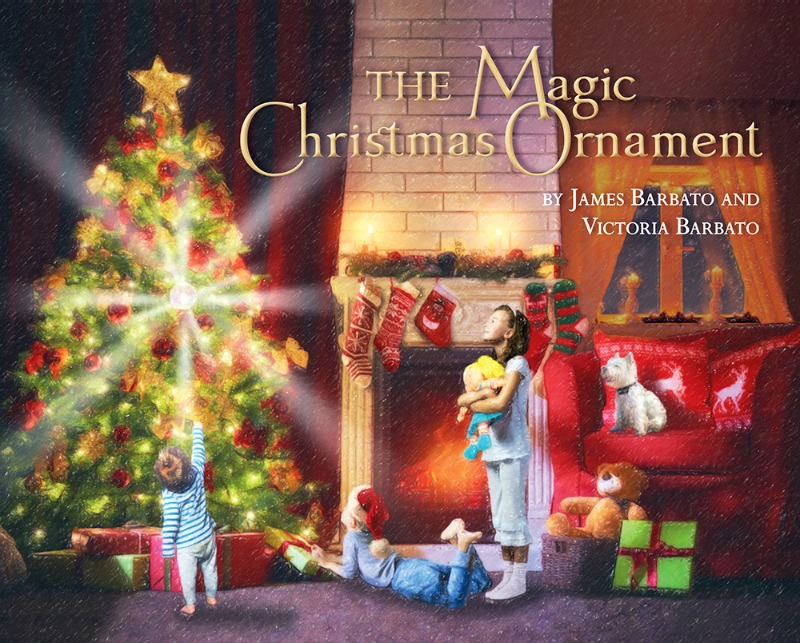 About the Authors:
James (Jim) Barbato is a former college professor and business owner. He is also the son of a U.S. Air Force Master Sergeant and lived all across the United States and Canada for the first twelve years of his life. As a child, Jim developed a strong Christmas spirit, inspired by the stories his father would tell. Jim often told original stories to his own three children, including the story of "The Magic Christmas Ornament," which they still remember and cherish as adults.
Victoria Barbato is currently an Instructional Coach for English language instruction in the Boston area. She holds a Bachelor's degree in English Education and a Master's degree in English, and is passionate about teaching and creating equity in educational opportunities for all learners. Growing up, Victoria was greatly inspired by her grandfather's and father's stories because they connect to the importance of family, convey fascination with the world, and always have a message of hope.
This giveaway is part of the Super Stocking Stuffer Hop!  Be sure to hop to all the other giveaways below the rafflecopter widget!
ENTER TO WIN!
One lucky reader will Win The Magic Christmas Ornament Collection!
The giveaway is open to US/CAN 18+
The giveaway ends 11/26 at 11:59p ET
Be sure to come back daily for more chances to win!