Wonder Junior DELUXE Hand Grain Mill Giveaway (Ends 07/11/17)
This post may contain affiliate links or I may have received the product free in exchange for my honest review. See full disclosure for more information.
I'd like to introduce you to the Wonder Junior Deluxe Hand Grain Mill by WonderMill. This incredible hand powered machine has so many awesome features but is most known for it's ability to grind wheat into a coarse cereal down to a fine pastry flour to fit your baking/cooking needs!
What sets the Wonder Junior Deluxe Hand Mill apart from the competition is it can grind much more than most of the hand & electric mills on the market! You can grind: all sorts of grains to make flour, roasted peanuts to make homemade peanut butter, beans & rice to make gluten free flours, spices, coffee beans, popcorn kernels to make corn meal and check out these other 70+ items it can grind for you!
The Wonder Junior Deluxe comes with:
2 different sets of grinding burrs allowing dry and wet food items to be ground
A clamp to attach it to your countertop without causing damage
An adjustment knob (to adjust how fine or coarse you want it ground)
The actual body and handle of mill
Flour guide
Cleaning brush
Please go HERE to read the full review on this awesome hand grain mill on I Love My Kids Blog.
There are many advantages to having a hand grain mill in your home. The biggest reason for me, is the limitless healthy options I can provide for my family on a daily basis. No more high fructose corn syrup as the 2nd ingredient in my bread (like the store bought kind I used to buy). Another reason is money saving possibilities! Specialty flours (for people on gluten free diets-for example) are pricey, you can get a big ol' bag of beans and grind your own flour for a fraction of the cost! In case of an emergency. You never know when a natural disaster is going to hit your area that may prevent your local stores from getting food (it wouldn't take long for the shelves to be cleared). With a bag of wheat and this hand mill I don't have to worry about having nothing to feed my children. It would be food in their little tummies!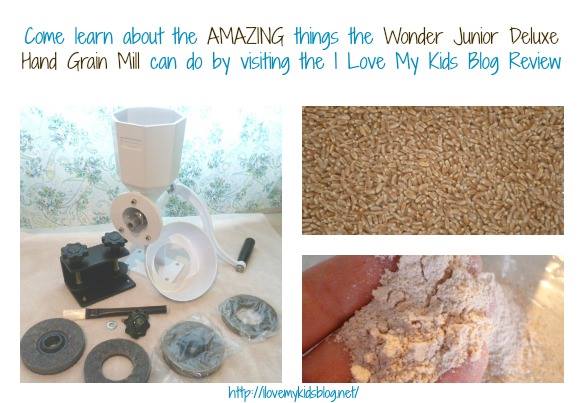 This mill is hand powered so it does require some effort, but it isn't difficult. Even my tiny 6 year old was able to help grind the wheat for our bread! This Deluxe Junior Hand Grain Mill sells for $219.95. You can follow WonderMill on Facebook, Pinterest, and YouTube.
GIVEAWAY TIME!
WonderMill has offered to give one of you fabulous fans a Wonder Junior Deluxe Hand Grain Mill for FREE, delivered right to your door-valued at over $220! AWESOME, right? Rules are simple. You must have a shipping address in the USA or CAN, fill out the entry form below, and do it before times runs out on 7/11 at 11:59 pm EST. Super easy!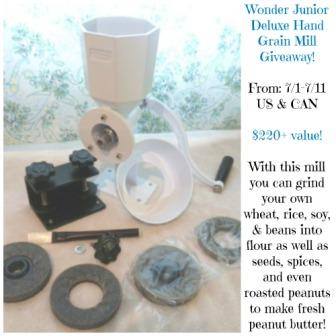 You only have to do 1 entry to get your name into the drawing, but there are additional extra entries to increase how many times your name is thrown into the hat. Winner will be randomly selected, emailed and have 24 hours to reply or a new winner will be chosen. GOOD LUCK!
Disclosure: I received no compensation for sharing this post. Cj at I love my kids blog reviewed the item mentioned above and the opinions above are her own. I thought you fans might enjoy a chance at winning it. Prize fulfillment will be done by WonderMill.