3 Smart Living Room Upgrades to Think About
This post may contain affiliate links or I may have received the product free in exchange for my honest review. See full disclosure for more information.
Living room a little lackluster? Dreaming of a well-designed space? Make your dreams a reality with just a little handiwork. Here are three ways to upgrade your living space, from small improvements to big renovations.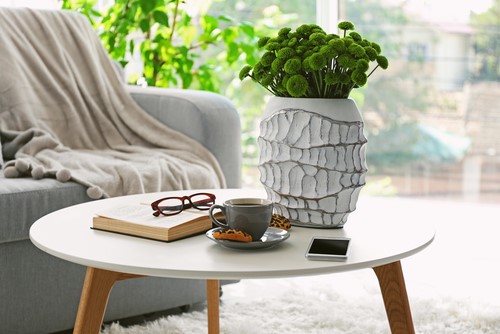 1. Add Some Color
There are multiple ways to add color to your living room. A fresh coat of paint, for example, can completely transform any space. A bold ocean blue or an exotic red can make a big impact. Coral colors make for a great neutral that can pair with your decor. And a matte black, although very dramatic, can be used to even out a space with a series of different architectural elements.
Paint color isn't the only way to add a little extra color to your space. Accessories and accents such as decorative throw pillows can brighten up your seating areas. Additionally, bold pops of artwork on the walls can be used to bring fresh color into the family gathering space. Consider putting together a gallery wall with art and photos for an even bigger, more colorful impact in the living room.
2. Window Treatments
Not only can the right type of window treatments add style to your living room, they can be used to add privacy and a feeling of safety, too. There are a series of different decorative elements to choose from that suit a variety of different window styles, sizes and shapes.
For example, options such as full window dressings are great for homes that are decorated in a traditional manner. Transoms, the small window above a door or another window, can allow for natural light to stream into your living space. When window dressing is mounted at the ceiling, transoms can enhance the height trick in your living room, making the living space appear larger. Simple panels can be laid back or formal, and can be customized to any space for comfort and privacy.
3. Flooring
The flooring of your living room sets the stage for the rest of the design. But before you make plans to redo the floors, it's wise to do your homework first. There are a series of different factors you should consider before you choose and install new flooring, including the style of your home, budget, design preferences and how much wear and tear you think the floor will endure over time.
When installing a new floor, you may want to consider working with a licensed architect. A professional can help you narrow down options that work best for you and help you through the entire installation process. If your home has carpet, take a look at what is underneath by peeling up a hidden corner. You may discover that your home has wood floors that just need some sprucing up. When it comes to carpet, design experts do not recommend using it in high-traffic areas such as the living room. Rather, professionals suggest adding rugs throughout the space for a cozy, comfortable feeling.
Quit dreaming, and start doing. These three home renovations can make the living room everyone's favorite room of the house.