Celebrate Drac and the Pack with Hotel Transylvania 3 on DVD #HotelT3
This post may contain affiliate links or I may have received the product free in exchange for my honest review. See full disclosure for more information.
Make your next family movie night a howling night to remember! Immerse yourself back into the world of Drac, Mavis and the entire monster family as they cruise their way to the hidden world of Atlantis!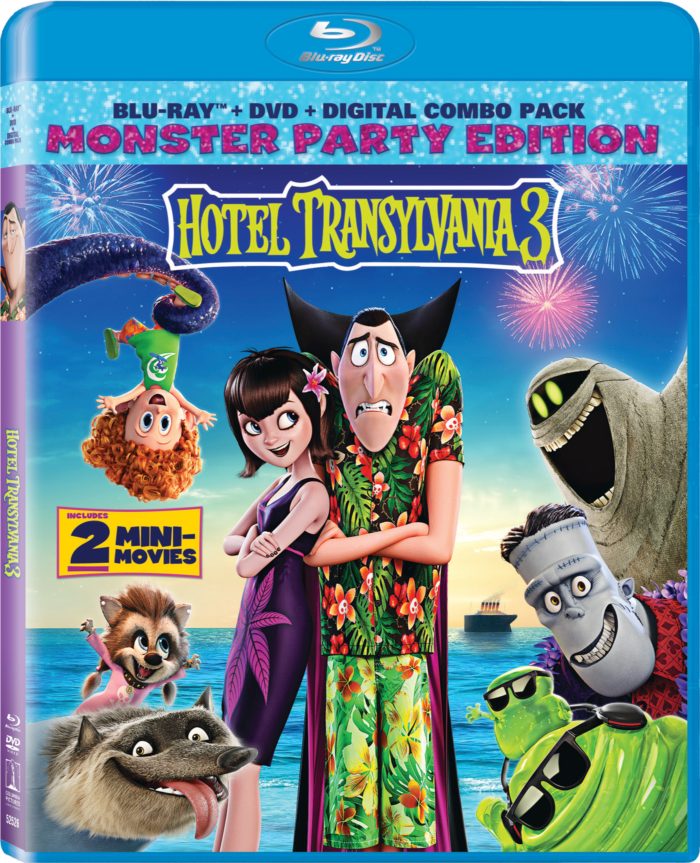 My family and I recently received a spooktacular package of fun toys, craft ideas, food and DVD all inspired by Hotel Transylvania 3. It even had a fantastic Mavis costume!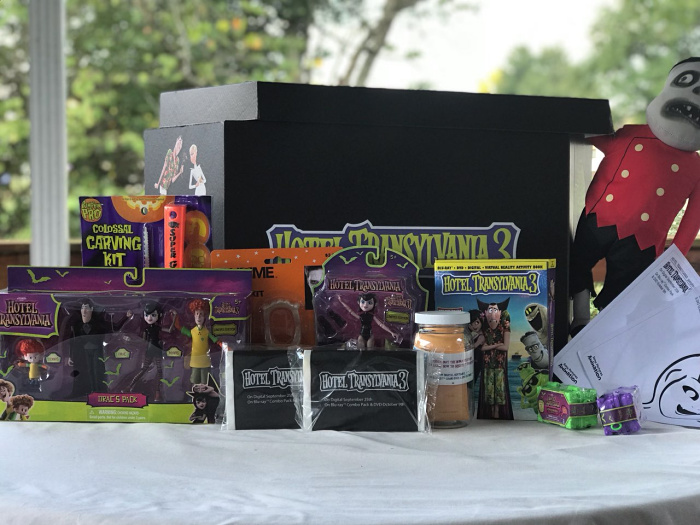 We were so excited to spend the weekend together engaging in fun activities for the season and get a sneak-peek at Hotel Transylvania 3 on Blu-Ray/DVD. We had an entire family night with games, food, crafts and movie-viewing.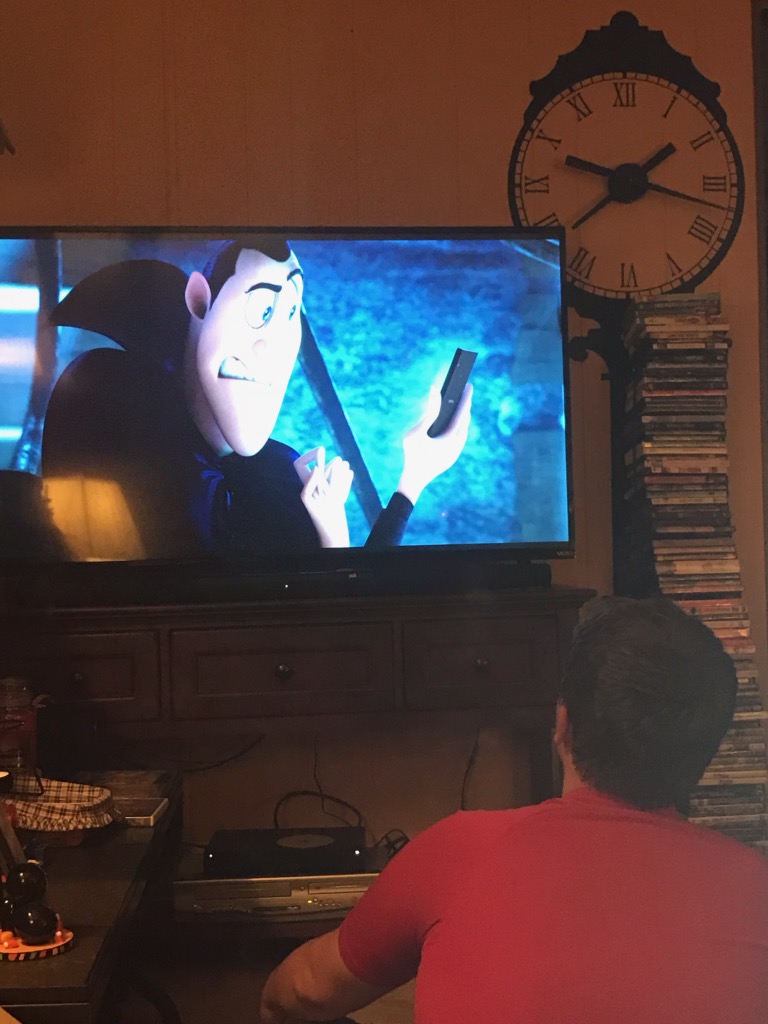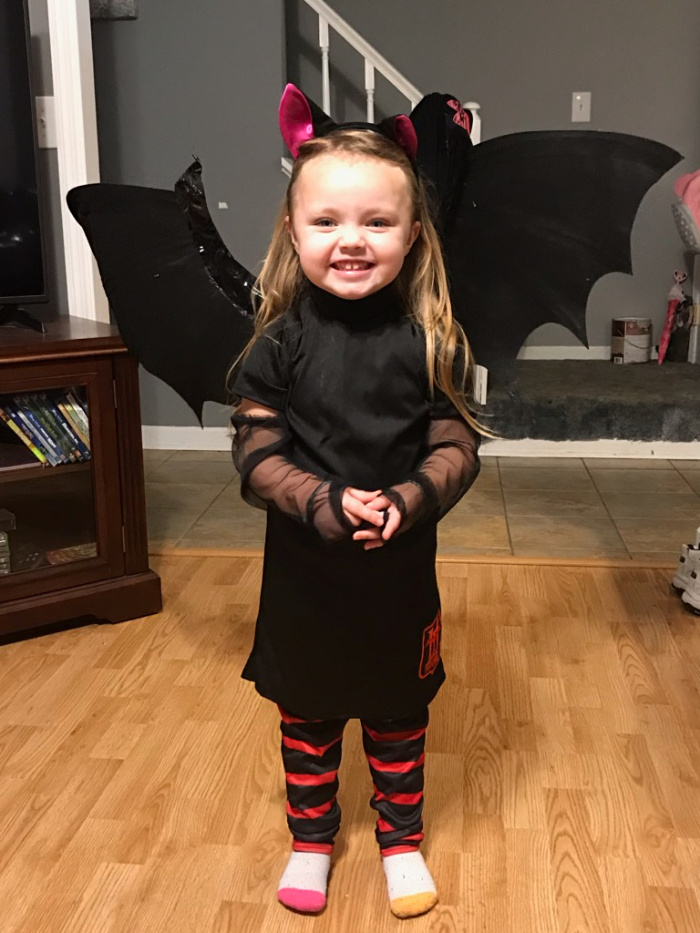 Hotel Transylvania 3 is now available on Digital Download and on DVD/Blu-Ray October 9th!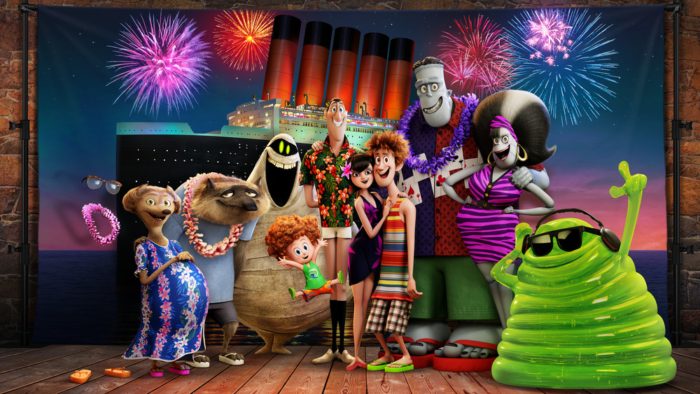 About the Movie:
The Drac Pack is back with HOTEL TRANSYLVANIA 3, which will make its debut on Digital HD September 25, and on Blu-ray™ Combo Pack and DVD on October 9, just in time to for a spooky, fun, family movie night right before Halloween! This must-own family comedy, which has grossed more than $425 million in theaters worldwide to date, follows in the tradition of the blockbuster Hotel Transylvania franchise when Mavis surprises Dracula with a family voyage on a luxury, haunted monster cruise ship. Of course, the rest of the Drac Pack has to tag along, and that's when things get a little…batty. The monsters are having a great time, indulging in all of the shipboard fun the cruise has to offer, from monster volleyball to colossus-sized buffets and exotic excursions, but then the unexpected happens when Drac falls for the ship's mysterious (and dangerous) human captain Ericka. The third film in this family-friendly monster franchise is the best reviewed installment and you're invited along on the haunted cruise vacation!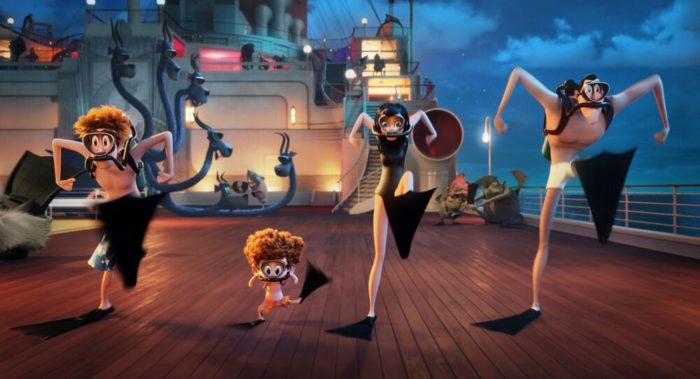 HOTEL TRANSYLVANIA 3 is filled with more than an hour of engaging bonus materials including three "All-New Scary-Oke Sing Alongs," a monster dance party dance along to "I See Love" by Joe Jonas featuring Jonas Blue, plus a fun zing-tastic read along with Drac.  Families can enjoy all the frightful fun with a "Plan Your Own Spook-tacular Sleepover" feature and "Vampire Make Over: Mavis and Drac Tutorial," and go behind-the-scenes to explore the amazing talent who bring these characters to life in "Behind the Screams – The Voices of Hotel Transylvania 3.
Bonus Materials Include:
Three All New Scary-Oke Sing-A-longs: Sing along to three Hotel Transylvania 3 inspired songs with your favorite characters!

"Dennis Had a Giant Dog" – Sung by Dennis & Winnie
"Monsters Like to Party Down" – Sung by Johnny
"Oh These Wolf Pups" – Sung by Wanda Werewolf

Plan Your Own Spook-tacular Sleepover: This feature will give you all details on how to make your own sleepover spook-tacular! From snacks to crafts to games and more, follow these steps to create a Hotel T sleep-over with your friends and family, the perfect setting to binge watch all 3 Hotel Transylvania movies.
Vampire Make Over: Mavis and Drac Tutorial: Learn how to turn yourself into your favorite Hotel Transylvania 3
Behind the Screams – The Voices of Hotel Transylvania 3: Step behind the "screams" with the returning stars and hilarious new cast to see how these characters are brought to life in the recording booth.
Johnny's Home Movies (Franchise Recap): Johnny brings viewers up to speed on what's happened in the Hotel Transylvania franchise so far.
"I See Love" Monster Dance Party Dance Along: Get up and get moving to this haunting monster mash.
Drac's Zing-tastic Read Along: It's storytime with your favorite characters have a silly tale about Drac's search for a Zing! Read along or sit back and enjoy!
Two Mini Movies (rated G): Two mini-features that will have you howling.
Activities for the Entire Family!
Dracu-Straws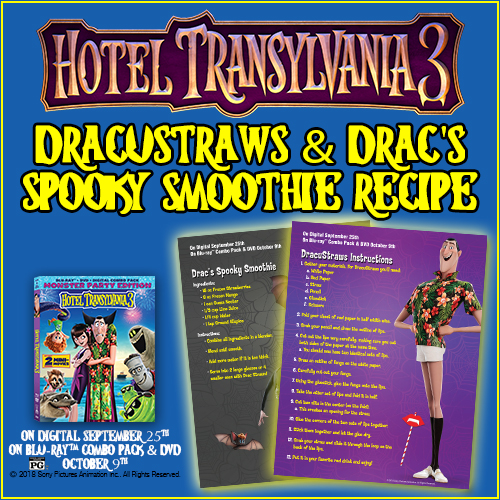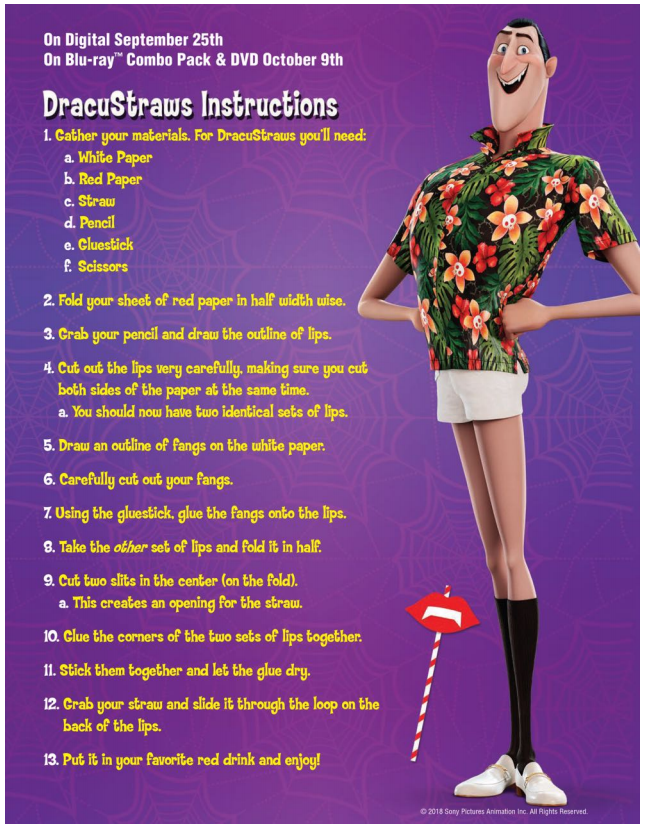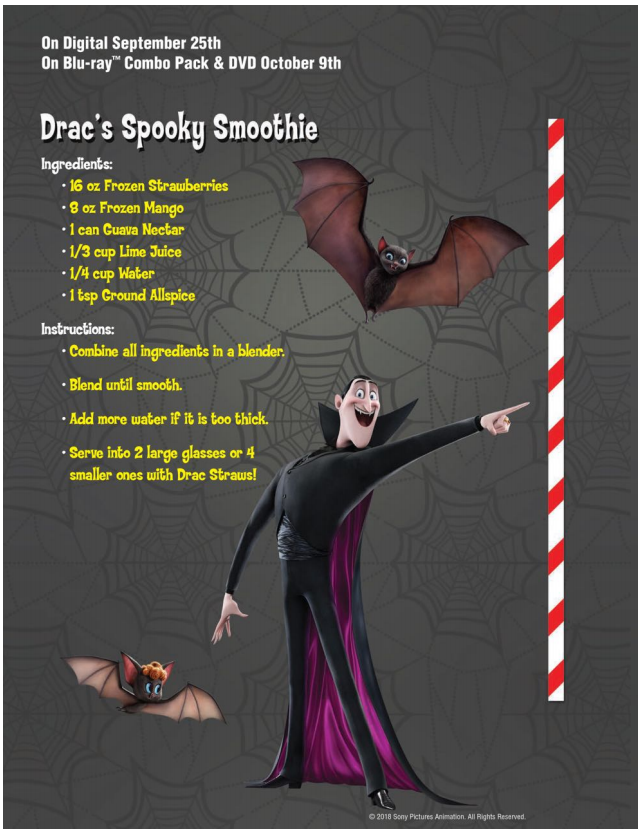 Pumpkin Carving Stencils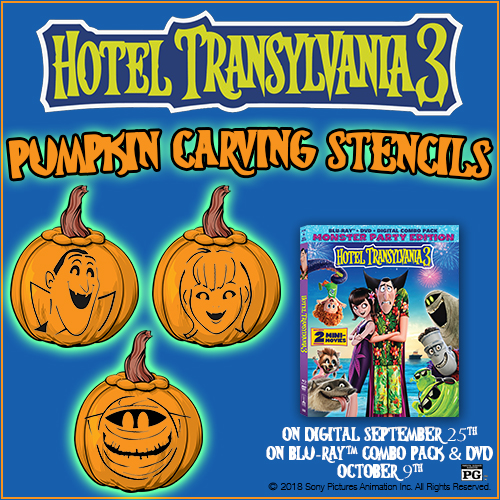 Coloring Sheets
We hope you and your family have as much fun with these activities and movie-tastic toys as we have. Pick up Hotel Transylvania 3 on Blu-Ray/DVD and make this weekend family movie night Spook-tastic!