6 Tips For Making Sure Your Next Sunday Lunch Is As Stress-Free And Enjoyable As Possible
This post may contain affiliate links or I may have received the product free in exchange for my honest review. See full disclosure for more information.
Sunday lunch is a long-standing tradition that can bring family and friends together to enjoy quality time, delicious food, and good conversation. However, if you're the host of the event, it can quickly become a stressful affair.
Here Are Tips For Making Sure Everything Runs Smoothly For Your Next Sunday Lunch:
1. Start planning early.
Sunday lunches don't need to be complicated; a few simple dishes will do just fine. However, giving yourself plenty of time to plan and prepare means that you won't find yourself scrambling at the last minute and stressing over every detail. Starting your preparations a few days in advance gives you peace of mind knowing that everything is taken care of and ready to go.
2. Ask for help.
If this isn't your first Sunday lunch, chances are you have family and friends who are more than willing to help. Whether it's chopping up vegetables or setting the table, don't be afraid to ask for assistance with tasks that can easily be split up.
3. Choose dishes that can be prepared in advance.
Having some dishes ready ahead of time means less stress on the day of your Sunday lunch, as all you need to do is heat them up and serve them. For example, soups, casseroles, and other hearty dishes are great options here as they can not only be made a few days before but will also keep well in the fridge until it's time to eat.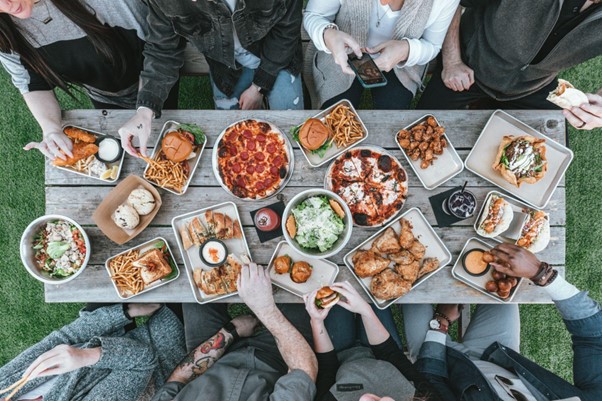 Photo by Spencer Davis on Unsplash
Another great idea is to make these chicken caesar wraps. It's a great way to get maximum flavor with minimal effort. All you need are some pre-cooked chicken, your favorite caesar salad dressing, lettuce leaves, and cheese. Simply assemble all the ingredients in the wrap, and there you have it – a tasty but light lunch item for any gathering. You could even add some croutons or bacon for an extra kick!
4. Set the mood with decorations and music.
Creating an enjoyable atmosphere can do wonders in reducing stress. Set the table with your best plates, napkins, and silverware, hang decorations, and put on some background music to make sure your guests feel welcome and relaxed.
5. Don't forget to enjoy yourself!
Planning a Sunday lunch can take a lot of effort but don't forget to relax and enjoy it too. Spend time with family and friends, eat good food, laugh, and make memories that will last long after the meal is over.
6. Have a backup plan.
No matter how much you've planned, there is always the chance that something unexpected could happen. So have a few quick and easy meal ideas ready in case you need them – this way, if things don't go according to plan, you can still salvage your Sunday lunch without too much stress.
By following these tips, you can make sure that your Sunday lunch is stress-free from start to finish. With a little bit of planning ahead of time, you can create an enjoyable experience for everyone involved without feeling overwhelmed or exhausted afterward.
So next time you're planning a Sunday lunch, just remember to start early, ask for help and enjoy yourself – it's as simple as that!