'A Dad Joke A Day' : The Perfect Father's Day Present to Keep the Family Laughing All Year Round
This post may contain affiliate links or I may have received the product free in exchange for my honest review. See full disclosure for more information.
A Dad Joke A Day: Eye Rolling Dad Jokes For More Than 365 Days a Year – The Perfect Father's Day Present to Keep the Family Laughing All Year Round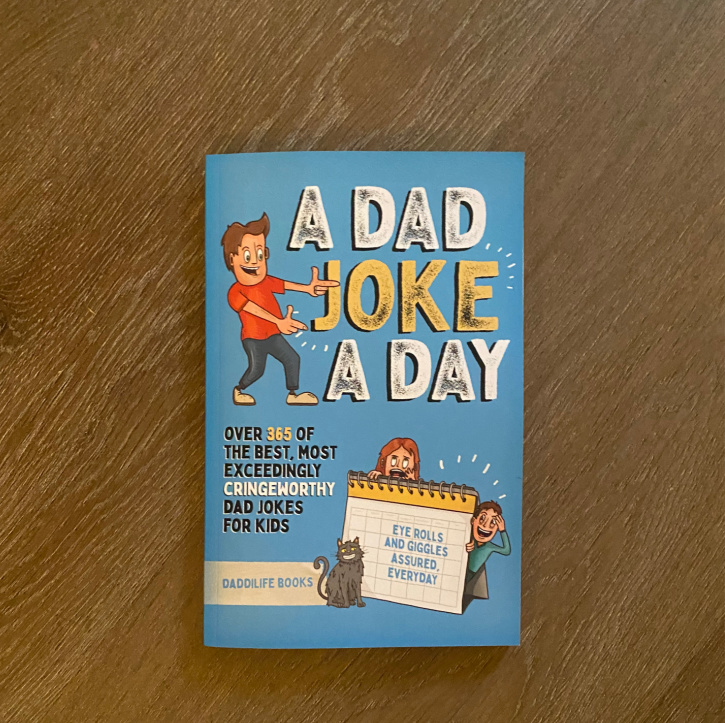 A Dad Joke A Day is compiled by Daddilife Books, a team of more than 50 writers who have been telling (bad) dad jokes to kids since 2014. Every single joke in this book is tried and tested on real-life subjects. A Dad Joke A Day contains joke-telling tips plus a fresh joke daily. Get ready to hear "Ah Daaaaaaad" every day of the year.
A Dad Joke A Day by Daddilife Books, with fantastic design work and illustrations, may be intended as a source of silliness, but the psychology of a dad–joke is not: as referenced in the book, "As kids get older and less childlike, there's a sense of loss, and a nostalgia that sets in for when they were smaller. One way to get back to that time is to go back to the jokes they used to think were funny." And that's a powerful reason to create a new memory by telling daily jokes that elicit the "ah daaaaaad" response.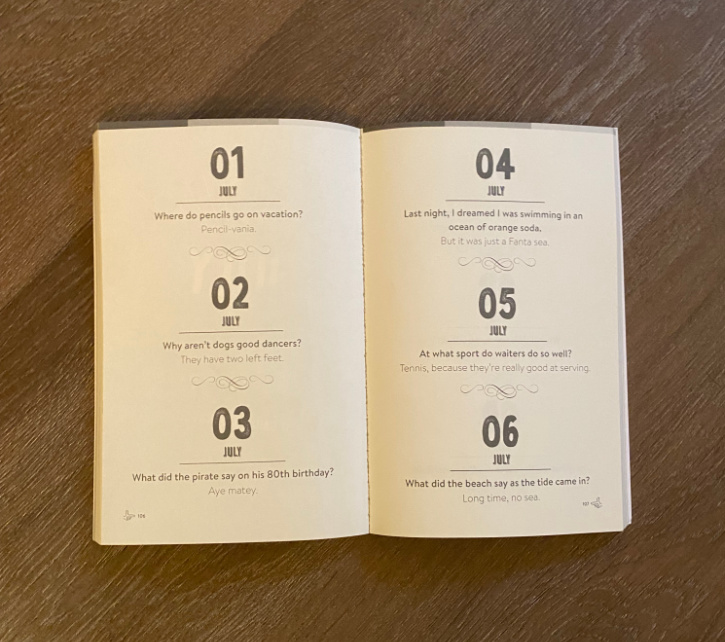 The cringe-induced eye-roll that a dad joke induces is not actually a negative reaction; it's all part of the game – an inside family joke. Your kids can sense when a dad joke is coming, and they know they have a role to play. They get to make groaning noises and say things like, "you're SO embarrassing." It's an interaction that makes them part of the joke, and it creates a playful moment between father and child to strengthen the parent bond. Not so silly after all.
A Dad Joke A Day explains what makes joking around with the kids important, provides tips for delivering the ultimate eye-rolling experience, and lays out one joke every single day of the year. It's worth mentioning that all the jokes were sourced via a community of dads building strong relationships with their kids.
Synopsis of 'A Dad Joke A Day':
Unleash dads' ultimate superpower with a terribly good dad joke for every day of the year!

Can A Dad Joke A Day keeps the doctor away? Perhaps not. But a dad joke in the right hands can keep the kids and family on their toes, as well as their eyes firmly rolled.

In this book from DaddiLife Books – written by one of the leading platforms for modern-day fathers, there is a different dad joke every day, with some especially groan-worthy tummy ticklers on specific calendar days of the year (see if you can spot them all).
What this book of dad jokes will help you do:
Create a little family fun, every day – A different

dad

joke

for every day of the year, including in Leap Years, so

dad

can be top of his

dad

joke

game 24/7 with knee slappers such as: Why was the broom running late? It over-swept. And, what do you call a hen who counts her eggs? A mathemachicken.
Understand the science behind the

dad

joke

– How our brains understand

dad

joke

s differently to normal

joke

s, and the psychology behind a great

dad

joke

versus an average

dad

joke

.
Sharpen your

joke

-telling – Whether you need a

dad

joke

for a wedding speech or an everyday family laugh, this book has the best advice from across the

Dad

diLife community on how to tell a

dad

joke

to its very finest, even if you have never told a

dad

joke

before (seriously, where have you been)!
Tell

dad

joke

s on specific days of the year – Whether it's New Year, or Star Wars Day, you won't just be funny, but hilariously on-point.
"In a world that has become so serious and polarized, the dad joke is a very welcome break from the noise and stress. It's silly. It's unsophisticated. It's something that everyone can understand and be part of. It's an adult man making himself vulnerable and open to ridicule in the name of comic relief. It's a refreshing change from the competitive, hostile world."
How subjects respond to the jokes in A Dad Joke A Day:
Jasper (5): "Noooooooo!" *and then he ran away down the corridor with his hands in the air*
Kitty (7): "

Dad

dy, you're embarrassing. You're NOT funny!" and then she paused and gave me a hug and said, "but I do love you."
Sarah (39): "Do you REALLY have to inflict misery on other people's kids? I'm only joking, I know I poke fun about your

dad

joke

s, but I find it kinda cute. It's pretty endearing!
"A

Dad

Joke

A Day", is available on Amazon now in the UK & US.
About the Author:
DaddiLife Books is the publishing division of DaddiLife – the leading platform and community for modern day dads. Formed 5 years ago with a mission to shine a light on the generational change of modern-day dads, the team have written about a number of topics, issues, and opportunities in the area and have grown to a community of over 150,000 dads.
A Dad Joke A Day has been written and illustrated by the dedicated writing team at DaddiLife. Each joke has also been tried and tested across the community (and their dad joke suffering families!).