A Healthy and Non-Drowsy Solution For Your Dog's Anxiety With Brave Paws @MyBravePaws
This post may contain affiliate links or I may have received the product free in exchange for my honest review. See full disclosure for more information.
Chewy can get a little anxious during thunderstorms, so I am looking for something to help him out to calm him down. Brave Paws has a great solution for him with their Anxiety and Stress Chewables. He also loves going for rides in the car, but when we go for a much longer drive I want him to be settled and calm so I will be using these on our next road trip.
Loving your dog means caring for their health and happiness. When our furry friends are scared or anxious, we naturally want to try to make them feel better. But during summer's clusters of thunderstorms, it can seem impossible to keep them comforted as they turn to us for help.
Believe it or not, over 70% of dogs experience anxiety, with noise phobia being one of the most common causes, making thunderstorms a scary time for many of them! Non-drowsy Brave Paws Anxiety and Stress Support Chewables offer a natural, plant-based solution for your dogs to keep them calm and relaxed. They're formulated with a healthy and holistic, patented formula that has been clinically studied and found to reduce dogs' stress and anxiety.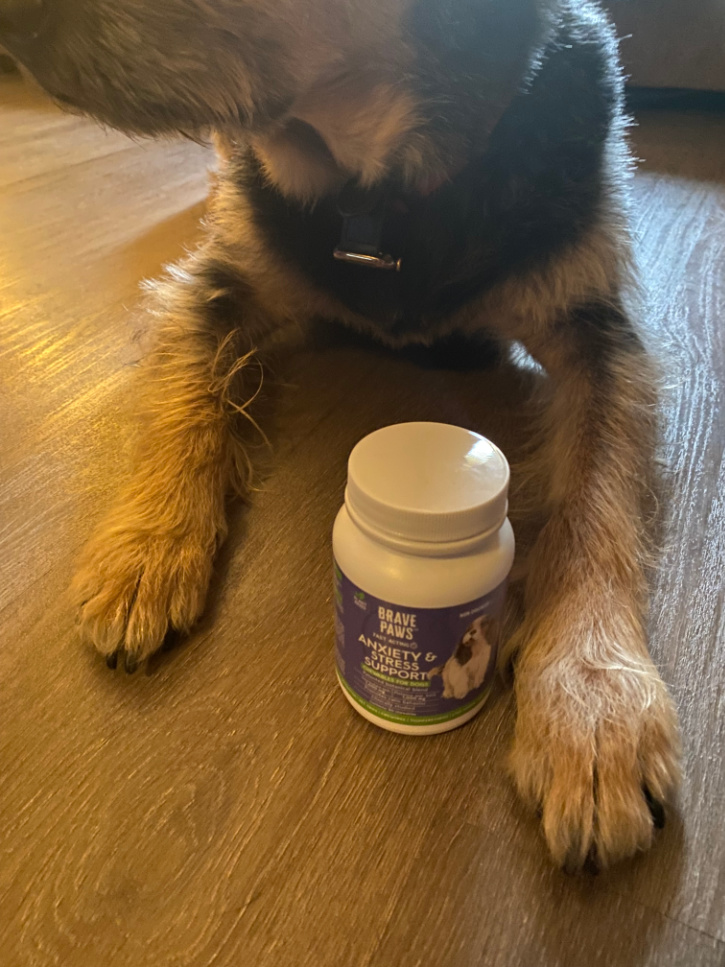 About Brave Paws:
Brave Paws™ offers clinically studied nutraceuticals for pets which are sustainably sourced, plant-based, and responsibly made. We are passionate about caring for pets, people, and the planet, and we continually strive towards greater use of renewable energy, regenerative agriculture, and sustainable solutions, as well as reducing our carbon footprint.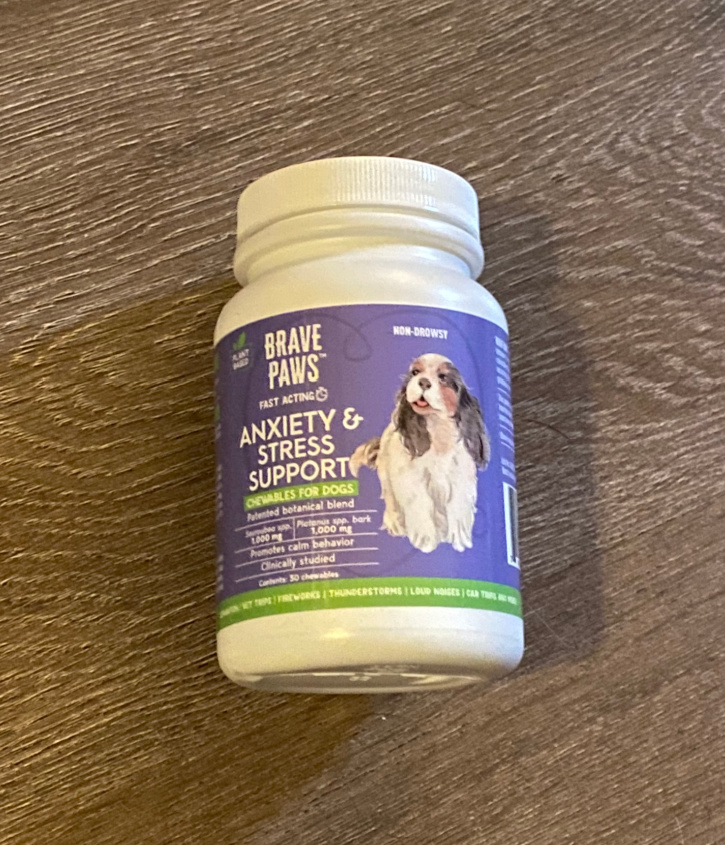 A natural formula for anxiety – Brave Paws Anxiety & Stress Relief are tasty beef flavored chewable supplements with natural and sustainably sourced ingredients that may help calm dogs.
Advanced complex of clinically studied ingredients – These treats contain Souroubea spp.—Souroubea, a genus of flowering plants native to Costa Rica and other tropical areas, has traditionally been used in Central American cultures for its calming dog chews properties to treat nervousness and anxious behavior.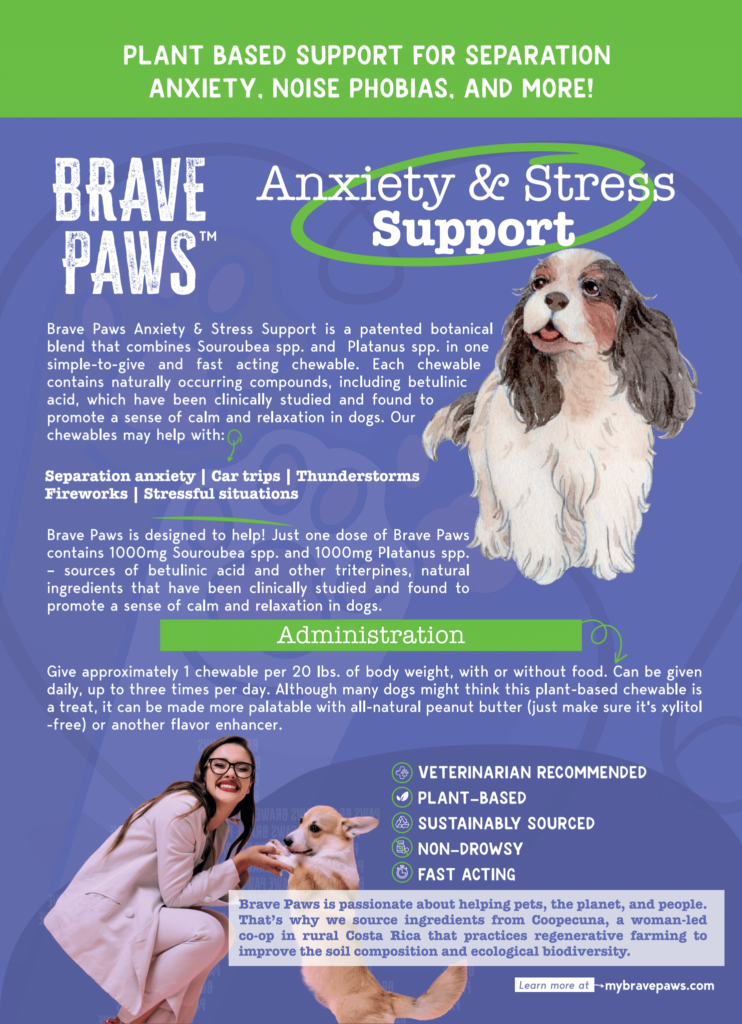 Features a patented botanical blend – Each chew treat contains Betulinic acid and triterpines, which may help minimize anxiety, reduce scratching, comfort and relaxation with no drowsy effect.
Perfect for any stressful scenario – This soothing supplement helps your canine feel relaxed and at ease in moments that cause stress such as a thunderstorms, car ride travel, fireworks, or vet visits.
May help with hyperactivity and nervousness – This patented botanical formula helps to promote calmness to reduce jumping, biting, and barking for dogs with aggressive or hyperactive behavior.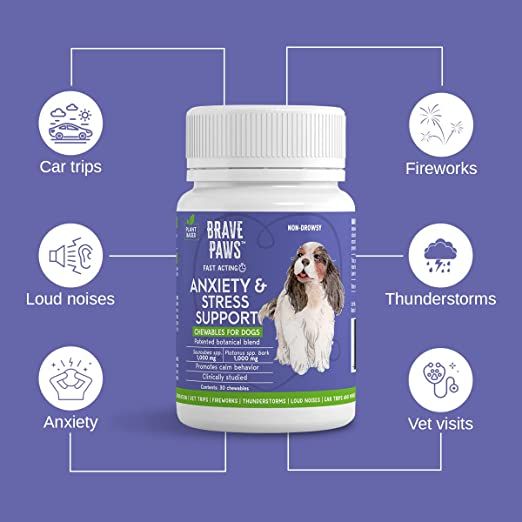 The team at Brave Paws says that these chewables are veterinarian recommended, fast-acting, and non-drowsy. "Our product is not a sedative. Pet parents don't want to tranquilize their dogs; they just want them to be calm during stressful events," says Hill.
Brave Paws is also environmentally conscious and responsible with its sourcing. The Anxiety and Stress Support Chewables for Dogs are made with plant-based ingredients that are sustainably sourced from the United States, Canada, and Costa Rica. Brave Paws partners with Coopecuna, a woman-led co-op in rural Costa Rica that practices regenerative farming to improve soil composition, ecological biodiversity, and the local community.
Brave Paws Anxiety and Stress Support Chewables are available in bottles of 30 for $29.99, and 3-packs of 90 chewables for $76.50. To order online, find more information on the brand and its story, learn more about the science behind the formula, and read blog posts, visit www.MyBravePaws.com.