Ascent From Darkness Book Review
This post may contain affiliate links or I may have received the product free in exchange for my honest review. See full disclosure for more information.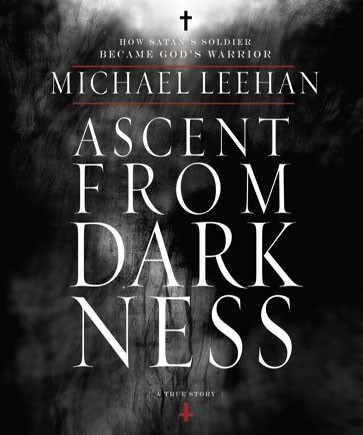 I recently received the book Ascent From Darkness by Michael Leehan, I was kind of apprehensive at first, but I went ahead and read it. This the a true story of Mike and his fall into despair and his union with the Darkness of Satan's Kingdom and his Rise from Evil into Glory. The Story moved me and actually made me take a long look at myself. No I do not practice the Dark Arts, but I have questioned God and how he works. This book will scare you and it will inspire you!
"Ascent From Darkness" by Michael Leehan
About the Book: A life of difficulty and disappointment set 33-year old Michael Leehan up for the worst decision of his life—to make a deal with the Devil to follow and serve him. Practicing the dark arts that include ritualistic cuttings and blood sacrifices, while fine tuning his manipulation and control skills, Michael launched into a twenty year downward spiral that included job loss and detachment from loved ones, and even jail time.
But God had another plan that included a group of Christian men to love him and pray for him—even when it became evident his assignment from Satan was to kill their pastor, Craig Groeschel.
The life Michael Leehan lives today is an incredible testimony of the transforming power of God's mercy and grace, but is also a wakeup call to the church to be fully aware of the spiritual war that is going on all around them, and to the ultimate battle for their souls.
"I am sending you to open their eyes and turn them from darkness to light, and from the power of Satan to God, so that they may receive forgiveness of sins and a place among those who are sanctified by faith in me." Acts 26:18
About the Author: Michael Leehan is an evangelist and minister, but he's also finally a free man. Once enslaved to the dark forces of this world he now lives each day in devotion and service to God through Solus Christus Ministries, a nonprofit organization that offers hope and redemption through the power of God's love, truth, and knowledge of his Word. This is his first book.
I received this book free from the publisher through the BookSneeze®.combook review bloggers program. I was not required to write a positive review. The opinions I have expressed are my own. I am disclosing this in accordance with the Federal Trade Commission's 16 CFR, Part 255: "Guides Concerning the Use of Endorsements and Testimonials in Advertising."