Back-to-School Nibbles to Keep the Hunger Away
This post may contain affiliate links or I may have received the product free in exchange for my honest review. See full disclosure for more information.
Back to school time is here, and you will be looking for some healthy, hearty snacks to send to school with the kids. These great snacks come is so many yummy flavors, it is hard to pick just one. So the best way to combat that is choose them all! Kids and adults will love these nibbles when they hunger pains come on until it is lunchtime. Plus they are a great nutritious alternative to chips or candy. When they get home from school give them one of these to hold them over until dinner time.
Crunchsters Sprouted Protein Snacks
Crunchsters is the versatile sprouted supersnack! Savory, crunchy and delicious mung bean snacks that are so munch better! Crunchsters are tasty snacks for keeping tucked in a lunchbox or backpack. They are so versatile… kids love this crunchy, delicious snack! Crunchsters are naturally gluten-free, vegan and free from top 12 allergens.
About Crunchsters:
At Crunchsters, we know the importance of having a delicious snack on hand. We also know that feeding yourself and your family nutrient-dense foods is great way to feel good. Luckily, with our versatile products, you'll find the flavor and the feel good ingredients to fuel your adventures! Crunchsters are naturally gluten-free, vegan, and free from common food allergies so all eaters can take part in enjoying our savory snacks.
You can purchase Crunchsters on their Website, Amazon or any Health Store or grocery store
Stay socially connected with Crunchsters for all their latest products: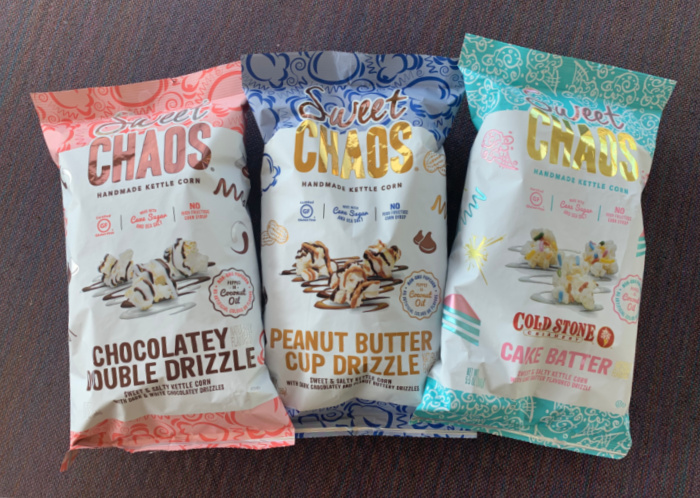 Sweet Chaos Drizzled Popcorn
Sweet Chaos is the perfect mix of favorite sweet & salty snacks. Sweet Chaos Drizzles are Gluten Free, made with Non-GMO popcorn, and have NO artificial colors or flavors. Sweet Chaos is the perfect snack for lunchboxes & after school. Non-GMO popcorn is popped in Coconut Oil, with just the right amount of Cane Sugar and Sea Salt, and then drizzled with chocolatey, peanut buttery, or birthday cakey drizzles!
You can purchase Sweet Chaos on their Website, health food stores and grocery stores.
Stay socially connected with KLN Family Brands for all their latest products:
About KLN Family Brands:
If you are looking for natural, 100% trans-fat free, great tasting snack foods, you are now looking in the right place. Nestled in the heart of corn and potato country in Perham, Minnesota, where two of the 10,000 lakes are right out our door and some of the most beautiful golf courses exist, you find one of the best growing areas in the Midwest. We work with the growers in our backyard and across the nation to give you some of the best tasting snacks in the industry. Journey through our family of products and you will find pet food, licorice, candy, and an incredible variety of salty snacks. A family-owned company for over 50 years, KLN Family Brands encompasses everything you could ask for; from our family to yours.