Blast Into Space with an All-New Trailer for a Special Season of DreamWorks The Epic Tales of Captain Underpants in Space!
This post may contain affiliate links or I may have received the product free in exchange for my honest review. See full disclosure for more information.
DreamWorks Animation released an out-of-this-world trailer today for The Epic Tales of Captain Underpants In Space! coming to Netflix on July 10.
When the space agency P.O.O.P.S.I.E holds a contest to send one lucky school on a field trip to space, George and Harold ensure that Jerome Horowitz Elementary is chosen. Soon, the school is transformed into a "school-ship" and the kids and Captain Underpants are launched into space where they quickly discover their mission is not what it seems.​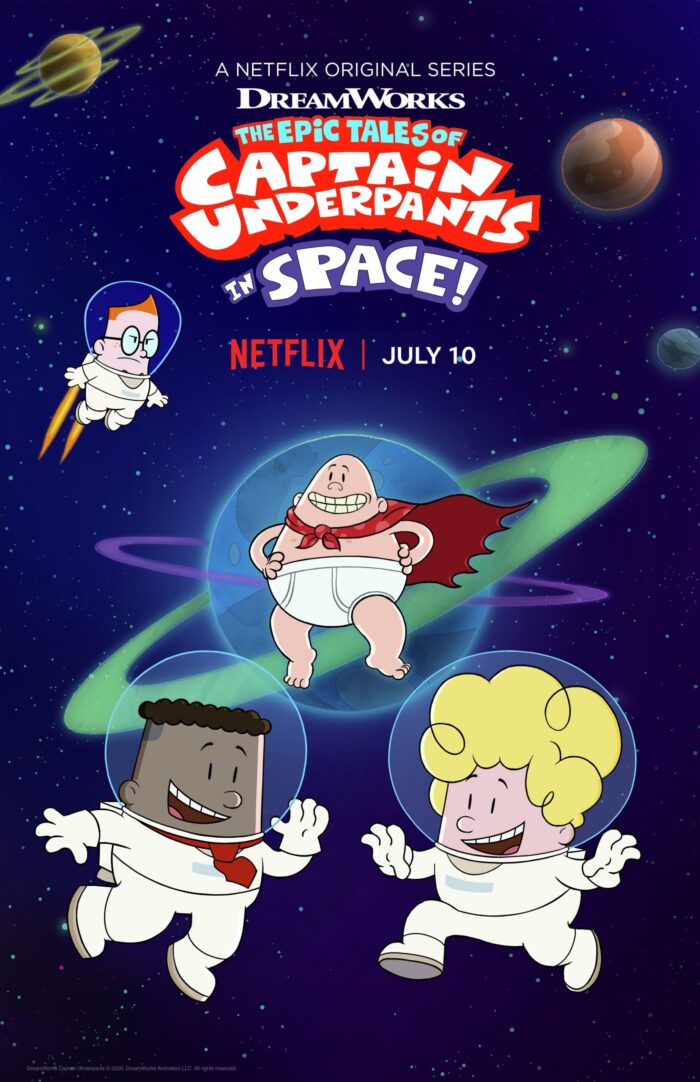 Based on the epic novels by Dav Pilkey (over 80 million copies in print!), The Epic Tales of Captain Underpants in Space! features the voices of Academy Award-winner Nat Faxon (Life of The Party; Disenchantment; Married) as Mr. Krupp and Captain Underpants, Ramone Hamilton (The Grinch) as Harold, Jay Gragnani (Bubble Guppies) as George, Jorge Diaz (Jane the Virgin) as Melvin, Sean Astin (Stranger Things) as Narrator, Erica Luttrell (Magic School Bus; Steven Universe) as Erica, Dayci Brookshire (Home; Adventures with Tip & Oh) as Jessica/Dressy, Evan Kishiyama (Mickey and the Roadster Racers) as Gooch, David Koechner (The Office; Anchorman) as Mr. Meaner, Nolan North (Spirit Riding Free; Young Justice) as Dr. Shifty Fitzgibbons and Secunda Wood (Fast & Furious: Spy Racers) as Moxie Swaggerman.
From Executive Producer Peter Hastings (Animaniacs; Pinky and the Brain), take orbit with your favorite group of mischief makers, George, Harold and Captain Underpants, in 6 all-new episodes when
DreamWorks The Epic Tales of Captain Underpants
in Space! premieres on Netflix worldwide July 10, 2020. Check out the trailer below!
ABOUT DREAMWORKS ANIMATION:
DreamWorks Animation is one of the world's leading producers of high-quality, animated family programming, reaching consumers in more than 190 countries. Creating a diverse array of original content in a variety of formats and delivering deep, fully immersive worlds served up with compelling characters, the prolific studio has garnered 25 Emmy® Awards since inception in 2013 and is home to such beloved series as Trollhunters, Spirit Riding Free, She-Ra and the Princesses of Power, Trolls: The Beat Goes On!, The Boss Baby: Back in Business, Kung Fu Panda: The Paws of Destiny, The Epic Tales of Captain Underpants, Dragons: Race to the Edge, All Hail King Julien, 3Below and the recently released Archibald's Next Big Thing. DreamWorks is a division of the Universal Filmed Entertainment Group within NBCUniversal, a subsidiary of Comcast Corporation.