Blue Orange Games are Perfect Family Fun for Christmas #MegaChristmas17
This post may contain affiliate links or I may have received the product free in exchange for my honest review. See full disclosure for more information.
When the Winter chill sets in, there is nothing better than games for a fun family night! Blue Orange Games has a ton of fun games to keep the boredom away! They are perfect for Mom and Dad to join in with kids! Take a look at a few of our favorites!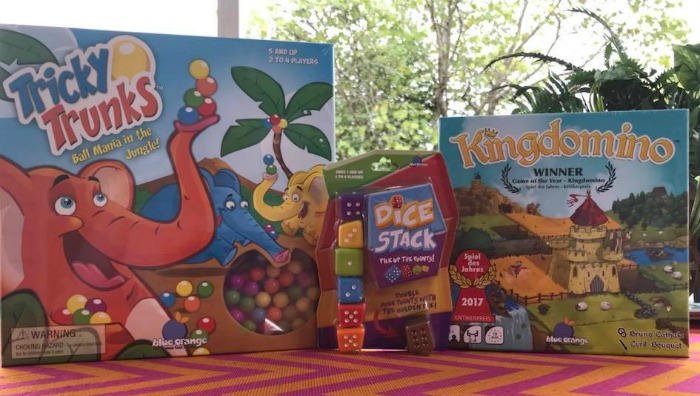 Based in San Francisco, Blue Orange Games has been creating timeless games for the whole family since 2000. Their catalog of over 70 award-winning products has earned a reputation for high play value, skill development, and continuous fun. As an eco-friendly company, they focus on high-quality designs using durable materials and they plant two trees for each one used in the construction of our signature wooden games.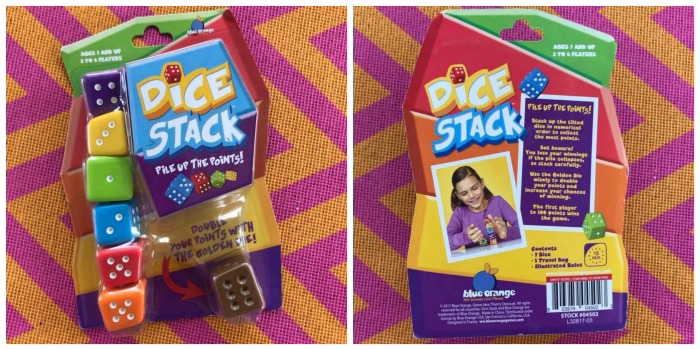 Pile up your points in this stacking game! Roll the tilted dice and stack them up in numerical order. Stop at any time while you are building your stack and win the sum of the values you stacked. Or, do you take a chance and try to stack all 6? Once you have stacked all 6, do you dare to try and double your points with the Golden Die? Carefully place the dice and don't let them fall, or you'll lose it all! The drawstring bag and compact game pieces make this a great travel game. Play anywhere there's a flat surface!
Skills:
Visual Perception
Focus & Attention
Problem Solving
Fine Motor
Contents:
7 Stacking Dice
1 Travel Bag
Illustrated Rules
Explore the lands and expand your kingdom! Each turn, connect a new domino to your existing kingdom, making sure that at least one of its sides connects to a matching terrain type already in play.
The game mechanics for obtaining the tiles is clever: the order of who picks first depends on which tile was previously chosen. Make sure to secure tiles with crowns- these royal treasures help to multiply the worth of your kingdom at the end of the game! Build up your 5×5 grid as best you can, as the player with the richest lands takes it all! The game ends when each player has completed a 5×5 grid, and then points are counted based on the number of connecting tiles and crowns.
Skills:
Contents:
4 3D Castles
48 Dominoes
8 Wooden King Tokens
Illustrated Rules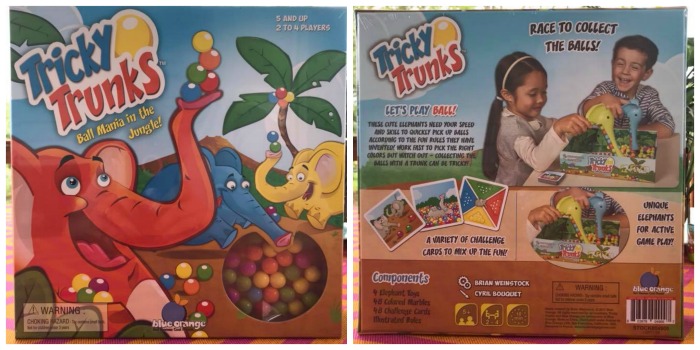 Come play with the elephants! They are out and wanting to play! Race to pick up balls with the elephants, following the rules of the challenge cards. Depending on the card, pick up as many balls as you can, all of your own color, or a specific combination of balls. Work quickly and make sure to pick the right colors carefully- the rolling balls can be tricky to pick up! The unique elephant toys promote dexterity and motor skill development!
Skills:
Visual Perception
Fine Motor
Focus & Attention
Play Time: 10 minutes
Contents:
4 Elephant Toys
48 Colored Marbles
48 Challenge Cards
Illustrated Rules
Instead of hearing "I'm Bored" when the cold Winter air and Christmas holidays have the kids stuck inside, why not try these fun games from Blue Orange Games? It will have you laughing, having a ball, and making fun family memories! They are also perfect to find under the tree on Christmas morning!
Connect socially with Blue Orange Games