Bring Jurassic World 3 Home With zak! Design Products
This post may contain affiliate links or I may have received the product free in exchange for my honest review. See full disclosure for more information.
Dinosaurs are once again taking over the big screen this summer when Jurassic World 3 hits theatres. zak! is helping fans all over the country bring those larger-than-life reptiles home with a new line of products that capture all the unforgettable action for fans to enjoy long after the lights of the silver screen have faded.
All of the products in the line feature vivid artwork designed to capture all the fun and excitement of the movie. Because if there's one thing we've all learned it's that the popularity of dinosaurs will never go extinct!
zak! Designs always has you covered with all of your needs whether for school, work or just a relaxing morning at home with all their cool designs. Collect them all!
Because the popularity of Jurassic World has proven to transcend age groups, the product line from zak! includes something for every taste and all ages. With back-to-school around the corner, zak! is releasing a 3pc. Divided Bento Box and 12oz stainless steel vacuum-insulated Food Jar so kids can take their favorite dinosaurs with them to lunch. And to keep them hydrated all day, the Jurassic World line also includes a 2pack of 18oz Flex water bottles and a 13.5oz stainless steel vacuum-insulated Mesa water bottle.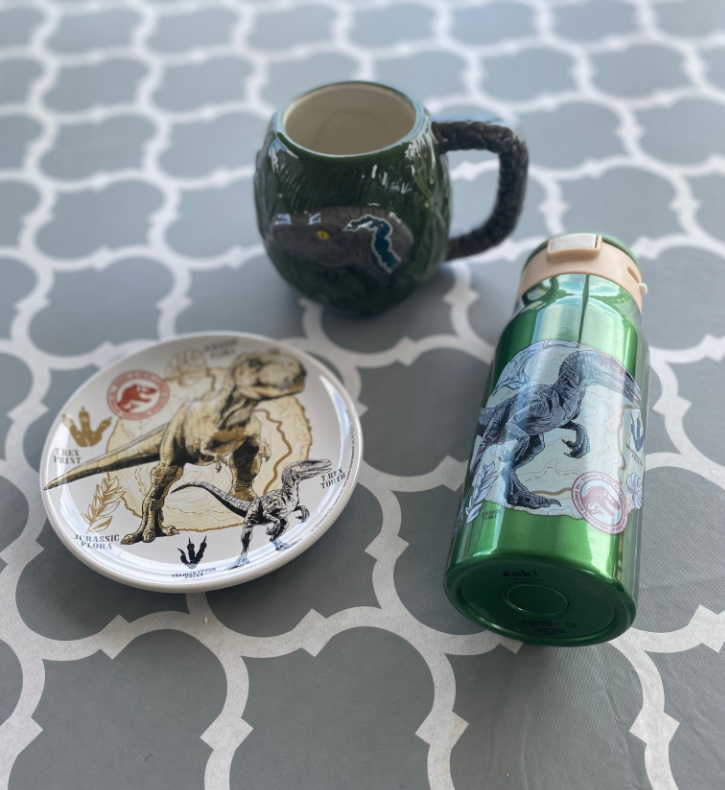 About zak! Designs:
zak! designs has been making our customers smile since we were founded in 1976. Headquartered in the beautiful city of Spokane, Washington, this dinnerware and drinkware company is always bringing something new to the table—our diverse collection includes creative solutions and groundbreaking designs that set trends and make mealtime special for people around the world.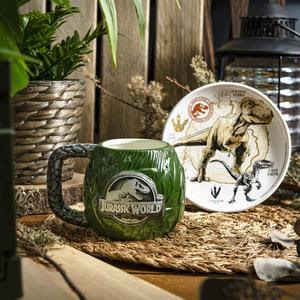 This ceramic set is the perfect pair for food and drink!
From breakfast to dessert, this 6-inch plate and sculpted mug set is a great way to serve your favorite snack and beverage pairs, whether it's coffee and pastries or tea and cookies. Featuring bold artwork and 3-D designs, these quality dishes are a great gift that any fan will love. Everything is made of ceramic and completely BPA free; the plate is dishwasher and microwave safe while the mug is not microwave safe and should be washed by hand.
Set includes sculpted mug and 6″ plate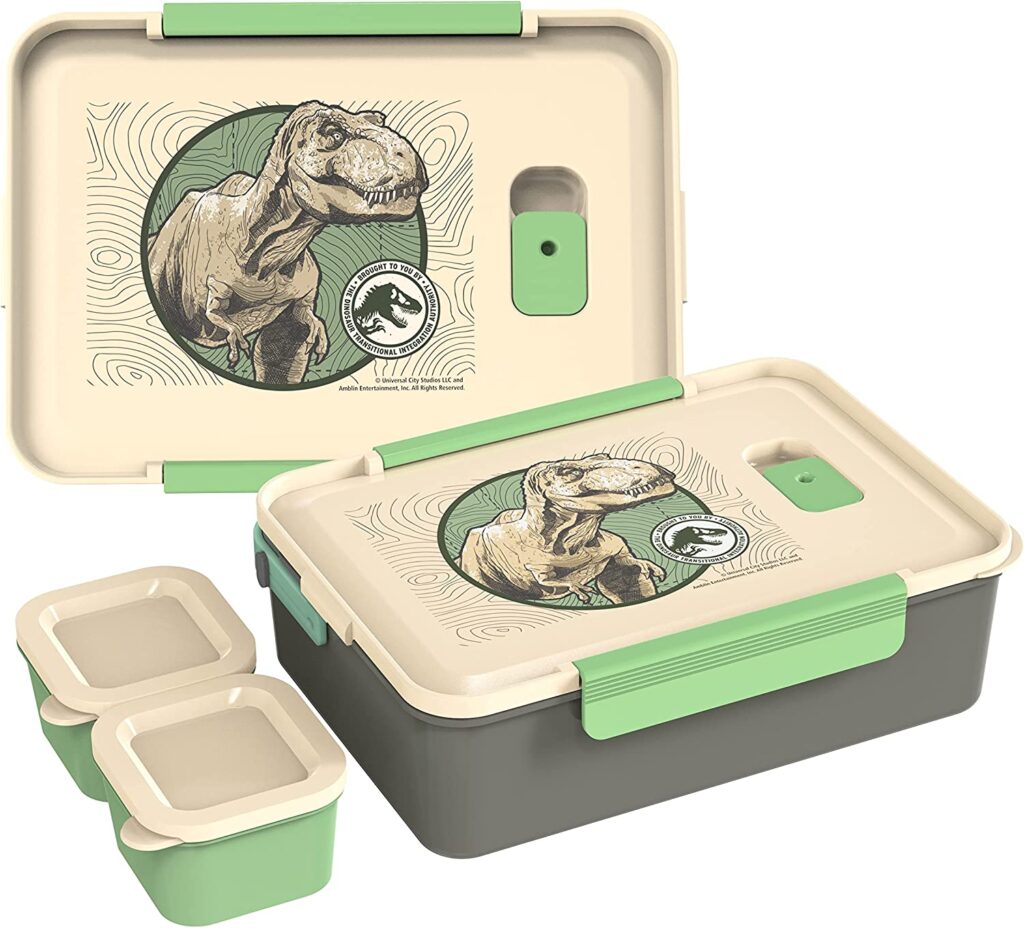 This bento box is a fun and easy way to bring meals on the go!
This food container measures 8.62 inches by 6.31 inches by 2.56 inches, and includes 2 mini containers that fit inside the larger box. The small, spill-resistant containers have individual lids, so they can be used for sauces or even on their own, and with the interior divider, they offer flexibility in arranging meals to keep foods separate. The bento box lid has two locks and a silicone seal to keep it from leaking. It also has a built-in vent, so it is easy to heat up a meal in the microwave. The box can be carried with the built-in handle, and fits in most lunch bags. Multiple bento boxes easily stack for storage. Everything is made from durable plastic, which is completely BPA free and dishwasher safe to make cleanup easy.
3-piece bento box fits 2 small containers and keeps food separate with interior divider
Lid locks in place with double-sided latches to prevent leaks
Vent allows steam to escape and prevents mess when heating
Built-in carrying handle and fits in most lunch bags
Bento box: 8.62″ by 6.31″ by 2.56″, small boxes: 2.87″ by 2.72″ by 1.69″
Made of durable plastic
BPA free – committed to safety
Dishwasher and microwave safe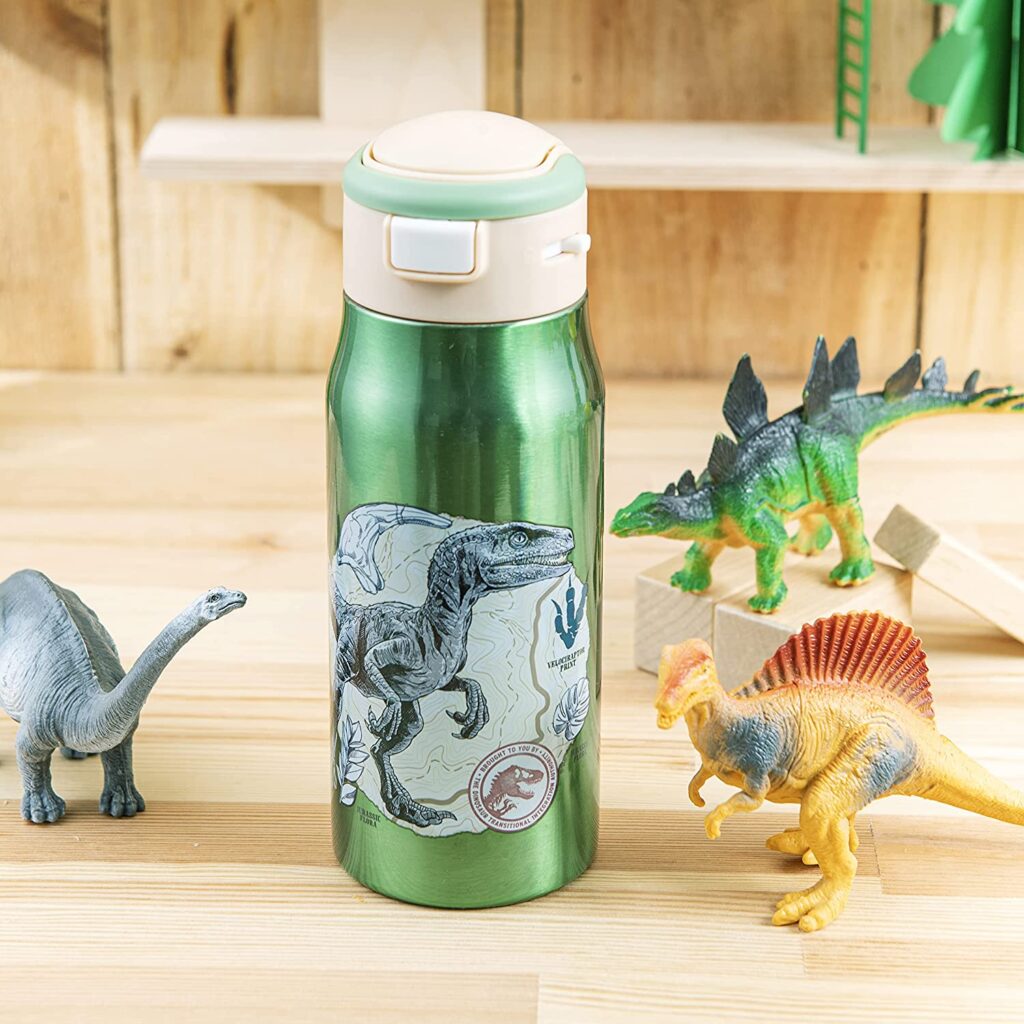 Jurassic World Stainless Bottle
SIZE & MATERIAL: This Zak water bottle holds 13.5 ounces, measuring 2.71 inches in diameter and 7.67 inches tall. It's made from food-grade, 18/8 stainless steel, which is durable and BPA free.

VACUUM INSULATED: The Jurassic World water bottle has vacuum insulation, which keeps drinks cold for up to 16 hours. The double-wall construction also prevents condensation from forming on the outside and eliminates messy water rings.

HYGIENIC SPOUT COVER: Keep the spout clean in the house or while you're traveling–the spout cover protects contact surfaces and has a slide lock to keep it closed. When it's time to drink, the action lid allows one-handed operation, and the spout easily pops up at the push of a button.

BUILT-IN-CARRYING LOOP: The lid has an integrated loop that folds down out of the way when it's not in use, so this travel water bottle is easy to take on the go. It also fits in most car cup holders, and won't leak when the spout cover is closed and locked, so you can put it in a bag without worrying about mess.

LIFESTYLE: Zak Designs water bottles make hydration fun! This drinking bottle has colorful artwork featuring Jurassic World Dominion, perfect for any fan. The drinkware is fully reusable–no more disposable bottles–and an exciting addition to the daily routine.
All these great Jurassic World items are available for purchase on Amazon.
Stay Socially Connected with zak! Designs: