Hot Summer Travel Toys From PLAYMOBIL, Hog Wild, & Sky Castle
This post may contain affiliate links or I may have received the product free in exchange for my honest review. See full disclosure for more information.
Are you looking for some things to take on your vacation for the kids to play with in the car this summer? Playmobil, Hog Wild and Sky Castle has you covered with some great toys that will keep your kids occupied during that long trip. These would make great birthday gifts, Summer fun ideas!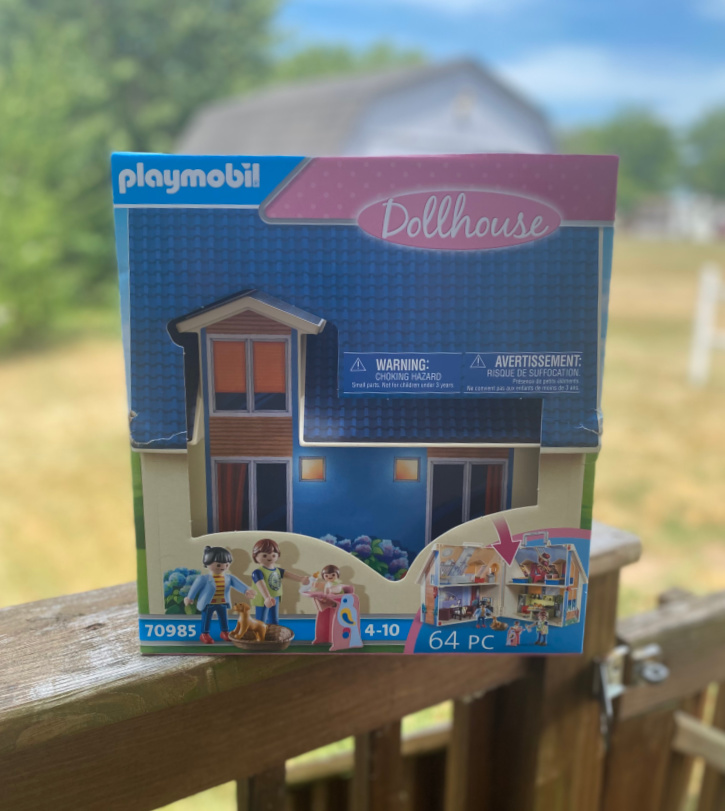 Enjoy some fun on the go with the Take Along Dollhouse. This take-along case with latch opens up to reveal a spacious two-story house with four fully-furnished rooms. Great for imaginative play while on the road or vacation. The dollhouse includes PLAYMOBIL figures along with all the furnishings needed for the bedroom, bathroom, kitchen, and living room!
Available at PLAYMOBIL for $49.99.
Modern furnished with spacious kitchen, comfortable living room, feel-good bathroom and master bedroom with baby cradle. All accessories can be stored in the collapsible house. With practical carrying handle to take anywhere. Dimensions house unfolded: 52 x 12 x 27 cm (LxDxH).
About Playmobil:
Since 1974, PLAYMOBIL® toys, created by Hans Beck, have become a classic throughout children's playrooms, with play themes ranging from a pirate ship to a children's hospital.

Approximately 3.5 billion of the beloved play figures with the iconic smile have been produced since then, sparking imaginative play for children all over the world. Around 30 different play themes are distributed in approx. 100 countries worldwide. Both parents and educators recognize PLAYMOBIL®'s award-winning toys as a benchmark for high-value, quality play products.
Stay Socially Connected with PLAYMOBIL: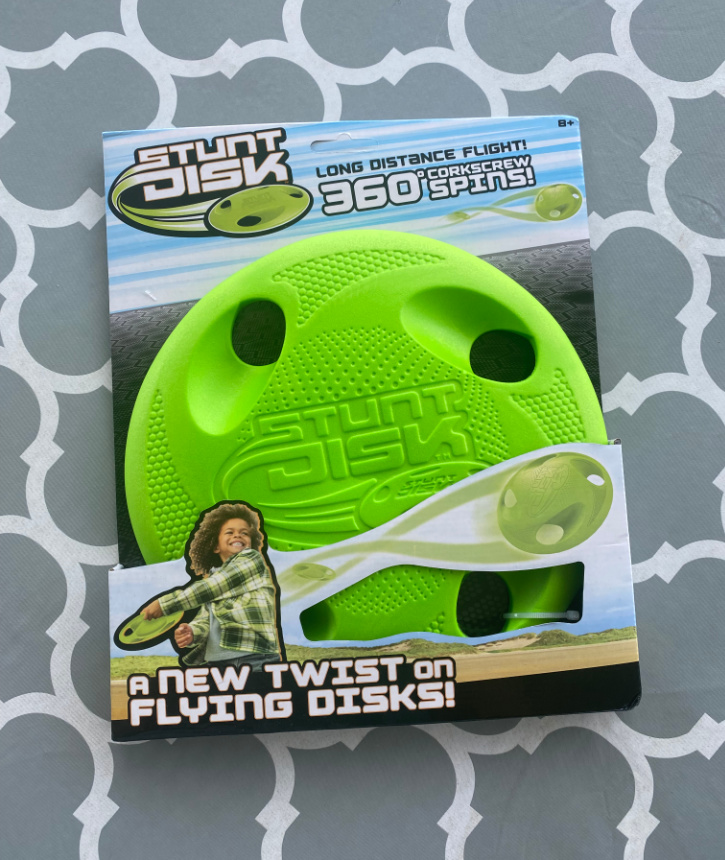 Stunt Disc From Hog Wild Toys
Thanks to its unique aerodynamic design, the Stunt Disc actually performs its own stunts – like the 360 degree corkscrew spin! The lightweight, brightly-colored soft foam Stunt Disk is simple to throw, but can easily soar across long distances! It's a brand new twist on the flying disc! Great for solo throwing or playing catch with others. A must-have for any outdoor setting. Compact (just over 9 inches in
diameter) and lightweight enough to toss it into your backpack or tote. Bring the Stunt Disk to the beach or pool (it floats!), the park, or use it right in your own backyard.
About Hot Wild Toys:
We've been in Portland since before it was cool. We are a homegrown Oregon brand staffed by people who love to make you laugh. You'll find us riding scooters through the warehouse, powering up the jukebox, and chasing one of 12+ office dogs around our desks. Our ideas are homegrown, too: our notebooks are filled with new designs and our workshop could give Santa a run for his money. The Hog Wild office is buzzing with people who love to make things, and people who love to make things happen. Fun is our profession.
Available on Amazon for $12.99.
Stay Socially Connected with Hog Wild Toys: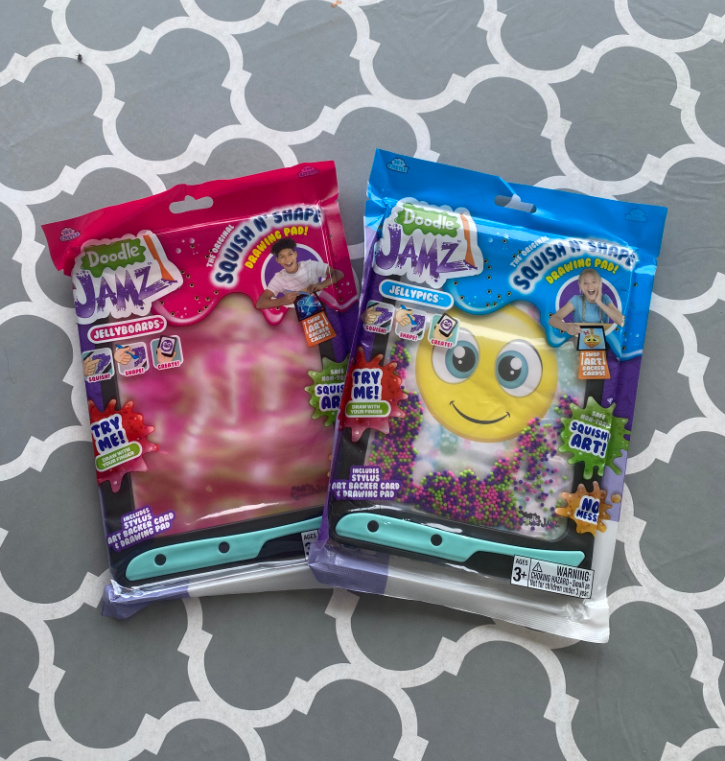 Introducing DoodleJamz™, a new line of squish n' shape drawing pads from Sky Castle Toys that delivers a totally new take on doodling! New DoodleJamz JellyPics and DoodleJamz . JellyBoards are hand-held art boards filled with soft, squishy gel or beads; use your fingers or
the included stylus to draw, sculpt and create doodles or separate the beads gel for that oddly satisfying feeling! They're super squishy, a bit addictive and just about impossible to put down!
All DoodleJamz are vacuum-sealed; shake, wobble or toss them in your backpack for on-the-go play on long car or plane rides and your design will stay in place. Their thin design makes them portable enough to fit in any seat pocket or backpack. Enjoy the squishy, color-blending fun of finger-painting, but without all the mess!
About Sky Castle Toys:
Sky Castle is a toy company founded upon the principles of innovation, integrity and entertainment. Our products introduce unique play patterns inspired by trends that disrupt complacent toy categories. We deliver WOW moments for kids and parents that are irresistible to play again and share with friends!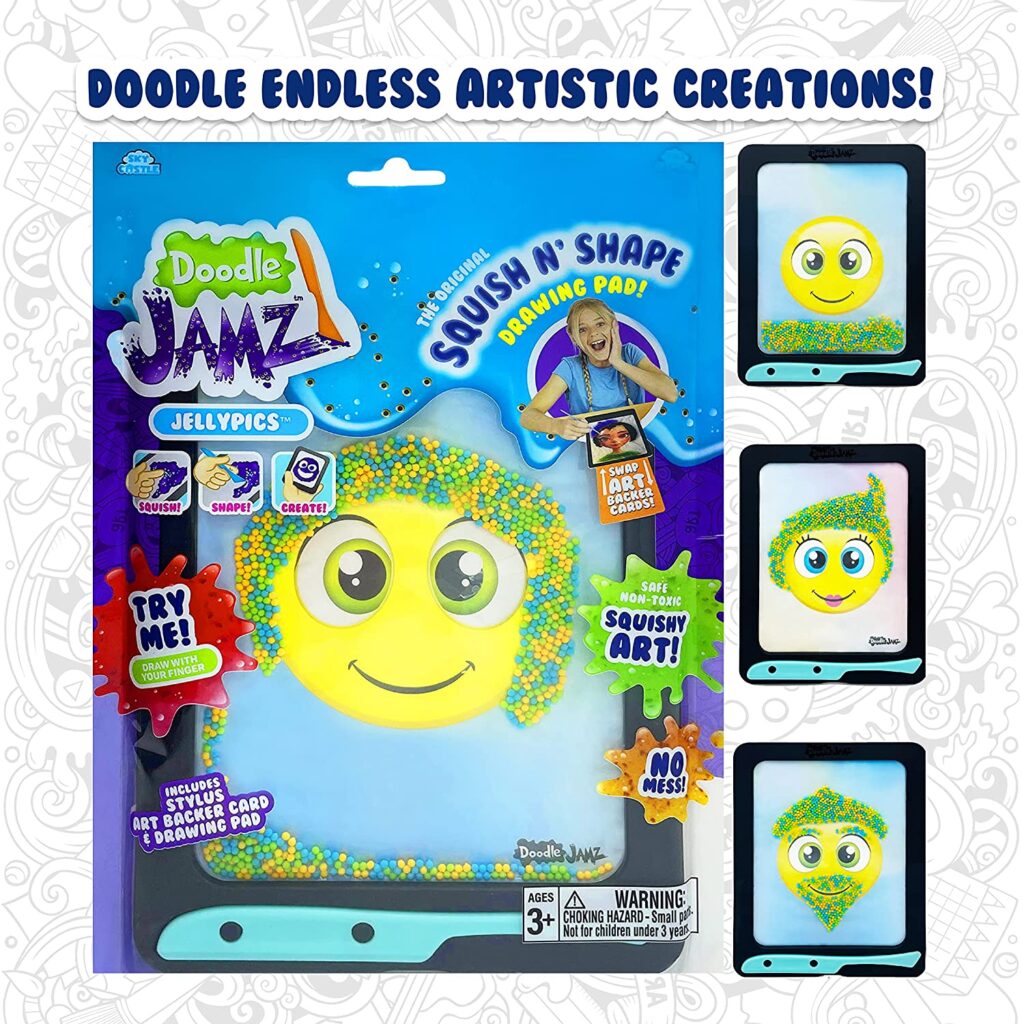 DoodleJamz JellyPics — New squish 'n shape drawing pads filled with transparent gel and colored beads so you can sculpt, mold and design over any picture! Separate the colors! Push the beads around with your fingers, or use the included stylus to get even more detail. Your designs are limited only by your imagination! Each JellyPics comes with an emoji face Backer Card that easily slips in and out of the frame. Or, swap it out for a customizable background of your choice – DoodleJamz your pet, your mom or even your own selfie!
DoodleJamz JellyBoards — Draw, swipe and erase on these squish 'n shape pads for easy, on-the-go, all-day doodling! Their squishy nature of JellyBoards create an amazing sensory touch! Use your finger to make shapes or faces in JellyBoards' two layers of colored gel; grab
the included stylus to blend and morph the gel colors. It's like finger-painting, but without the mess – and much more mesmerizing! Each style comes with a unique, double-sided backer card that enhances the gel colors in front. Swap it out with different backer cards and watch new colors emerge!
DoodleJamz are available on Amazon.
Stay Socially Connected with Doodlejamz: