Bring the Game Home with OYO Sports #MEGAChristmas18
This post may contain affiliate links or I may have received the product free in exchange for my honest review. See full disclosure for more information.
Supporting your favorite sports team doesn't end when the game is over. Whether cheering from home or in the stands, the camaraderie of belonging together in support of something is exciting. Game scores, plays, and unliked calls are often the topic of conversation long after the game is over. In fact, this continued discussion is called Monday Morning Quarterbacking because hindsight is usually better for all of us. OYO Sports understands this excitement and has a way for you to bring the game home and relive the excitement of your favorite plays by your favorite team.

OYO Sports is a leading fan engagement company in the sports consumer marketplace, targeting the youth, fan and collector markets with both physical and digital toy products.

OYO Sports creates buildable minifigures that are designed as the replica of athletes, with facial and uniform representation of their real life counterparts of major professional sports teams such as Major League Baseball, National Football League, National Basketball Association and over 60 major colleges and universities and more.

Each OYO Sports minifigure comes with his own stand and unique DNA number, as well as rotating arms, bending knees, and the ability to hold a bat, stick, glove and ball.

OYO Sports is privately held and is located in Hudson, Massachusetts. All products are designed in Massachusetts and built with pride in America from U.S. and globally-sourced parts.

The Story of OYO Sports
It all started at the ballpark. A father took his son to Fenway Park for a Red Sox game. Taking in the sights and sounds of the park, a true New England rite of passage, the duo would begin exploring the confines of the park in search of toys. As their searches went without results, an idea was born: Creating minifigures of athletes that kids could play baseball with at a game.
Products: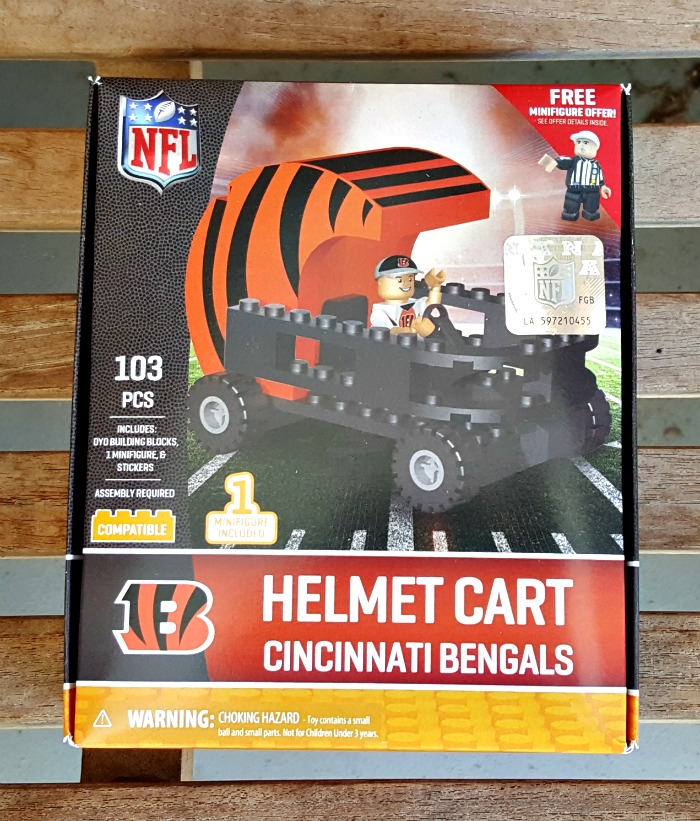 Helmet Cart
This buildable NFL team helmet cart has 106 pieces and it includes a team fan minifigure to drive the cart! What a memorable kit to build and display supporting your favorite team. The Helmet Cart is available in the colors of your favorite NFL team.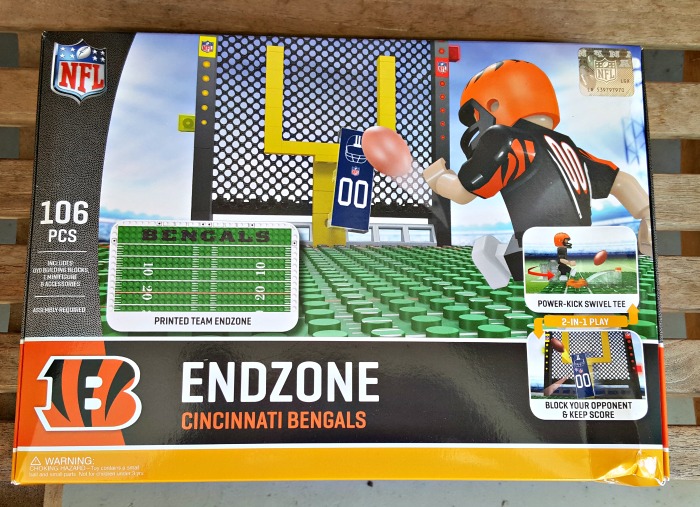 Endzone Set
Now you can build your favorite team's football field with this digitally printed EndZone buildable set which comes with your team's logo printed in full color, matching the one on the playing field. Play along as you recreate your favorite team's plays. The set includes 106 pieces which builds the playing field from the 20 yard line to the back of the Endzone. It includes a buildable field goal post with retractable net and a swiveling tee to kick field goals.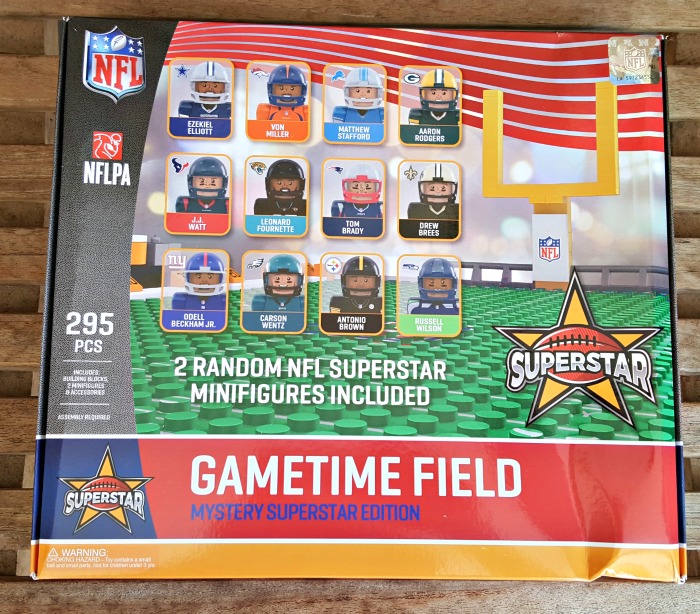 Gametime Set
This is a 295 piece set of everything needed to build a complete gametime field from endzone to endzone of your favorite team. It includes two buildable field goal posts and a swiveling tee to kick field goals while keeping score! The set also features buildable sideline benches.
My Thoughts:
My crew are sports fanatics…all year long! And since we have several sports teams around us, my crew are often not cheering for the same team. I love it! Their excitement is contagious.
The Cincinnati Bengals are one of the closest teams and as in most towns with professional teams…everything stop when the team is playing. All the restaurants with large screens are packed and oh the traffic when the games are local.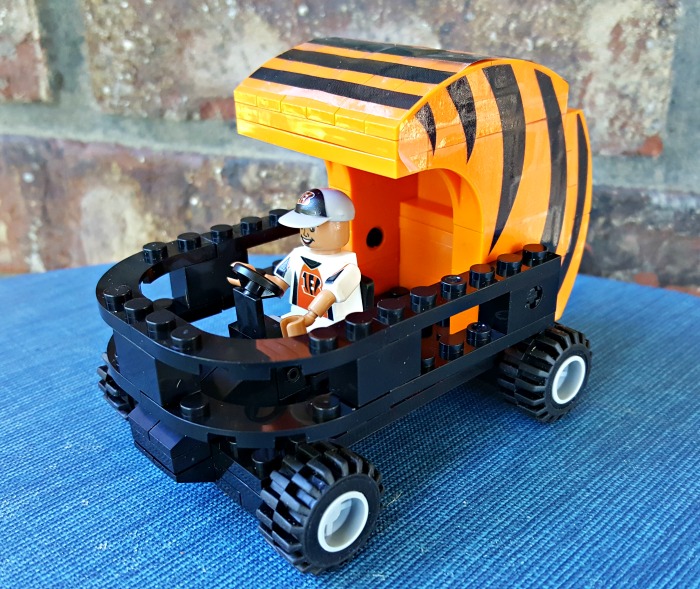 We usually gather at someone's house to watch the game, challenge the umpires calls, and yell at the big screen. During the last gathering, I enjoyed putting the team helmet cart together. Whew, it was more of a challenge than I was expecting. It is too cute though and the minifigure holds the wheel while waving to the crowds on the sidelines!
All of these sets from OYO Sports are a great way to work together while building the set and building relationships. Sports have always been a way for people to join together for fun and challenges. That is the premise behind the buildable sets. Sure they are pretty cool when completed and on display, but it is the building and creating that brings the joy of being together.
Grab these sets for the sports fans in your house this holiday season. They will provide hours of entertainment and enjoyment.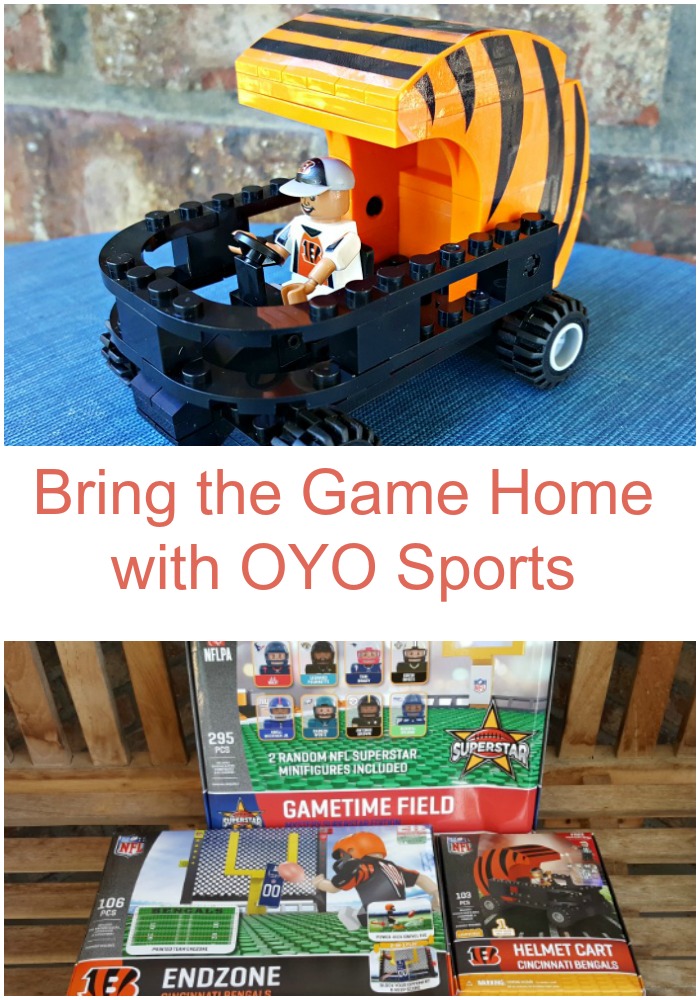 Make sure to follow OYO Sports on social media:
Facebook | Twitter | Instagram | YouTube
We've added OYO Sports to our 2018 MEGA Merry Christmas Gift Guide! Check it out here!