BSign Door Signs – Which Are Better?
This post may contain affiliate links or I may have received the product free in exchange for my honest review. See full disclosure for more information.
Where in your office can you find an employee? What room is he sitting in? The importance of door signs of employees is difficult to overestimate: if there are no such plates on doors, your business partners, clients and employees have to wander in confusion through the office mazes. BSign door signs will always help you to know where to go.
Signs for doors: for better orientation
Sometimes small details have a big effect. Without door signs, employees and visitors would be wandering around every enterprise in confusion: What door is Mr. So-and-so behind? Where is the warehouse located? How to get to the conference room? Door plaques will show you the right way!
What is the principle of installing door signs?
In matters of office equipment, the following aspects must be taken into account: functionality, clarity and order!
Door signs are necessary so that all visitors receive all necessary information even before he opens any door. It includes not only the name of the owner's office, but also department, position and office number. In this case, all information should have a logical structure.
When installing signs for offices, follow ascending numbering of all offices, ideally it should also reflect floor or department code. The visitor will be guided not only by signs on the doors, but also by information boards, direction signs and signs with directions.
The orientation system, which includes door plates, must have a clear color and symbol code: pictograms do not require a verbal description. Specific colors for specific divisions will help visitors in their search.
Do not forget to look at the orientation system through the eyes of a visitor: is everything clear on the way to your goal?
Production of signs for entrance doors
Door signs are one of the most demanded areas of our company. For many years, our manufacture of door plates has been one of the most important tasks for us. We make door signs only from the highest quality materials, since these products require durability and excellent image quality.
We mainly use acrylic glass and UV printing technology to make door signs. This allows obtaining high quality products with superior performance. It is very easy to order signs for any front door. Also from us you can order door signs production for your office in any quantity.
Doors signs are an essential part of every navigation system. It is their good location that allows a potential client not to get lost and find a right building or door in a multi-storey business center. At the same time, information signs can also act as an advertising medium, solving two urgent tasks at once.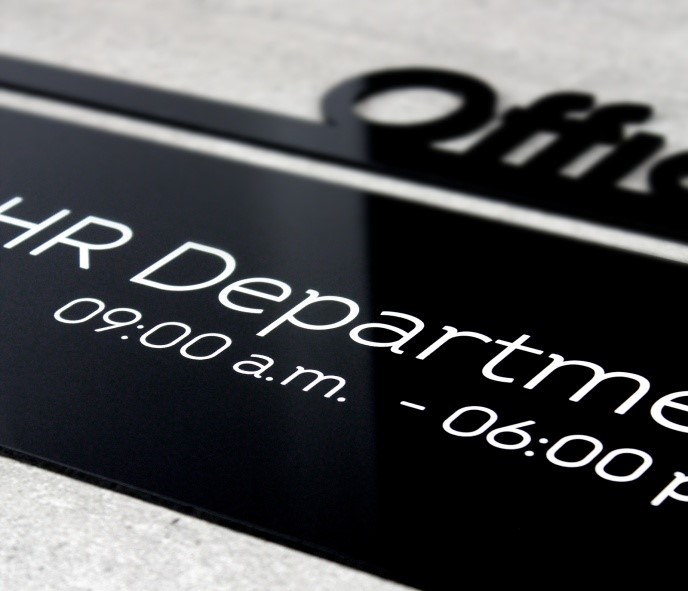 Our company's advantages
Continuing our conversation about navigation systems, it is impossible not to mention house signs. This is a mandatory norm, but the usual indication of every street and house number on the facade of an office or private house can be turned into an important aesthetic element. It is high time to leave nondescript signs in the past, which also suffered at the hands of vandals due to poor workmanship, and to order a house number plaque in a single copy.
Turning to BSign, you can order address and office signs. We work with orders of any complexity, we manufacture products from a variety of materials – plastic, metal, wood. You just need to contact BSign managers, and all the work will be done as soon as possible, taking into account all the wishes of customers.
Another important argument in favor of BSign is its low cost of production with high quality performance. We offer the widest range of solutions, both high price category and the most budgetary. You can buy cheap plaques from us and not cause serious damage to your advertising budget. BSign is waiting for you!