Build and Imagine Marine Rescue Center for fun Imaginary Play #MegaChristmas17
This post may contain affiliate links or I may have received the product free in exchange for my honest review. See full disclosure for more information.
It doesn't take much to think back to when you were a kid and how you loved to play and imagining things. It is something all kids do and it is an important part of their development. Why not build upon their love of imaginary play and increase learning at the same time? The Build and Imagine Building Sets gives them a new setting every time they play and engages kids in foundational S.T.E.A. M. skills (science, technology, engineering, art, and math)! Our favorite Build and Imagine set is the Martine Rescue Center! Take a look!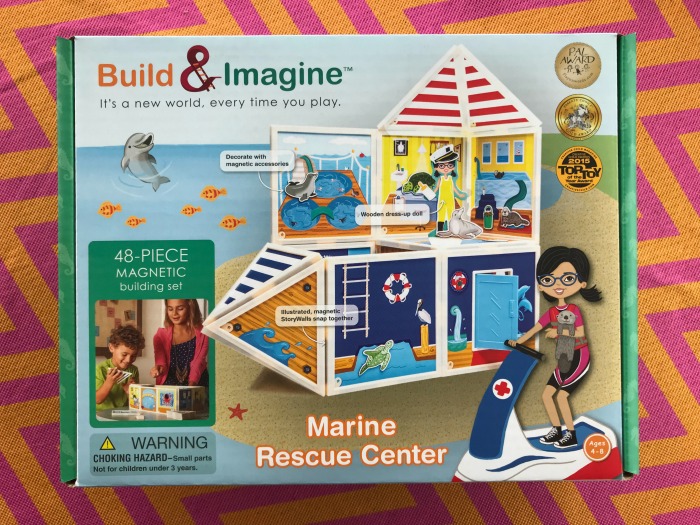 Watch your child become a designer, builder, and storyteller right before your eyes. Build & Imagine's colorful illustrated StoryWalls connect magnetically to build a world where dress-up characters work and play. Easily change things up and create a whole new adventure for endless imaginative play. It's the fun of a dollhouse with the enrichment of a building set.

This new mom-owned toy company aims to expand little ones' possibilities by helping them develop fundamental S.T.E.M. skills as they build scenes for their stories. With building toys as the launching pad for imaginative play, girls and boys will achieve wondrous things.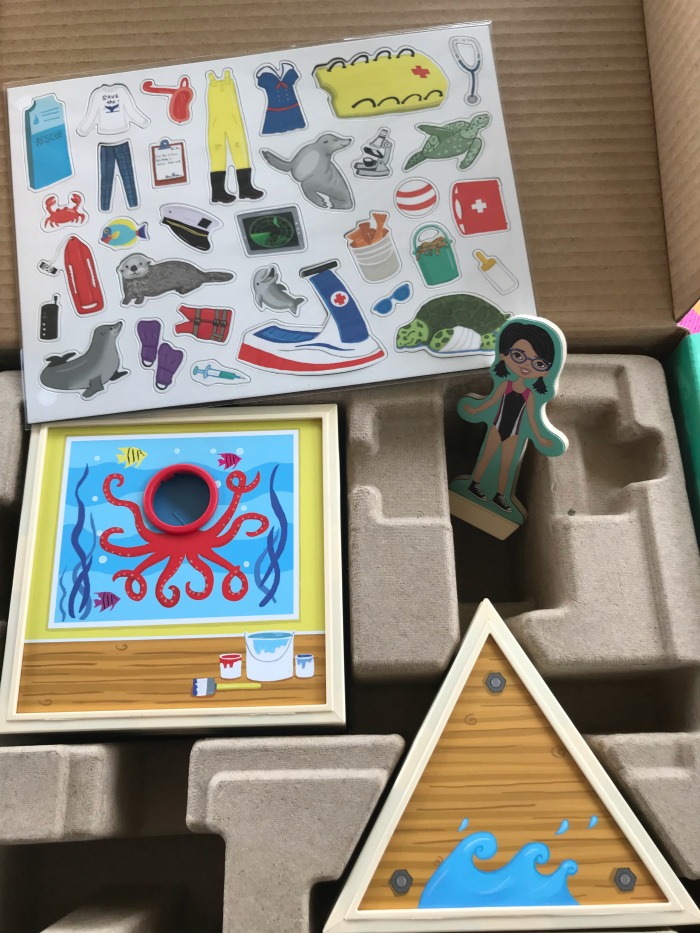 Marine Rescue Center lets Kids Build and Imagine Countless Stories!
Kids will develop foundational STEM skills with this magnetic building + storytelling playset that bridges left and right brain play. They can help guide Thea on her quest to save endangered sea animals by constructing the colorfully illustrated magnetic panels into a building or boat. From there, they can stick magnetic accessories into the scene and then take Thea on a sea worthy adventure.
Transform the Marine Rescue Center!
Your child can help Thea transform the rescue center into a ship to save the sea animals! With this design, kids can help rehabilitate injured dolphins, feed baby seals, and patrol the coast for wounded wildlife. Thea especially loves the opportunity to release her marine friends back into the ocean.
Build the Marine Rescue Center a new way, every time you play! Durable StoryWall panels connect magnetically.
Customize your adventure with magnetic accessories that stick to the panel walls and wooden dress-up character (Thea the marine biologist).
Let your imagination run wild! Change up your scene so the fun never stops.
Recommended for imaginative girls and boys ages 4 to 8.
Develops early engineering skills (spatial reasoning, problem solving, and creativity) as well as language skills.
Grow your story with additional Build & Imagine play-sets!
48 included pieces provide for endless variations to spark creativity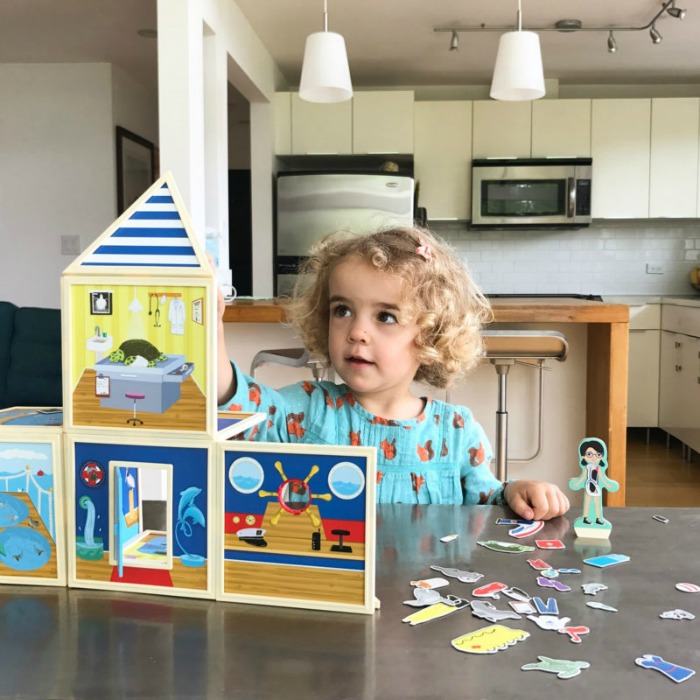 No rules, no limits to what your child can dream up!
Marine Rescue Center features a standing wooden dress-up character (Thea), 15 dual-sided StoryWall building panels (9 squares and 6 equilateral triangles), and 32 magnetic accessories. The StoryWall panels in this set feature an otter rehab pool, fish kitchen, dolphin pool, sea lion pool, laboratory, vet exam room, underwater observatory, otter rehab tank, functional door, and much more!
Kids can reconstruct the Marine Rescue enter into whatever design suits them. They can also change the context of their story with magnetic accessories that stick to the floors, walls, and wooden character. Or, mix and match multiple Build & Imagine play-sets to build a larger scene. All Build & Imagine play-sets are compatible, so your child can grow their story alongside their building skills.
Develops Foundational STEAM Skills
Build & Imagine's construction plus storytelling combination bridges left and right brain play to engage kids in foundational S.T.E.A. M. skills (science, technology, engineering, art, and math). Through building with geometric shapes children exercise early engineering skills including spatial reasoning, problem-solving and design. The rich illustrations, characters, and magnetic props act as story prompts, sparking imaginative play that sets the stage for language and literacy learning. Marine Rescue Center also features a laboratory and veterinary exam room, to introduce kids to the fun world of science.
Visit Build & Imagine to learn more and to see the different varieties such as Pet Portrait Studio, Fairytale Theater, Malia's House, and the Marine Rescue Center. These fun building sets would be the perfect gift for under the tree this year!
Connect socially with Build & Imagine

Build & Imagine is now on our Mega Merry Christmas Gift Guide. You can view it HERE.