Are you a Foodie? Sauce Haircare Products are perfect Haircare for Foodies
This post may contain affiliate links or I may have received the product free in exchange for my honest review. See full disclosure for more information.
Are you looking for something to rejuvenate your hair and give it new life in 2020? Get a little Sauce-y with your routine by incorporating Sauce Haircare in the mix. Sauce Products are "clean" products, meaning free from sulfates, salt and prabens.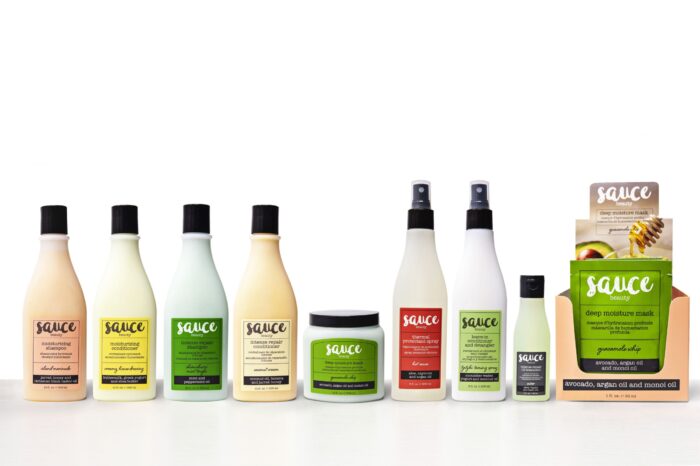 About Sauce Beauty
I am Sauce Beauty's founder, Andy, and I have two passions in my life: haircare products and delicious food. I've created and marketed haircare products for top beauty companies like L'Oréal, TIGI/Unilever, and Macadamia Beauty for thirteen years, and at the same time have come to love cooking great meals for friends and family. I am not allowed to make fresh pasta without the help of my son. And my daughter will eat just about anything — she's even tried snails! I've always wanted to merge my two passions of food and haircare, so I created Sauce Beauty.

Each of my products are inspired by recipes with ingredients that are beneficial for your hair and scalp — ingredients like Jarrah honey, avocado, Greek yogurt, shea butter, cucumber water, and cayenne pepper. I want you to be able to make informed decisions about the products you use, which is why I created TransHAIRency™. Every ingredient is listed on this website, and each comes with a description of what it is used for. We care more than ever about what we put into our bodies, why should we not feel the same about what we put in our hair?
Products containing natural ingredients is something I have always preferred to use for myself and my family. Hair is my crown, it is the pinnacle of my appearance and one of the first things people see when they look at or meet me. It is understandable that I want it to look and feel its best, not matter where I am at.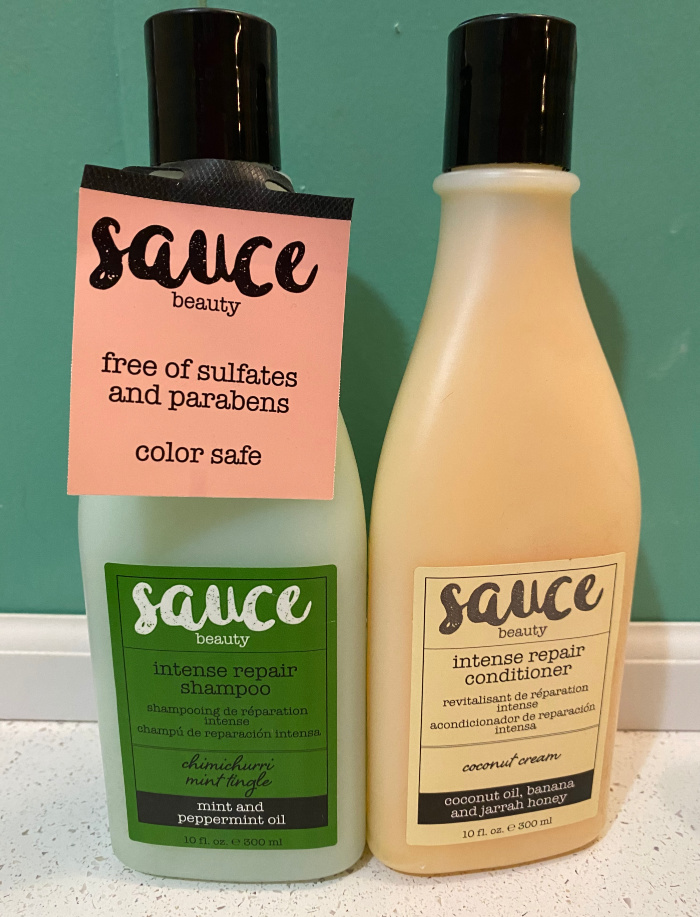 I have been using Sauce Haircare now for several weeks and really, really notice a difference in the look, feel, sheen and volume of my hair. My personal favorite product is the chimichurri mint tingle intense repair shampoo.
The invigorating sensation of mint and peppermint oils really nourishes and softens my hair and scalp. Winter has my scalp dry and flaky from the dry air in the house and this has really given it the moisture it is missing. My hair is really course due to the tight curls I have, and this really works great in relaxing and softening my hair, giving my curls a softer appearance and bounce.
I follow up my routine with the coconut oil, banana and jarrah honey intense repair conditioner. Oh my goodness, the smell alone has me loving this conditioner.  I am going apes over this conditioner (pun intended). The banana helps give a deep conditioning and leaves my hair smelling so delightfully fresh and sweet.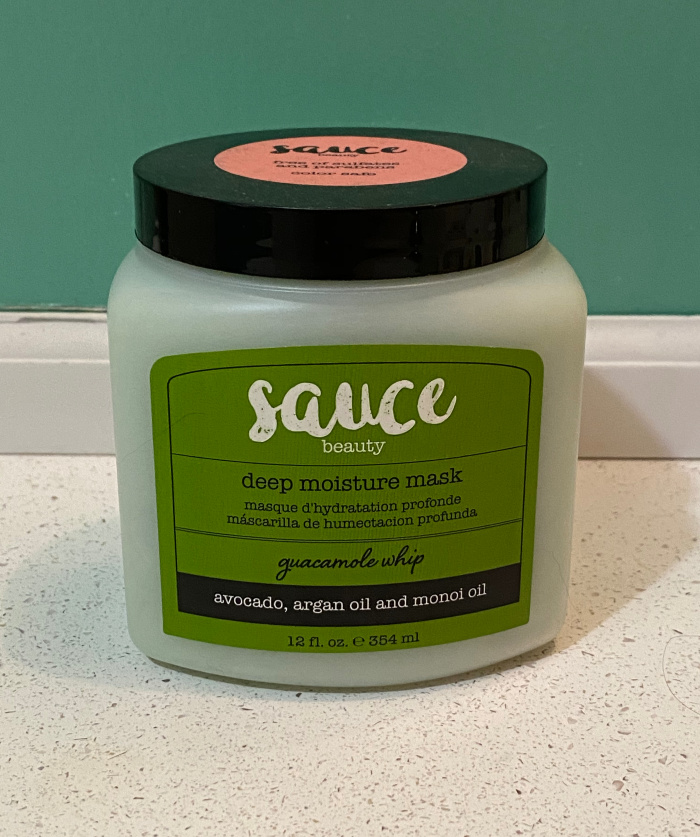 Several times a week, especially during these drier winter months, I want my hair to maintain moisture and like to give my hair a deep moisturizing treatment. This guacamole whip deep moisture mask is the perfect finishing touch to give my hair the ultimate care it needs.
I have been a fan of Avocados for years and continuously amaze at how versatile they are. From delicious dishes and garnishments, to amping up beauty products like skin and haircare, This moisture mask is best used after shampooing and conditioning your hair. Leave it on for 3-5 minutes and then rinse.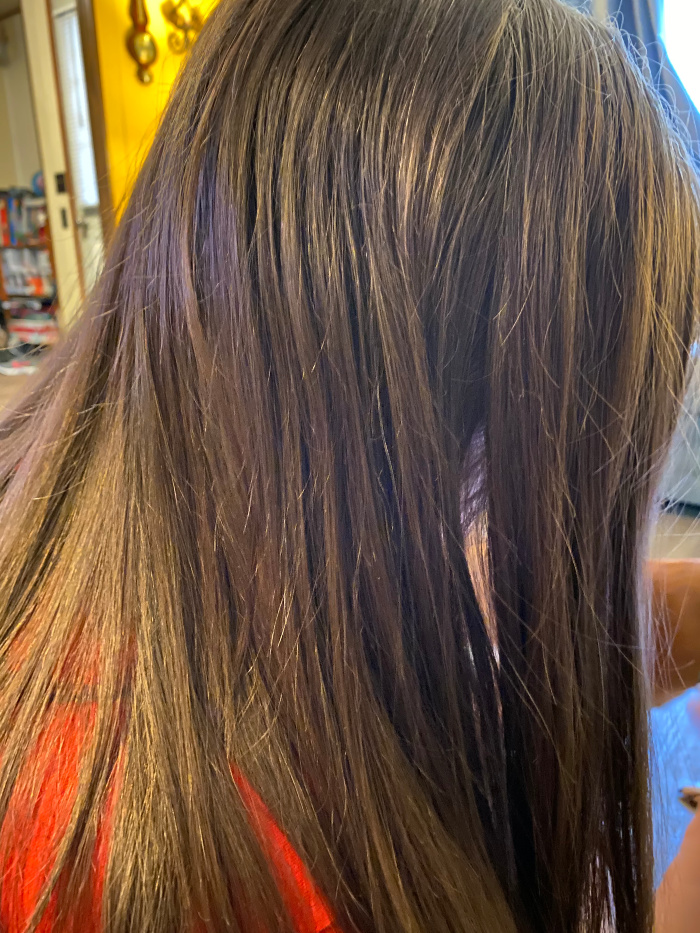 It is filled with avocado, Jarrah honey, argan oil and monoi oil. It really moisturizes my hair without that dreaded "oily, weighed down" appearance some intense moisture treatments give. Again, it works perfectly with my curls, giving it a vibrant appearance.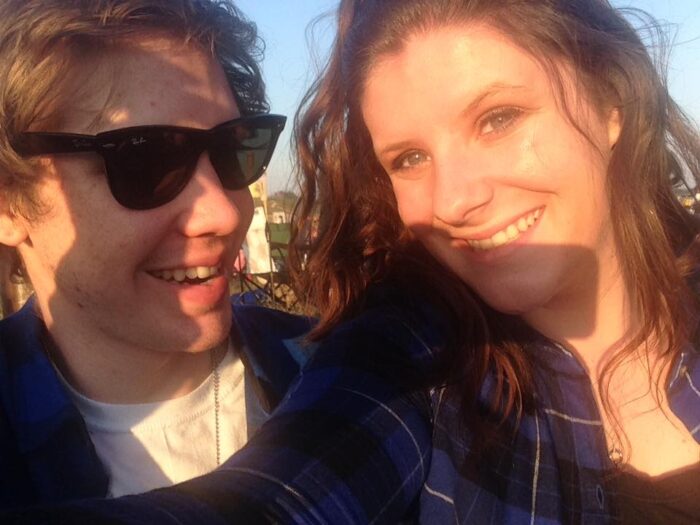 One recommendation, you'd better have a full belly before you shower, because these products smell so good, you'll be starving for some real tasty treats when you are done.
Are you ready to Sauce up your haircare routine? Want to give your hair tasty nourishment, moisture and all the delicious smells you can? Sauce Beauty has what you need to stir up the perfect recipe for your haircare.
Best part? You get salon quality products at affordable prices, so you aren't breaking the bank for great haircare. Sauce is available on Amazon, Sally Beauty, Well.ca and Wegmans.
Stay connected with Sauce Beauty socially to see what other tasty treats they bring to the world of beauty!