Celebrate Snow Days with Family Friendly Games by @GoliathGamesUS
This post may contain affiliate links or I may have received the product free in exchange for my honest review. See full disclosure for more information.
The snow is starting to set in the Midwest and that means snow days ahead for kids everywhere. Being stuck indoors does not mean you have to develop "tech eyes" and be glued to a video game for hours. Pull out some amazing games and have hours of fun and laughter with classic games from Goliath Games. Here are some of our favorites we like to play, even when the snow is long gone!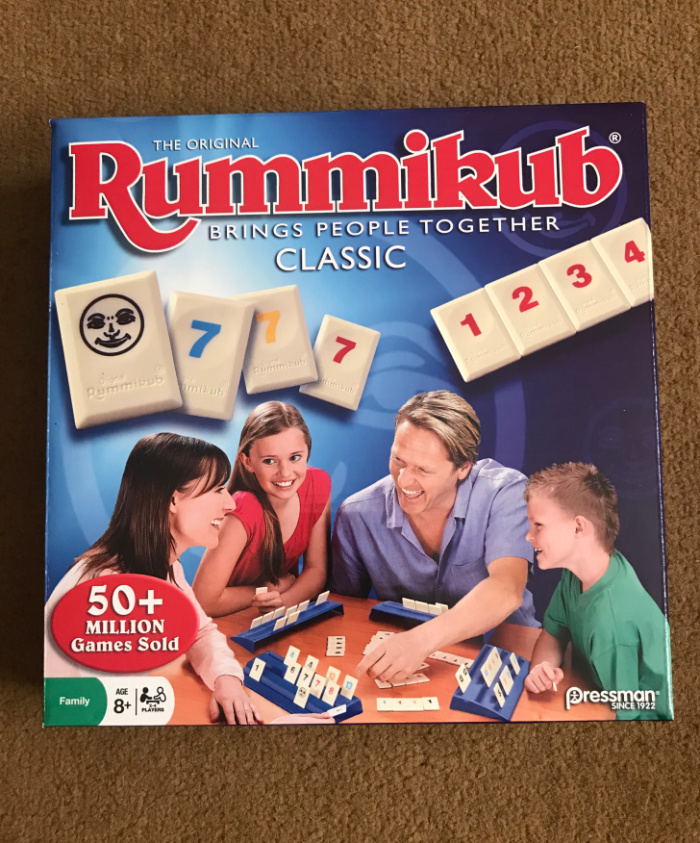 The beloved classic gets a fresh Twist! Rummikub has been enjoyed by millions and now includes three new Jokers for a fun new way to play. Rummikub with Twist Jokers is a favorite for new and seasoned players. The introduction of the Double Joker, the Color Change Joker and the Mirror Joker add new ways to strategize your way to victory.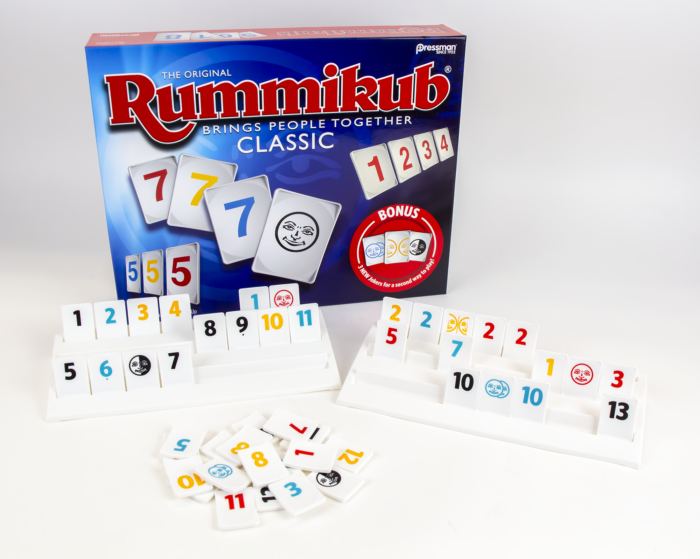 It's easy to learn, but packed with strategy–the "board" changes all the time as players adjust the tiles on the table. The Joker tiles add to the fun! Players take turns placing numbered tiles in runs (consecutive numbers of the same color, like 2, 3, 4 in red) and groups (three or more of the same number in different colors, like a red 9, a blue 9 and a black 9), rummy style. The object is to be the first to play every tile on your rack. Players keep track of who wins each round–the player who wins the most rounds, wins this time-tested tile game! There's also a point system for use as a tie-breaker. This set features high-quality, stackable tiles with bright, colorful numbers that are easy to see. For 2-4 players, ages 8 and up.
Check out some of our other Rummikub games: Original Rummikub, Rummikub Large Number Edition & Rummikub Deluxe
Game Contents
112 High-Quality Tiles (Including 8 Jokers)
4 Racks
Complete Instructions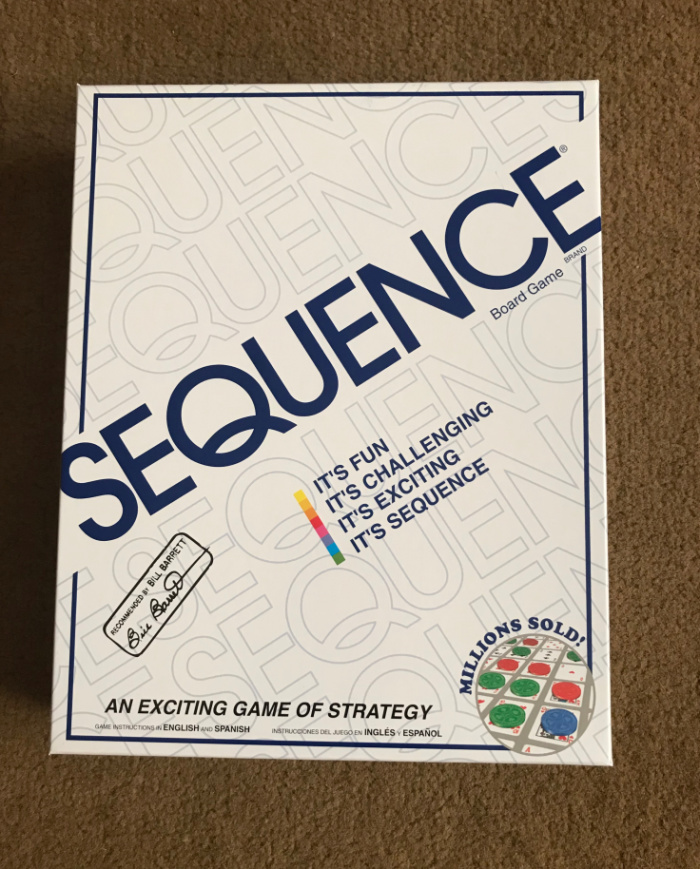 Play a card from your hand, place a chip on a corresponding space on the game board…when you have five in a row, it's a 
. Learn to block your opponents – remove their chips. Watch out for the Jacks – THEY'RE WILD! With a little strategy and a little luck – you're a winner!
Folding Game Board
Sequence Playing Cards
135 Sequence Playing Chips
Game Instructions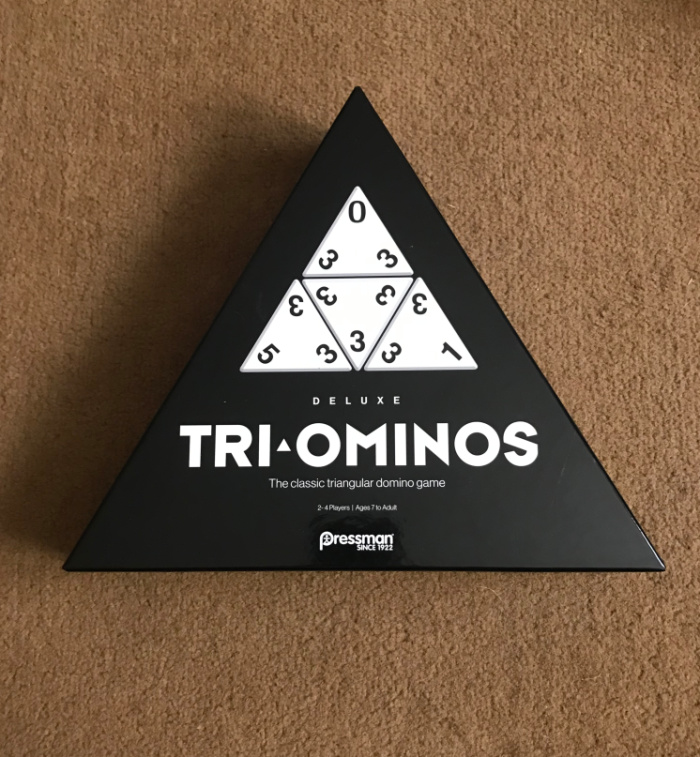 The classic triangular domino game! Score points by matching numbers on the three-sided pieces. Tri-Ominos Deluxe playing pieces are crystalline with brass spinners. Keep everything together in triangular box. Score points based on the numbered tiles you are able to play and score big with bridges and hexagons! Be the first player to score 400 points to win. For 2-4 players, ages 8 and up.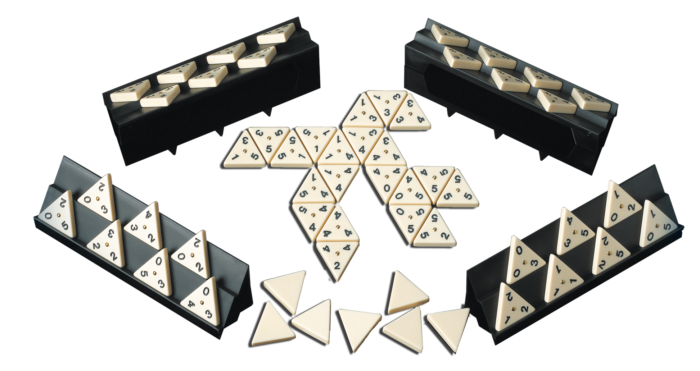 Game Contents:
56 Crystalline Deluxe playing pieces with brass spinner
4 Racks
Complete Instructions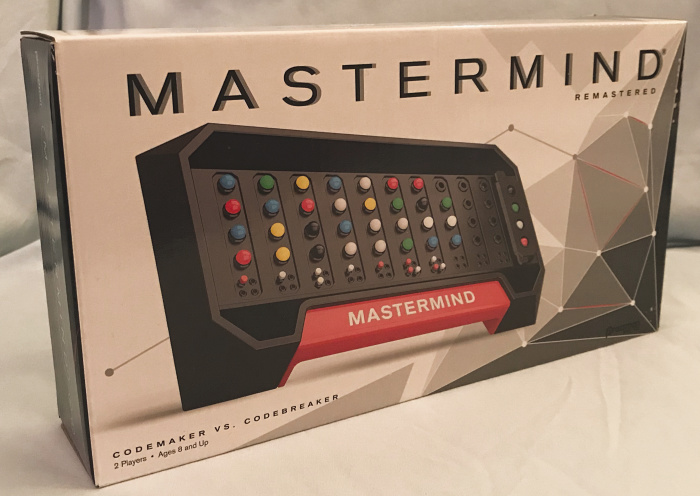 Test your code-cracking prowess with Mastermind, the challenging game of logic and deduction. Can you crack the code in 10 moves or less? Can you create a code that can't be cracked? With more than 55 million units sold, Mastermind is a great strategy game…and one of the world's most popular games ever. It's easy to learn and fast to play and with thousands of code possibilities, it's different every time. The Codemaker sets a secret code, then the Codebreaker tries to match the code using logic, deduction and maybe a little bit of luck. After each move, the Codemaker gives clues to the Codebreaker.  Make the code even more devious by using multiple pegs of the same color or by leaving one or more peg holes empty. With so many possible code combinations, every game is guaranteed to be a brainteaser. All of these game components can be stored in the game board! The winner will be a true Mastermind! For 2 players, ages 8 and up.
Game contents
Mastermind game console with built-in storage tray and code shield
108 Code pegs in 6 colors
30 Key pegs in 2 colors
Complete instructions
You don't need a snow day as a reason to break out these family fun games, but is sure makes the time go by faster and helps reduce the stress of cabin fever. Check out these and other fun games available from Goliath Games.
Stay connected with Pressman Toy and Goliath Games socially and watch for all of the latest toys they release in 2019!