Choosing the Right Pet Cat for Your Family
This post may contain affiliate links or I may have received the product free in exchange for my honest review. See full disclosure for more information.
Cats make great pets, but not all cats are child-friendly, so it is important to choose carefully if you plan to invite a fur baby to come and live in your home. Some breeds of cat are more aggressive and demanding than others, so if you have young children, they might not be the best choice. Here is a quick guide to help you choose the right feline friend for your family.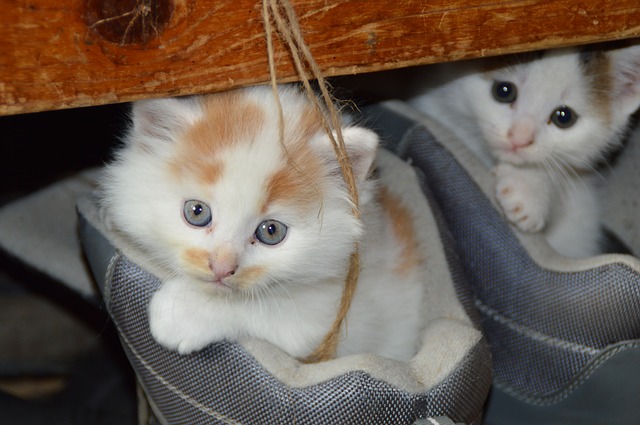 Kittens or Older Cats
Kittens are oh-so-cute, but if you have babies and toddlers, having a kitten is not always such a good idea. Children are sometimes too rough. Kittens dislike being handled with a lack of care and if you are not careful, your child may injure or even kill the kitten. There is also a risk of injury to your child, even with an older cat. A cat will bite and scratch if a child treats him roughly. This might teach the child a valuable lesson, but a claw in the eye could cause irreparable damage.
It is better to wait until your children are a bit older before bringing a cute kitten home. Instead, give a home to an older cat, as they know when to jump out of the way of a curious toddler or crawling baby.
Shelter Cat or Purebred Feline
There are millions of cats in need of an urgent home. It is always better to give a home to a cat from a local shelter, as these guys need more love than the average cat. If you have older kids, an older pet will appreciate the calmer atmosphere of your home. They can sleep on a teenager's bed and be undisturbed until mid-afternoon. Younger cats are more playful and will be happy to bounce around with younger children.
Buying a purebred cat is always an adventure. There are some fantastic breeds to choose from, so take your pick from the following suggestions.
Bengal cats are feisty, active, and very intelligent. They love to play and hunt, especially if there is water involved. These cats are best with older kids, as they need plenty of stimulation and rambunctious play.
Ragdoll cats are known as the floppy breed, although not all ragdolls display this trait. Ragdolls adore human interaction. If you own a ragdoll, do not be surprised to see that it follows you around like a puppy. Ragdolls are gentle giants and they are great with kids. They should be kept as house cats. Like Bengals, they also love water. Ragdolls are not aggressive and tend not to scratch and bite, although like any cat if provoked, they will react.
Maine Coons are the largest breed of domestic cat. They have long hair and impressive lion-manes. Maine coons love to play and are gentle giants. They do enjoy their freedom, but they are very loyal and enjoy the company of children.
Siamese cats are demanding and attention seeking, but they make wonderful pets. Siamese cats often form a close bond with their human friends, so if you give a home to a Siamese cat and do not be surprised if it becomes your child's best pal.
Buying a Pure Bred Cat
Research different breeds of cats before you buy a purebred kitten or older cat. There are hundreds of different breeds of cat to choose from, so think about what type of home you have and how old your kids are. Most responsible breeders will be reluctant to sell a kitten to a family with young children, so do bear this in mind.
Look for a registered breeder. All cat breeds have their own societies, so contact the relevant one and find out if there are any registered breeders in your area with kittens available. Some will also have older cats looking for a home, so if you have younger children, consider taking an older cat instead of a kitten.
If you buy a kitten from a hobby breeder, check to make sure the kittens have been raised responsibly. If you have any concerns, walk away. Some breeders sell kittens purely for financial gain and healthcare is not something they pay too much attention to. Purebred cats are susceptible to a range of inherited health problems, so you could end up paying top dollar for a ragdoll kitten, only to discover it has Hypertrophic Cardiomyopathy (HCM), which is invariably fatal.
Cat Allergies
Do you have allergies in your family? If so, think carefully before taking a cat or kitten into your home. Repeated exposure to pet dander can cause allergies to develop over time. Children from families where allergies are present are more susceptible to developing pet allergies. It is very unfair on a child – and on the cat – to take a pet into the family home, only to give them up a few months later. Allergy symptoms can be controlled with antihistamines, but this is not a long-term solution.
Can You Afford a Pet Cat?
Pets are expensive. Cats love to roam freely, so they sometimes encounter vehicles. The cost of veterinary treatment for a cat that has been struck by a moving vehicle is likely to be very high. House cats are in no danger from the Great Outdoors, but they can still come to harm or fall ill.
Even routine veterinary treatment is expensive, but if your cat becomes sick, the costs soon add up. Insurance will cover unexpected bills, but this is an extra monthly payment you may not be able to afford. You also need to factor in the cost of having a kitten desexed, which again, can be expensive.
Always teach your children to be kind to cats (and all animals). They must learn from a young age that cats are a living creature, not a toy. All animals deserve to be treated with respect and left alone when they want their own space. Show your children how to behave around animals and, in time, the cat and your children will become the best of friends.