With the spring weather in full effect, there's a good chance your dog is shedding fur at a ridiculous rate. Along with the spring thaw comes the rain and mud, which can also do a real number on your dog's otherwise immaculate coat. What this means is that it's time for a good grooming, which leads to the question of whether you should tackle the job yourself or head to a professional groomer.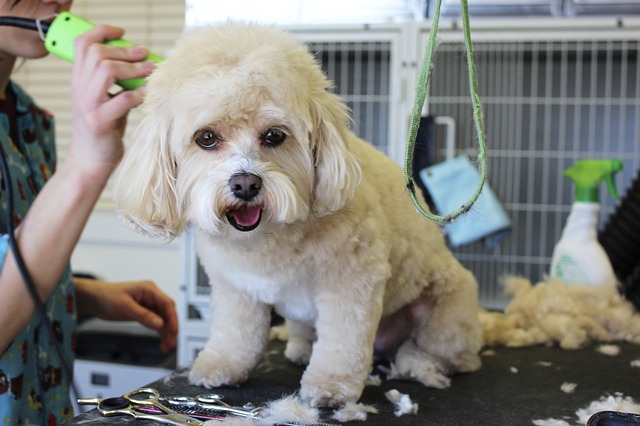 Keep the Mess Somewhere Else
Let's get real here, grooming your dog is never a mess-free job. You're signing up for shampoo all over the walls and floor, fur all over you and the entire room, and there's also the fact you need a place to wash them that is safe and easy for them to get in and out of.
A groomer is well-equipped to deal with all of these issues. They have the proper equipment for washing and drying your dog, and the mess stays there.
They Have the Experience
While you may not think there is much involved with washing and brushing your dog, for many dogs there is skill involved. Not all dogs appreciate being bathed, and many of them don't like sitting still to be brushed. Professional groomers have experience with these types of dogs, and know how to keep them calm, still, and move the process along as fast as possible.
Groomers May Be Able to Detect Potential Problems
If you have a dog with particularly thick and long fur, it can be very difficult to spot any growths or discoloration on their skin. Groomers are used to washing dogs and will be very aware if something feels different or odd. In that sense they can help detect anything that should be looked at by your vet.
Proper Nail Trimming
Even if you feel comfortable bathing and brushing your dog, trimming their nails is a whole other topic. Dogs can be very skittish when it comes to nail trims, and depending on the color of the nail you may end up clipping them too much and causing the nail to bleed and hurt.
The groomer will be experienced in proper nail clipping techniques. For skittish dogs, they can use a muzzle to keep everyone safe.
No Need to Fit It Into Your Schedule
Of course, there is also the fact that taking your dog to the groomer also means you don't have to fit it into your busy schedule. Some groomers use professional, user-friendly pet grooming software, which allows customers to book appointments from home, get a reminder and confirmation of the appointment, and even check up on the animal. It really doesn't get much more convenient than this.
The Verdict – Professionals Offer Plenty of Benefits
So, it appears the verdict is in when it comes to grooming your dog at home versus taking it to the groomer's. While you can certainly attempt to groom your dog at home, booking with a professional groomer offers all kinds of benefits for both you and your dog.