Cleaner Greener Laundering with Grab Green Laundry Pods
This post may contain affiliate links or I may have received the product free in exchange for my honest review. See full disclosure for more information.
Are you looking for a greener way to keep your clothes clean and fresh? Let me tell you about an easy and affordable way to achieve just that with Grab Green Laundry Pods.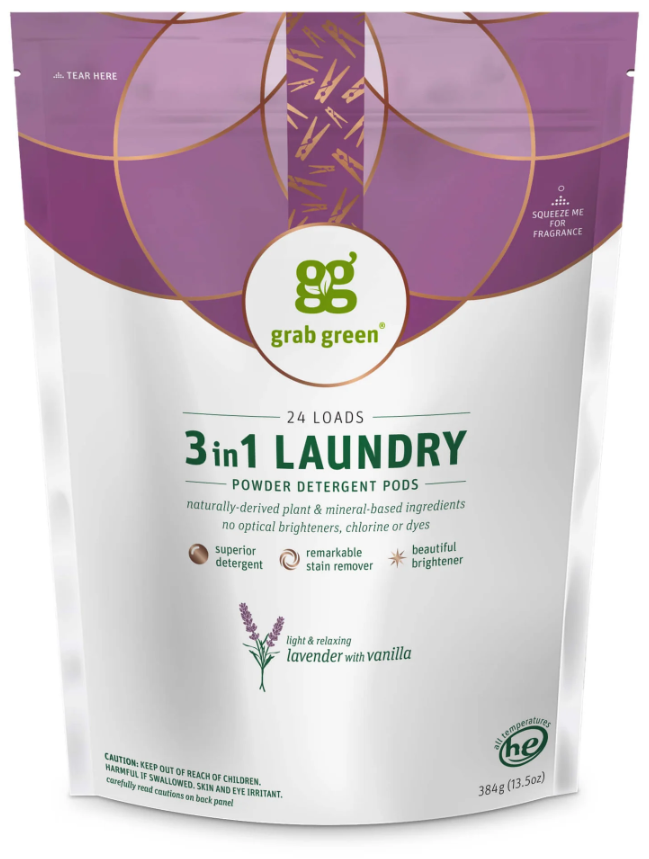 About Grab Green
Effective, naturally-derived & personal-care products designed to fit your life & style. Founded by a concerned mother. 100% Made In The USA.
Save money & time with 3-in-1 Laundry Detergent Pods. This product combines deep-cleaning concentrated detergent, stain remover, and brightener, all in one!
Powerful powder pods cut through dirt leaving your laundry clean and fresh. This 3-in-1 Laundry Pods was awarded a 94% rating of excellence in overall stain removal, AND they outperformed Tide in stain and soil removal.*
Our powder pods were designed with your ultimate safety in mind. Unlike conventional liquid pods that come with too many risks, Grab Green Pods have four layers of security in place to protect you and your loved ones. While liquid pods are colorful and squishy, ours are intentionally white and made of powder so they don't look like irresistibly colorful candy and are much more difficult to ingest. And not only do they not look like candy, but the pod's extremely bitter outer film will keep anyone from wanting to take a bite. Just like all of our products, Grab Green Pods are filled with non-toxic ingredients, making them the safest choice for your household.
ON THE OUTSIDE
Package design clearly states what the product does & how to use it; the ingredients are listed in full, along with each ingredient's purpose.
ON THE INSIDE
Powerful powder pods tackle your most difficult laundry challenges, without harmful toxins or additives. We source the finest ingredients & adjust our formulas to ensure the best laundry detergent. The Velcro® closures easily open and close—meaning no more hassles with finicky zips. Formulated for standard & high-efficiency washers, our pods are perfectly pre-measured for ease and simplicity—simply grab and toss!
Grab Green pods are available in 4 sizes including 24, 60, 132 or 264 loads. You can also choose from 4 scents including Lavender with vanilla, Gardenia, Vetiver, and Fragrance Free.
Connect socially with Grab Green to find out more about their other amazing products.