Cleaning Holiday Messes with #NatureZway Safe, Eco-Friendly Cleaning Product Solutions! #NatureZwayEco
This post may contain affiliate links or I may have received the product free in exchange for my honest review. See full disclosure for more information.
What comes to mind when you hear the words "eco-friendly" or "Going Green"? Some may shudder and moan thinking "I have no idea how or it's just too much trouble." Well, in some cases, that can be true, but with little steps here and there, it becomes quite easy and second-nature.
Sure, you make recycle your aluminum cans or repurpose things around the home like milk jugs or prescription pill bottles, but beyond those small steps, you may not have a clue as to what what else you can do to become a more "Green" household. Let me tell you how much you may be surprised that by simply substituting some of the everyday products you use, you can make a big impact! NatureZway has a line of chemical free cleaning and household products made from Bamboo and other sustainable materials that are not only eco-friendly but cost effective too! Going "green" has never been more simple and much safer than with eco-friendly cleaning products from NatureZway.
Here are a few of the NatureZway products I have incorporated in my household. And, you read on for more information, don't forget that right now, you can get 15% off! Just head over to Amazon and use discount code: GoGreen15 at checkout.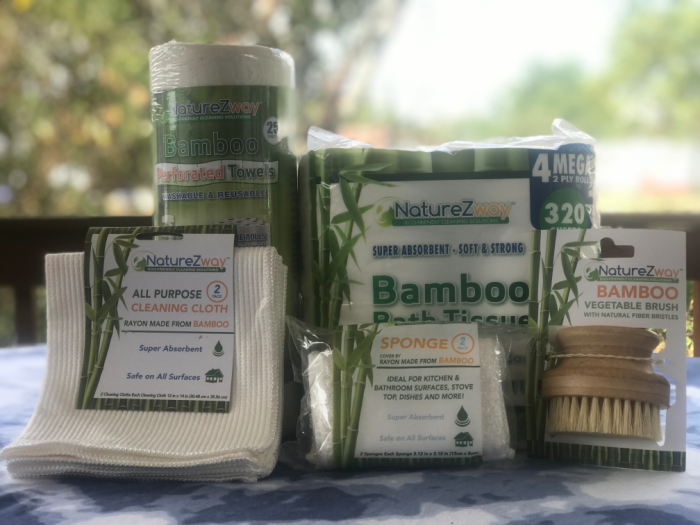 NatureZway™ Is Helping Protect Consumers and the Environment with Eco-Friendly, Chemical-Free Cleaning Products Made from Bamboo and other Naturally Sustainable Materials.

NatureZway's cost-effective (and Panda-Friendly) Bamboo Products include eco-alternatives to Paper Towels 100 times more absorbent than conventional brands, along with super-absorbent Bath Tissues, Sponges, Cloths, Brushes, Compostable Trash Bags, Pet Waste Bags, Floor Wipes and more.

NatureZway bamboo cleaning products are responsibly sourced from renewal and sustainable materials. It is interesting to note that bamboo is a member of the grass family and easily renewable. Not only is bamboo fast-growing (matures in 3 years), but takes up less space, uses less water, requires no pesticides to grow, reduces soil erosion and greenhouse gases, and captures more harmful CO2 from the atmosphere than trees or cotton.
I am loving these NatureZway products!
Bamboo Bath Tissue – 4 rolls
Bamboo Perforated Towels – reusable and washable (substitutes for kitchen paper towels)
All Purpose Bamboo Cleaning Cloth – reusable and washable – 2 pack
Bamboo Sponge – reusable and washable – 2 pack
Bamboo Vegetable Brush – with Natural Fiber Bristles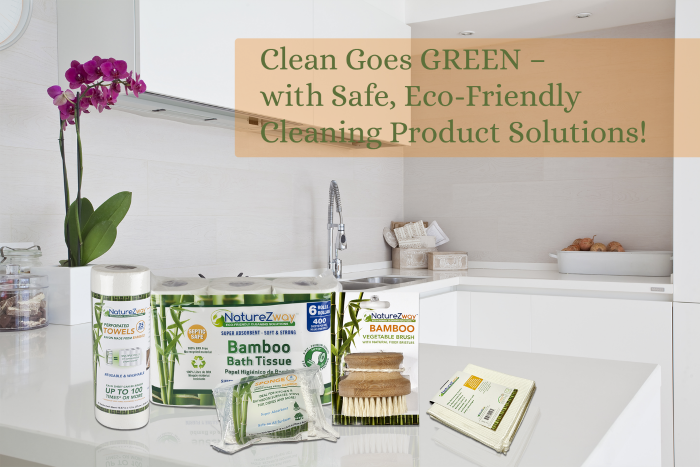 Let Me Tell You More About These Fabulous Products 
Not only is Bamboo bath tissue super strong and absorbent, but it is also healthy for the Earth! The bath tissue is made of 100% bamboo fiber and is 100% BPA free, biodegradable and made with no recycled material. This Bamboo Bath Tissue features 320 sheets per roll.
Bamboo Perforated Towels – reusable and washable (substitutes for kitchen paper towels)
Stop going through paper towels like mad that you have to throw away with these reusable Bamboo Perforated Towels! These towels are super absorbent and durable, safe for use on all surfaces, can be reused up to 100 times and they are washable! The perforated towels are made with renewable sustainable sources which help save trees. Each roll has 25 sheets.
You will love the amazing bamboo reusable cloth! It is soft, non-scratch and safe to use on any surface, It is also super absorbent, machine washable and lasts longer than other towels.
Sponge – Rayon Cover made from Bamboo – 2 pack
If you like to use a sponge for your cleaning needs then you are going to love this eco-friendly sponge made from plant-based materials! It is perfect to use in the kitchen and for bathroom surfaces such as stove top, dishes and more. It is super absorbent and safe for use on all surfaces – will not scratch! Plus, it lasts much longer than foam sponges. The best part of all is that it is machine washable!
Use the NatureZway Bamboo Vegetable Brush to keep your kitchen neat and tidy. It is made with natural bamboo and the bristles are made of Tampico plant. This is important because it provides greater water absorption than plastic bristles. The absorbent bristles have an ergonomic handle that is user-friendly so you properly clean.
Are you Ready to Make the Change and "Go Green" with NatureZway?
More simple than you thought, right? Get ready to become more a more eco-friendly household. Head on over to Amazon to shop and remember to use discount code: GoGreen15 at checkout to receive 15% off your order!
Connect socially with NatureZway