Clear Your Yard Fast with Worx Turbinefusion Combo Leaf Blower Mulcher & Bagger #MegaChristmas18
This post may contain affiliate links or I may have received the product free in exchange for my honest review. See full disclosure for more information.
That time year again – the nip in the air, the feeling of holiday spirit, bonfires, football games, hoodie weather and then there is this – a yard filled with leaves that have fallen from my large tree in the front yard.
Three seasons of the year, I love that tree. One season of the year, it makes me cringe as the leaves fall, one by one, into the yard, forming a large landscape of mess that I have to clean up. Raking – my nemesis. That was, until I found a handy new yard gadget that is going to enable me to save time, reuse natural resources and love that darn tree all FOUR SEASONS of the year. The WORX Turbinefusion combination Blower/Mulcher/Bagger.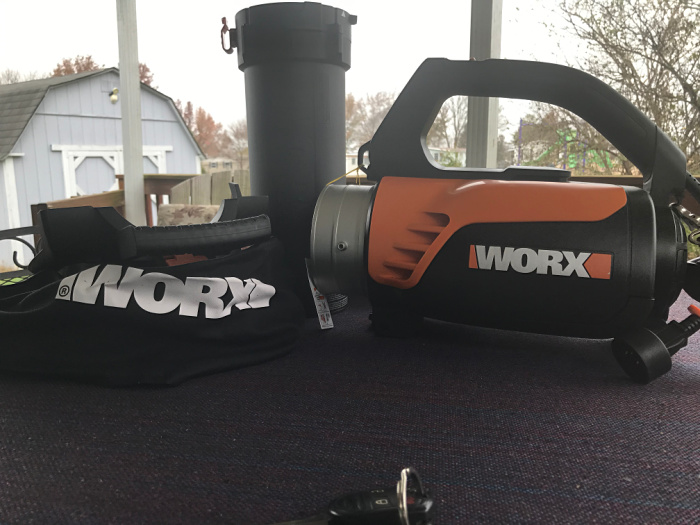 More About WORX
While our objective might be simple — to create products that help people take care of their homes, yards and gardens — it certainly cannot be considered easy.

We take the accepted norm and reimagine it. Then we head to the drawing board to reinvent it. And then we move on to the next challenge and do it all over again. That's why we're recognized as a leader that's advancing the industry. Just like we did with these products.

We believe it's our duty to not only continue introducing WORX products that enable our customers to be environmentally responsible, but to also ensure that we as a company are operating that way as well.
Now let me tell you about my new tool that has quickly become my favorite one of them all. This combination blower/bagger/mulcher has to be the best invention next to sliced bread. As you can clearly see, my yard is FILLED with leaves – thousands of them! The blower was easy to assemble and ready to use, right out of the box. I just plugged it in using my outdoor extension cord and got to work!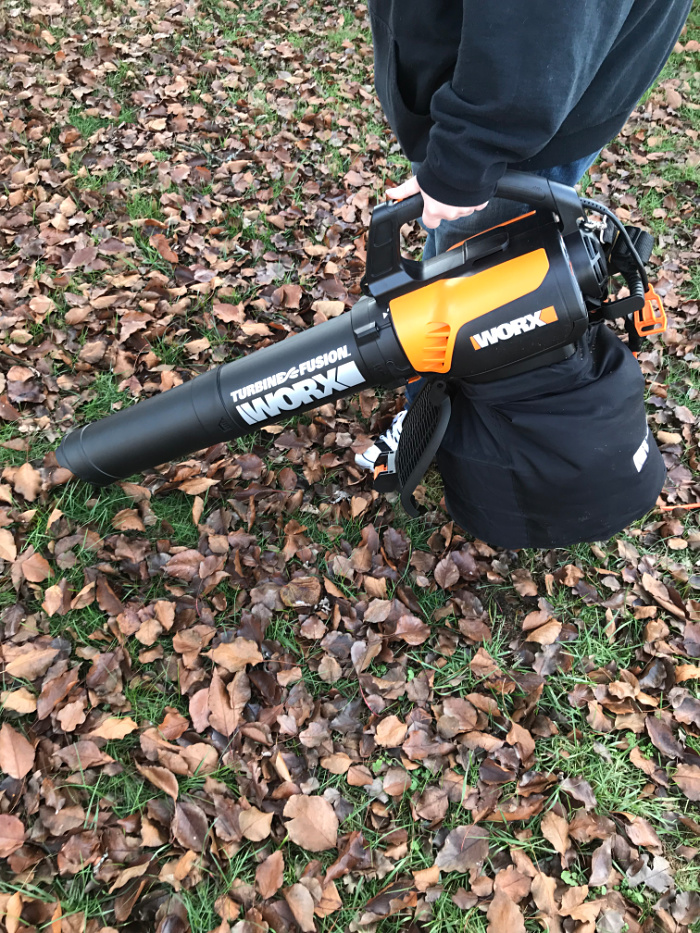 Let me tell you about some key features of the WORX TURBINEFUSION Blower/Mulcher/Bagger:
The TURBINE Fusion Leaf Blower, left mulcher & Yard Vacuum features WORX patented jet engine technology that delivers extreme blowing force. With air speeds up to 60 mph and an air volume up to 525 cfm, the TURBINE Fusion is the quickest way to clear your lawn from leaves and debris.
The dual-stage metal impeller on the TURBINE Fusion boasts an impressive 24:1 mulch ratio. Simply clamp the included leaf collection bag in place to collect and mulch leaves and debris with ease. Additionally, the 2-speed control ensures you are covered for light or heavy-duty jobs around the yard.
While I know my neighbors have been quite perturbed with me in years past, as I always procrastinate and wait until I absolutely have to rake, that is not the case this year AND going forward for years to come.
While I was out mulching up one pile of leaves I had blown together, a neighbor came out and curiously commented on my new "toy", as he called it. I quickly responded with what it was, where he could find it and that I should her "no more humorous grumbling" about my leaf problem. We chuckled and then I continued to clean up the debris and mess in my yard. Now it looks stunning and clear and ready for 'Ol Man Winter to drop the expected snow this season.
I cannot rave enough about how much I love my new WORX TURBINEFUSION Blower/Mulcher/Bagger combo and know that there are others out their like me that need this in their life post-haste! Check out WORX and all of the environmentally friendly products they have to offer for event the most hard-headed procrastinating yard worker like me!
---
We have added WORX products to our 2018 Holiday Gift Guide