Cocoa Puff Mix Filled Candy Cupcake Recipe
This post may contain affiliate links or I may have received the product free in exchange for my honest review. See full disclosure for more information.
Here is a fun, delicious recipe that you can make with your kids. Have exciting adventures deciding what to put and "hide" inside the hallow candy cupcakes. You can even use various colors of chocolate to give this a holiday flare, like Easter.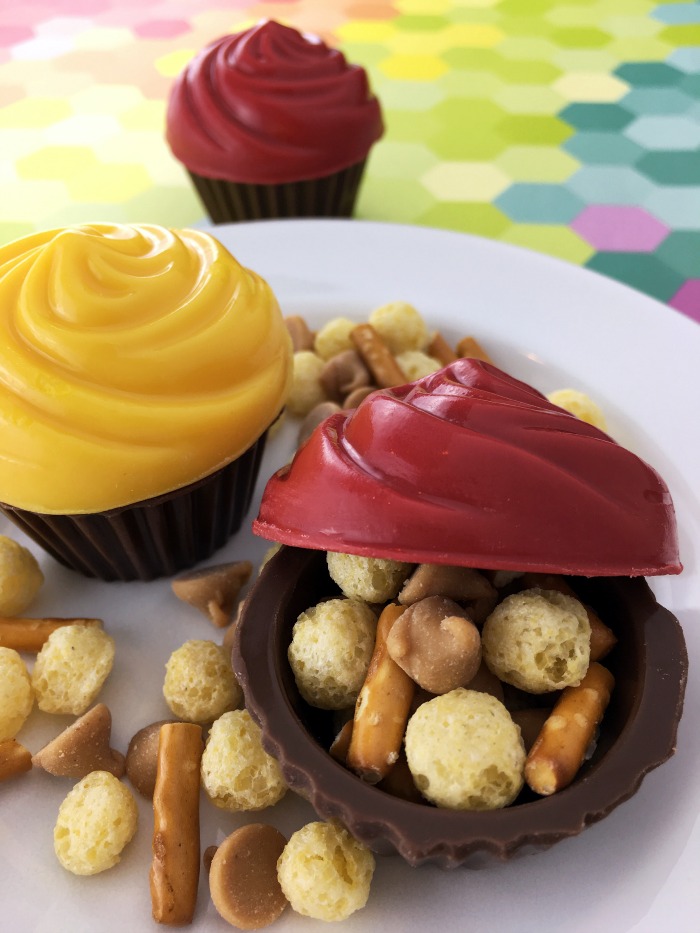 Cocoa Puff Mix Filled Candy Cupcake
Recipe type:
Snack, Dessert
Tools Include: Wilton 3-D Cupcake Candy Mold (http://www.wilton.com/3-d-cupcake-look-container-classic-candy-mold/2115-0001.html)
Ingredients
½ cup Wilton Red Candy Melts
½ cup Wilton Yellow Candy Melts
1 cup Wilton Light Cocoa Candy Melts
1 cup Cocoa Puffs
3 tbsp. Reese's Peanut Butter Chips
3 tbsp. Pretzel Rods
Instructions
Complete the following step for the red, yellow, and light cocoa candy melts: A Wilton Candy Melt Pot is recommended to heat candy melts. If you do not own a candy melt pot simply microwave candy melts at 50% for 30 seconds. Stir. Heat at 50% for 30 seconds. Stir. Heat at 50% in 15-second intervals and stir until completely smooth. Do not over heat.
Fill 3 cupcake bottoms halfway full with light cocoa candy melts.
Fill 3 cupcake tops halfway full with red candy melts.
Take second piece of 2-piece mold and snap together. Some candy melts may spread outside of the molds – that is okay.
Place in freezer for 20 minutes.
Remove mold from freezer. Gently pop candy melts from mold, breaking away any excess candy melt. Set aside.
Repeat steps 2 through 6 for the yellow candy melt tops (using light cocoa again for the bottoms).
In a small mixing bowl, combine cocoa puffs, Reece's peanut butter chips, and pretzel rods (broken in half).
Add cocoa puff mixture to each cupcake. Refrigerate until ready to serve.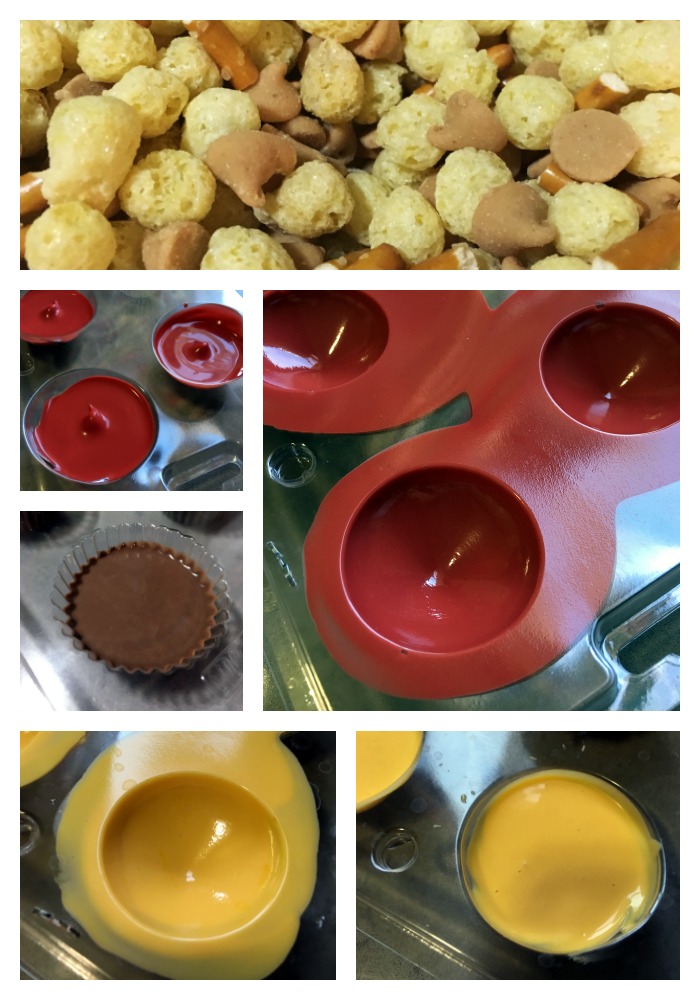 Whether you use this recipe as an Easter treat or a summer snack, you kids will love the surprises inside. Comment below and tell me some other stuff you would put inside the chocolate cupcakes.